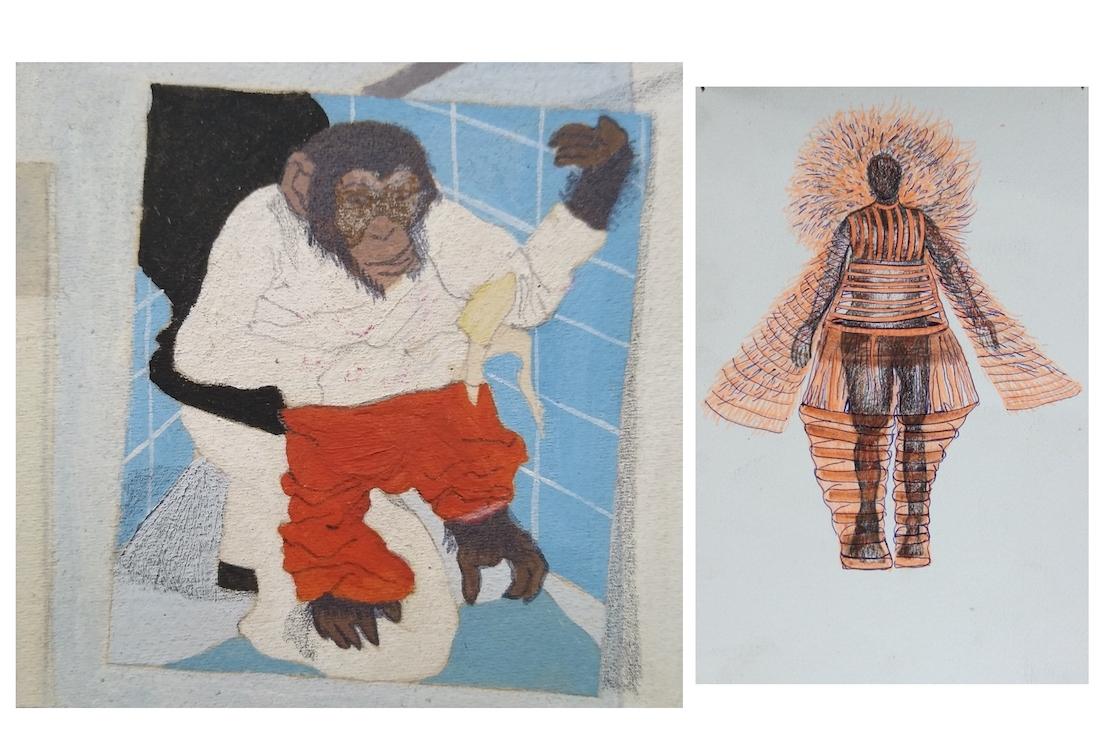 L: Objects by Vasudha Kapadia ; R: Untitled by Sheshadev Sagria
For the last three years, Vadodara-based Gallery Ark has worked closely with the Faculty of Fine Art, MSU, to create a platform to showcase promising talent. Titled Embark, this annual exhibition spotlights a selection of young artists, a year after they complete the Masters programme at the Faculty of Fine Arts. In its third edition, Embark III carries forward the same spirit and objective, but in a whole new form, reflecting the reality of the times and the necessity of following a more pared-down approach. With the impossibility of hosting a physical exhibition in the current scenario, the exhibition will be hosted entirely digitally, on the gallery's Online Viewing Room.

For Embark III the final shortlist of eight artists came from the Class of 2019; the line up includes Kavya Kumar Bhatt, Pranay Dutta, Vasudha Kapadia, Ushnish Mukhopadhyay, Mausham Raj Manglla, Savitha Ravi, Sheshadev Sagria and Zarrin-Fatima Shamsi. The artists work across a range of mediums (including a digital video by Pranay Dutta), showcasing a diversity of styles and subjects. However, through this diverse range of themes, there is a common thread that is particularly resonant with the current times - the relationship between bodies and spaces.

Elaborating on the impetus behind Embark, Gallery Director Nupur Dalmia tell us, 'Every year, a new crop of young artists graduate; the year after graduation is often a difficult and tumultuous time for them. As a part of the contemporary art ecosystem, we felt it was important to create a platform to support promising talent at this critical point in their careers, which is what led us to create Embark as an annual exhibition.This year, the logistics of selection and display were much trickier, but we are delighted to finally have been able to pull off the exhibition in its digital iteration. We hope the curation will excite our audience and be a valuable source of support for this wonderful group of artists.'
Untitled by Mausham Manglla
Sheshadev Sagria's drawings look at the human body and skin. Being the largest organ, the skin is in fact the first in the line of defense against harm to other organs of the body. How we train ourselves to look at our skin and each other vis-à-vis its nature and differences is the result of lived experiences. Be it the actual membrane itself, or garments and attire, what houses the body is often reflective of the nature of the body itself. Where the body finds comfort, and what spaces become intimate to it are further explored by Vasudha Kapadia, whose works as drawings and texts present a poetic dialogue between people, the spaces they inhabit, and these material possessions. Vasudha documents time through relations between people and the objects they collect – with sentimentality, memory, and loss as weighted determinants of such relations. Ushnish Mukhopadhyay's drawings look at the function of the body and the prominence of its parts. Individually how these parts and limbs play out their own roles, and jointly their actions resulting in the functioning of a being are viewed from lenses of utility in life as well as from a post mortem perspective.
L: Objects by Vasudha Kapadia ; R: Untitled by Pranay Dutta
Pranay Dutta's continued engagement with concepts of a dystopic and post-apocalyptic world seem especially relevant today. These spaces present a very human story despite the lack of human figures in them. Representations of the built space and imagined architectures expand on the zealous building up of, and development of land and resources at the cost of social and environmental decay.
Zarrin-Fatima Shamsi's works for the show are a monochromatic exploration of texture and form. Zarrin maps space as an experience of terrains of found objects by either drawing them out or taking their impressions which in turn help form a sensory understanding of new locations. Explorations of form and its existence in space as compositions of angles, lines and dimensions are seen in the works of Savitha Ravi, Mausham Raj Manglla, and Kavya Kumar Bhatt. Savitha's architectural compositions emphasise the role light plays in the perception of a space, and the omission and elaboration of detail.
Mausham presents a series of paintings that appear like a lyrical suspension of lines and colours in a vacuum. These lines and figures seem to be floating but are caught in a frozen moment, manifesting as humans existing in an undefined venue. Mausham's subjects are people deep in slumber, existing physically in one place, but traveling unconsciously in another. Kavya's usage of marks by stippling, alerts the viewer to be wary of the deceptiveness of an image.
The attention is drawn towards the surface of the work – that what exists on it is not an illusory window into another dimension but a site of symbolic marks and figures which present a surreal narrative of their own. The works are composed of individual shapes and objects packed closely, the whole being greater than the sum of its parts.
Image Courtesy Gallery Ark and the Artists
To view the exhibit visit their Online Viewing Room.