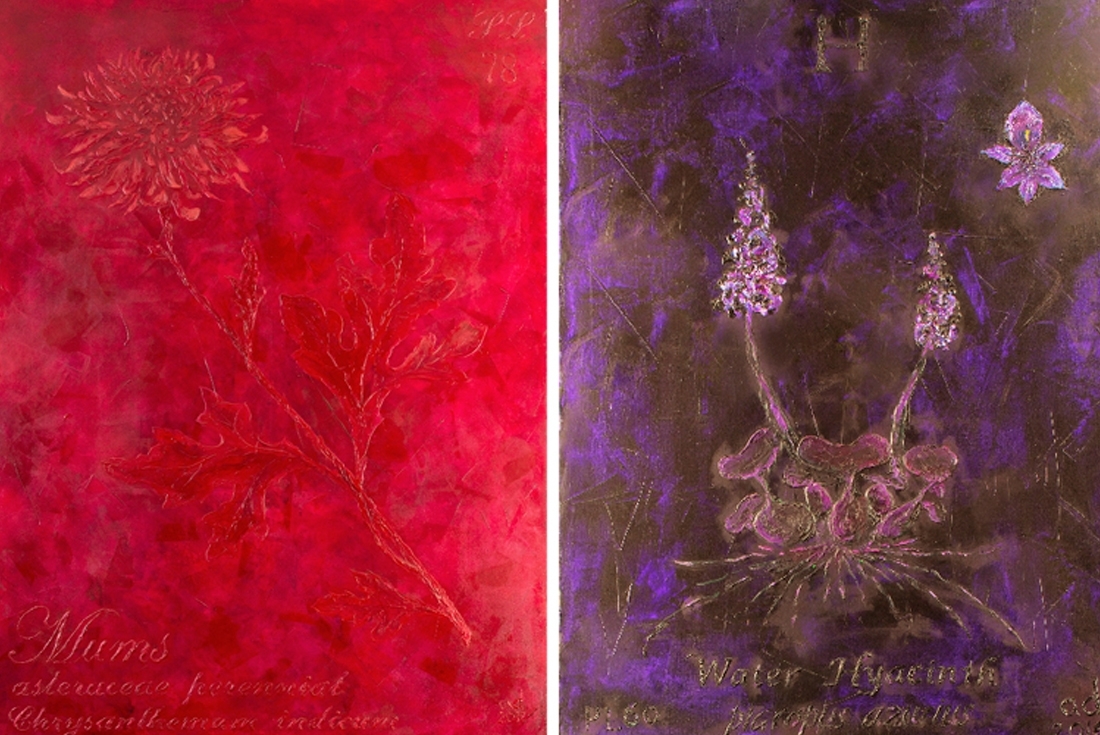 [L] Mums; [R] Water Hyacinth
Herbarium Indicum
Alex Davis
Herbarium Indicum is Alex Davis' first solo exhibition of paintings at Exhibit 320, Delhi. Widely known for his design practice, the exhibition extends his interest in both science and botanical art in a new direction. Davis's early years were spent between his paternal family's rubber plantation in the foothills of the Western Ghats and his maternal family's home in the backwaters of Allepey. Largely influenced by these childhood memories of life in the lush green foliage of Kerala, Davis' current body of work reads like larger-than-life botanical illustrations, each painted in a single predominant colour that admittedly is inspired from colour field painting. Focusing on flowers indigenous to India, that he observes on his frequent travels to the Himalayas or drawn from survey based studies of botanicals, Herbarium Indicum elicits a sense of a fleeting moment, of fragility and of beauty, and of a strange, raw quality.

'Herbarium Indicum is a series of paintings based on the flowers of the Indian subcontinent all the way from the upper Himalayan herbal valleys to the lush subtropics of Kerala and everything in between. These monochromatic paintings in a similar family of colours which can range from 4 to 6 colours and are composed much like pages of a book of Herbarium based on Indian flowers. And hence the name,' says Davis.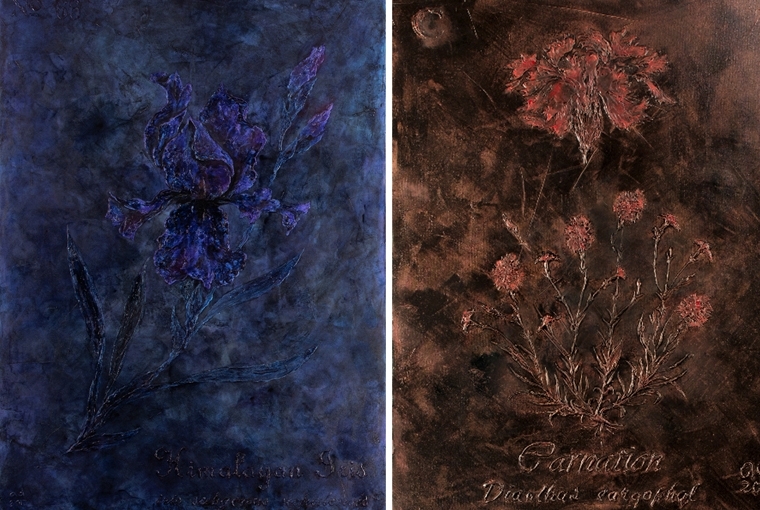 [L] Himalayan Iris; [R] Carnation
Alex Davis is an artist and a designer who lives and works in New Delhi. A graduate of Mechanical Engineering, he went ahead to do a Masters Diploma course in Product Design from the National Institute of Design, Ahmedabad and then got his Master's degree in Industrial Design from Domus Academy, Milano, Italy. One of the first to exhibit collections for Interior and Exterior spaces, he has set a bench mark for original and contemporary design. He has been showing his works through solo shows in various art galleries across India as well as at prestigious international fairs like Scenes d'interieur at Maison et Objet, Paris, Solone del Mobile, Milano and Abitare il Tempo, Verona.