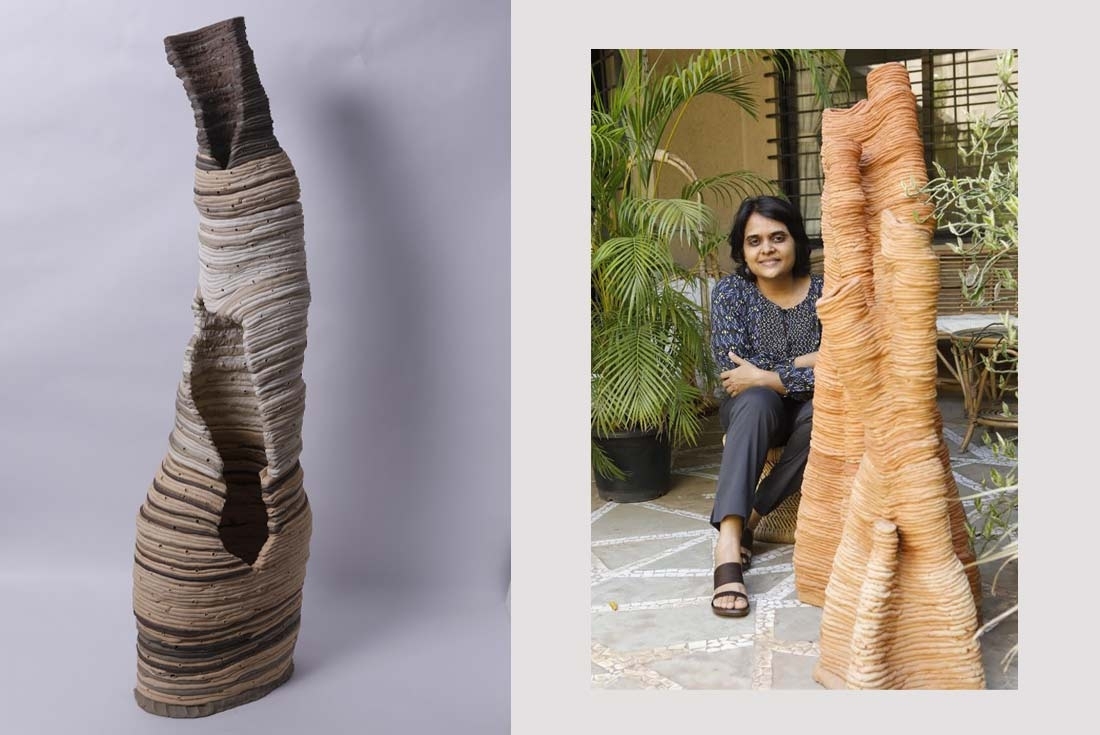 Integration
Madhavi Kolte
The Project
Faced with our society's current blindness toward addressing how our actions and inactions are responsible for the degrading state of the environment, I am often overcome by a sense of loss, sadness and frustration. My art allows me to counterbalance this lingering feeling of helplessness by - more than perhaps anything else - transforming this negative mental agitation into creations that celebrate our natural world.
Nature has, shall we say, its own agenda: one of never ending transformations, of symbiotic and intertwining forms and forces in constant renewal, of co existing structures and energies in continuous motion...

My creations are a description of the fluidity of the ever so diverse features of the elements of nature. They are materialized moments of a lifelong conversation that I've been having with Mother Earth, using her most elementary and intimate language: the earth itself. My creations thus mirror the simple but yet profound integration of my mind and the Earth's matter.
The Artist
'I was born in 1976 and grew up in Pune and Mumbai. During my adolescent years, my father - a distinguished lawyer and judge - quit his state functions to devote himself entirely to social activism. His unwavering commitment to the defense of civil rights has given me an exacerbated sense of social responsibility, and the knowledge that my actions and creations can be an impetus to and have meaning for the betterment of society. My father further encouraged me to gain spiritual discernment and mental balance, and to use them as the primary guiding forces in my life.
During those formative years, I met and trained under my guru, Mr Bal Wad, former director of Camlin and distinguished ceramicist and painter. He gave me the tools and techniques to hone my passion for clay. More importantly, however, he encouraged me to understand my chosen medium of expression in order to give full reign to my ability to materialize thought into earthen creations.'
'For though I had, by then, completed a degree in Law, I had also become aware that I wanted to use Art as my primary vehicle to contribute to society. This desire was spurred on initially by witnessing the very real, ugly and dangerous transformations that have been taking place in my home town. Particularly sensitive to my surroundings and the environment, in the course of my short lifetime I have seen and deplored the rapid degradation and destruction of Pune's natural environment, and with it, a growing disregard for Mother Nature's gracious gifts.

Quite early on, I joined demonstrations aimed at protecting Pune's trees. More recently, I formed a collective that is committed to educating individuals and communities to seek and implement sustainable solutions to the overwhelming problems of our waste-inducing lifestyles.
My ceramic creations spring from the same urgent core as my activism: the necessity to share the harmony and perfection of the always changing natural world; the desire to stimulate others to recognize our vital interconnectivity with Mother Nature; the passion to transmit the fine balance and infinite variations that are part and parcel of the process of creation --- above all the meditative state that accompanies my own creative process and that, I believe, is a key to rediscovering our rightful place on the planet: that of respectful coexistance with all living beings and heightened appreciation of all natural elements.'

The Solo show by Ceramist, Madhavi Kolte open for the public tomorrow at Jehangir Art Gallery, Mumbai.
20th june to 26th June 2017.
11am to 7pm