artwhoring is the outlet, digital art diary and motivation for a nineteen year old fighting the good fight. The fight for equal means, opportunity and representation. Using the one medium she's stuck to ever since she was child, Priyanka Paul hopes to do her part in the age-old fight against racism, patriarchy and defining gender roles by drawing out her opinions, quite spectacularly, might we add. Over the course of a day, the doodles from her sketchbook turn into digital pieces of punk and pastel art that slowly yet cuttingly deems to normalise certain taboos faced by women, the LGBTQ community or a race.

Known for an artistic style that's just as furious as it is stunning, the student also dabbles with poetry- one constantly uplifting the other. With innumerable lopsided norms still poisoning the community we're expected to thrive in, her work speaks volumes of issues unspoken and have already garnered mass appeal and support. From re-imagining Goddesses as modern-day women living unabashedly and self-secure in their liberated traits to selling and exhibiting her inspired work, Priyanka's artwhoring is the poster-child for urban feminism. She takes us through her creative process.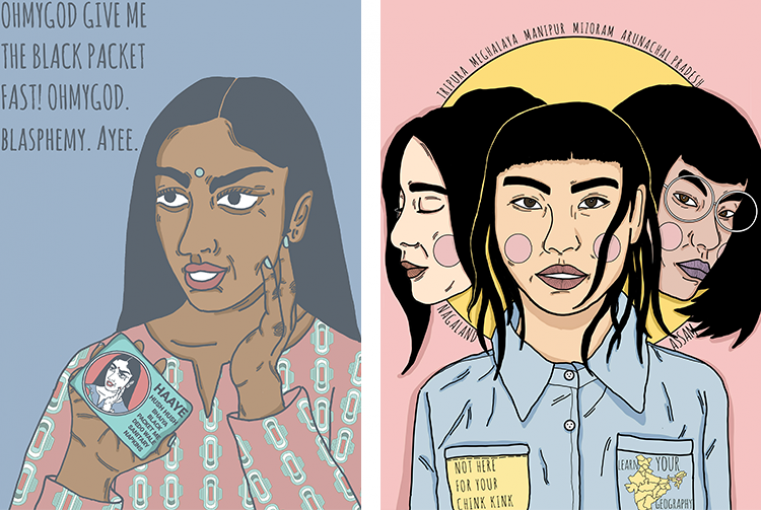 As an illustrator whose found a strong voice in a community that desperately needs it, why do you do what you do?
My art is an extension of myself. As an artist, I use my voice and art to talk about a lot of things that I'm passionate about. I've always been inquisitive and a little teenage rebel so as to say and I find that questioning the world through art, is the best way to question. On the Instagram community (and to other spaces that my art has spread to), I'm grateful for every comment or message I receive where people tell me that what I do affects them and helps them, and that keeps me going. On a personal level too, my art to me is my path to self discovery and I believe you can trace how I've grown as a person through the themes and nuances that my work touches upon.

You've made quite the impression with your artworks, especially since they deal with social issues. Feminism and LGBTQ rights in particular. Have people come to expect a certain kind of style from you now?
I think they have and that's alright. I take extreme pride in all the themes my work is based on and I'm definitely passionate about them. However, as we begin to build discussions around these issues, we need to acknowledge that these terms branch out into different intersections that also need to be portrayed. I hope to explore and learn more about the world and societies we create and live in and to portray these different stories through my art.
Do you ever have to deal with the feeling of being boxed in?
Definitely, quite often. As an artist you work and how an audience will receive it is your biggest gift but also your greatest liability. Art has to capture attention and doing that without unnecessarily sensationalizing something is important. Also, not to forget art blocks.

Are there any alternate themes and styles that you've been meaning to explore or experiment with?
I plan delving into caste as a defining factor in India to this day (even though we'd conveniently like to acknowledge that it doesn't exist), the evolution of cultures and Indian feminism, race and capitalism, philosophy in contemporary times and societies and so much more. There's so much left to explore.

Who and what inspire your art?
Everything does. From pop-culture, my textbooks to my daily hectic college train rides, comic strips. Ideas just pop into my head. I read a lot, so that helps. And I listen to a diverse range of music, I'm not bound by genre preferences. I believe every new person you meet teaches you something new, and the accumulation of all that can be seen in my work.
What memorable responses have you had to your work?
Every day I receive messages appreciating my work and it's the most overwhelming thing in the whole wide world because I've barely got anything figured out myself and to know that something I created could make someone feel something is the best feeling and I'm thankful for it every day. One of the best responses however would be, when after I got done with Junior college, my favourite sociology professor asked me to speak to her class about feminism in art and when she introduced me she said that I was one student who taught her something, and that will always be the most important thing anyone has ever said to me.

India has a long way to go in terms of understanding and equally representing gender and sexuality. In what ways do you hope your work helps bring about this long-standing change?
I believe it's a process. There needs to be a shift in narrative and I believe today art and media and social media are changing the way we see everything and that's what my art hopes to perpetuate- a gradual revolution in perspective. We're effectively starting conversations and building spaces to talk and express and feel and what is art, if not splattered feelings on a medium. What I hope for my art to do is to extend conversation and at the least to make us ponder over the set structure of how we live our lives.

Do you have any new projects in the pipeline? What can be expected of artwhoring going forth?
I've been extremely fascinated with zines and I'm working on a few. I plan on doing something related to street / public art and my dream is to start my own fashion line, so that's a constant work in progress. But going forth, artwhoring can be expected to touch upon issues and make people uncomfortable and to keep creating more art!

Find more of artwhoring here.


Text Shristi Singh