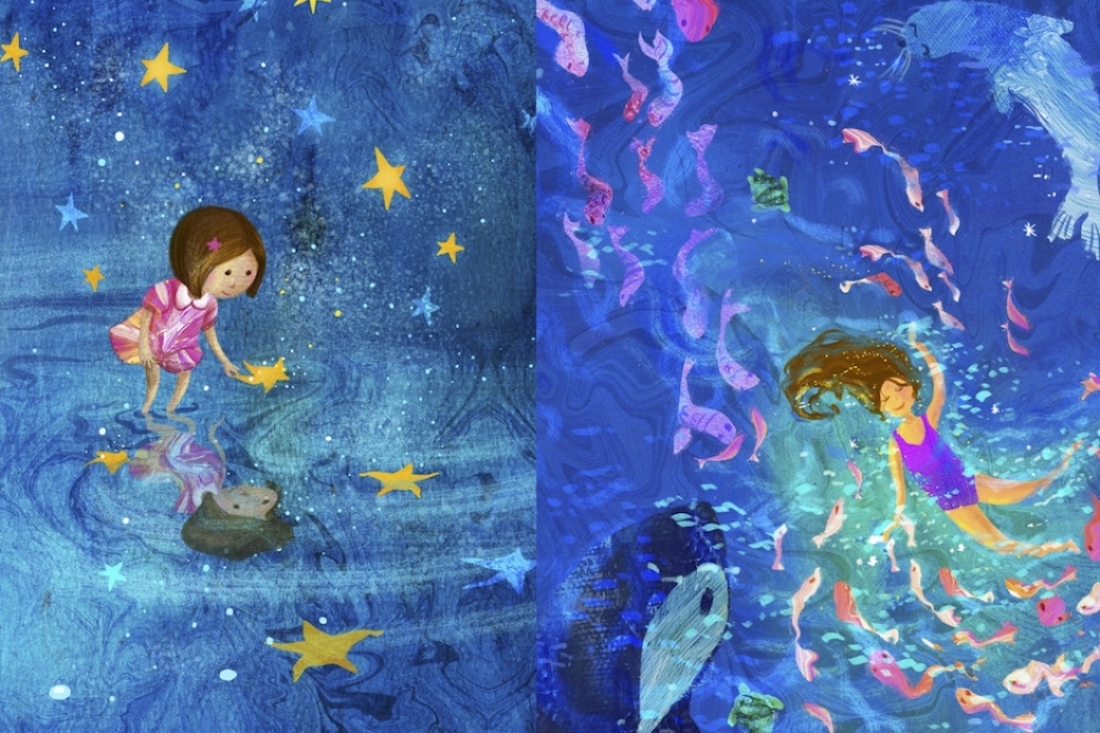 Tasneem Amiruddin is a full time Illustrator based out of Mumbai. Her Illustrations will transport you to the good old days of your childhood. They are whimsical, ebullient and reminiscent of fairytale backdrops that conjure up nostalgia for times gone by, for the pages of old rusty books which once transported you to another world. The world of stories, fables and fantasy fiction.
Tasneem too grew up admiring various literary works under the genre of fantasy fiction. She names a few during our conversation- Harry Potter, Eragon and Artemis Fowl. One glance at her work and you'd see, that the nuances found amidst the colours, strokes, lines and the overall composition of her work do ring a bell to the world of fantasy fiction and if not, they still make us think about the fables we heard in our childhood. While her work is flooded with a childlike essence, her colour palette of vibrant(yet not too loud) colours does justice to the whole theme. How she stumbled upon Illustration as a full time career and furthermore, how she found her calling in illustrating children's books is a story which is a testament to art's omnipresence in her life. Art led her to graphic design which inevitably led her back to art. After getting her degree in Graphic Design, she followed the natural route of working full time as a graphic designer. While working in her last job, she landed a few freelance projects to illustrate children's books. With no grand plans in mind, she impromptu decided to give it a shot. Sooner or later, she realised that this is what she loved doing. With a handful of freelance projects in her arsenal, she decided to quit her job as a graphic designer and take on illustration fulltime. The rest is history.
Her work forms a mix of self initiated and commissioned projects, both of which she equally enjoys. A rule which she adheres to is taking up only a few projects in a year. She seeks to give her best to each project she takes on and since the process of illustrating each book is cumbersome, she wants to devote her full time and attention to the project at hand. The thought process that goes behind the colourful illustrations that we see on her behance profile or the ones she's done for various children's books is quite detailed. They involve understanding the story, brainstorming the character, identifying a colour palette and then getting down to illustrating the book.
While her inclination towards all things whimsical, magical and fairytale like can be somewhat attributed to her love for fantasy fiction books, another reason lies beneath the formation of her distinct art style. She is inexplicably drawn to childhood and innocence. She also tells me that she is an art educator at a primary school and the children that she teaches, form a large part of the inspiration for her work. It is the culmination of finding innocence endearing along with her natural inclination towards the whimsical that guides her work today.
TEXT
Supriya Jain