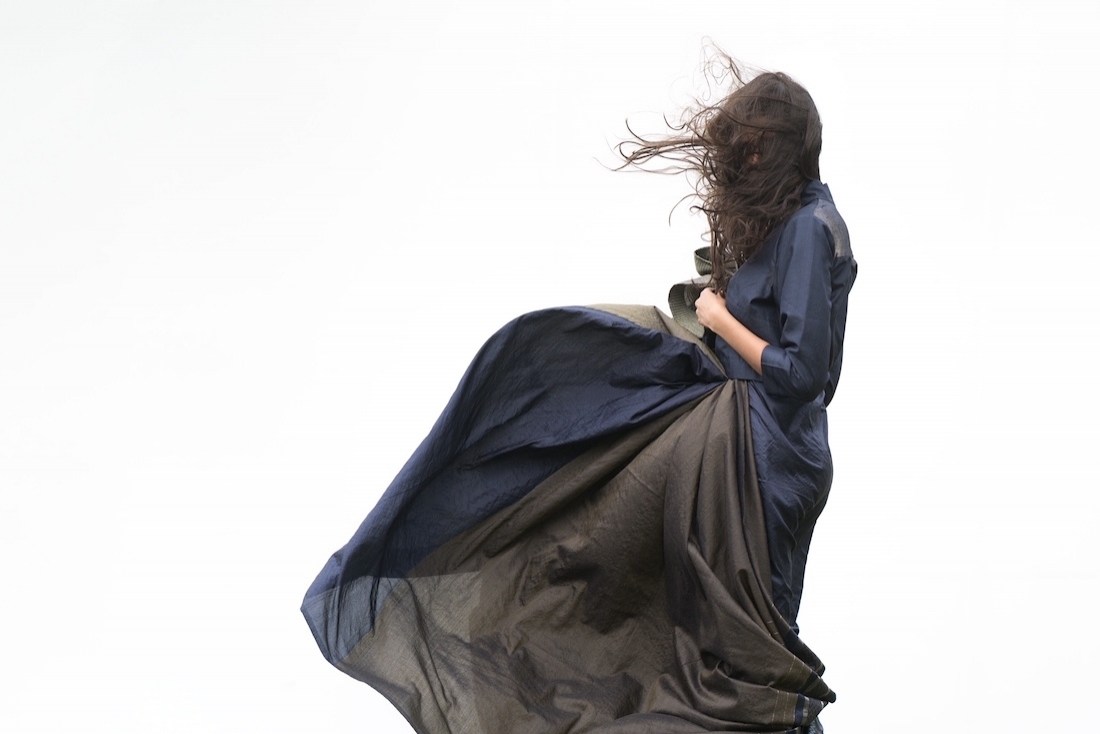 With your new collection, you're exploring something new—how materials and weaves traditionally come together. It's a bold step into the future of contemporary textile design whilst also acknowledging the rich legacy of India's textile tradition via the route of the iconic saree. What inspired this?
It's actually not new for us. At akaaro we have always believed in experimenting and pushing the scope of what could be achieved with Indian handwoven textiles. This particular collection is called GRANULAR TIMES which is basically about renewing our interest by breaking away from tradition - in terms of overall composition, use of colour, texture, scale or pattern of the Saree. The idea basically stems from our belief as a design studio in creating and not assembling. Grain of the fabric remains the same but the idea changes. For example, we've done away with traditional motifs like border and pallu to create a contemporary graphic sensibility

How challenging was it to create something contemporary while being true to your traditions?
I think its been work in progress. The challenge is not in design or development of textiles; rather the challenge lies in helping people understand our process and philosophy of moving against the grain of trends and an obvious narrative tangent. It is a very considered philosophy and approach to design, which we have painstakingly developed over the years and is somewhat outside the box. In India all our crafts have a very strong narrative, skill base and heritage which are all very special for us and any intervention vis a vis design or new narrative is a slow process but one that we believe, is worth striving for.
Why do you think the industry needed something like this?
I think there's a somewhat limited room to play and develop something that is fresh and experimental; charting new terrains is always an uphill task. I think giving the economics right now everyone wants some kind of confirmation and wants to play safe. With respect to handlooms I think we have just started pushing the idea of incorporating radical design experiments on handlooms. The first step in the movement was for people to be aware of handlooms. The next step, as I see it, is to take the conversation forward through experimentation and not being afraid to take risks.
You're heavily involved with an amazing project called 'Save the Loom' which is aiming to repair thousands of looms in Kerala which were destroyed by the floods. Could you tell us a little more about it?
Save the Loom is an amazing initiative started by Ramesh Menon who himself is from Kerala and has worked for a long time in the textile and fashion industry in various capacities. 300 looms in Chendamanglam got broken during the floods. We are working with our team to bring about design interventions and get the looms back in order. Our first priority is to secure the money to repair the and subsequently work with the community of weavers towards product development with design inputs.
Let's go back a bit…you love what saree as a garment; experimented numerous times with it. How did this fascination emerge?
I think being textile designer, albeit one trained abroad, my interaction with the saree was something that was bound to happen. The saree was a natural extension for me after experimenting with textiles in terms of design though it took me a while to understand the importance and format of the saree. Before I did anything concrete or definite with it, I wanted to take my time. I think its one of the toughest garments to design specially when you are not referring to traditional motifs or any of the existing formats.
Is anything else in pipeline?
We have a lot of interesting projects in the pipeline. Most immediately, we're participating in TRANOI from 28 Sept - 1 Oct during Paris fashion Week where we will be showing our womenswear pret line for SS19. Other than that we have been working on few collaborative design projects outside fashion, which we will announce at the right time. Stay tuned!

TEXT Hansika Lohani Mehtani