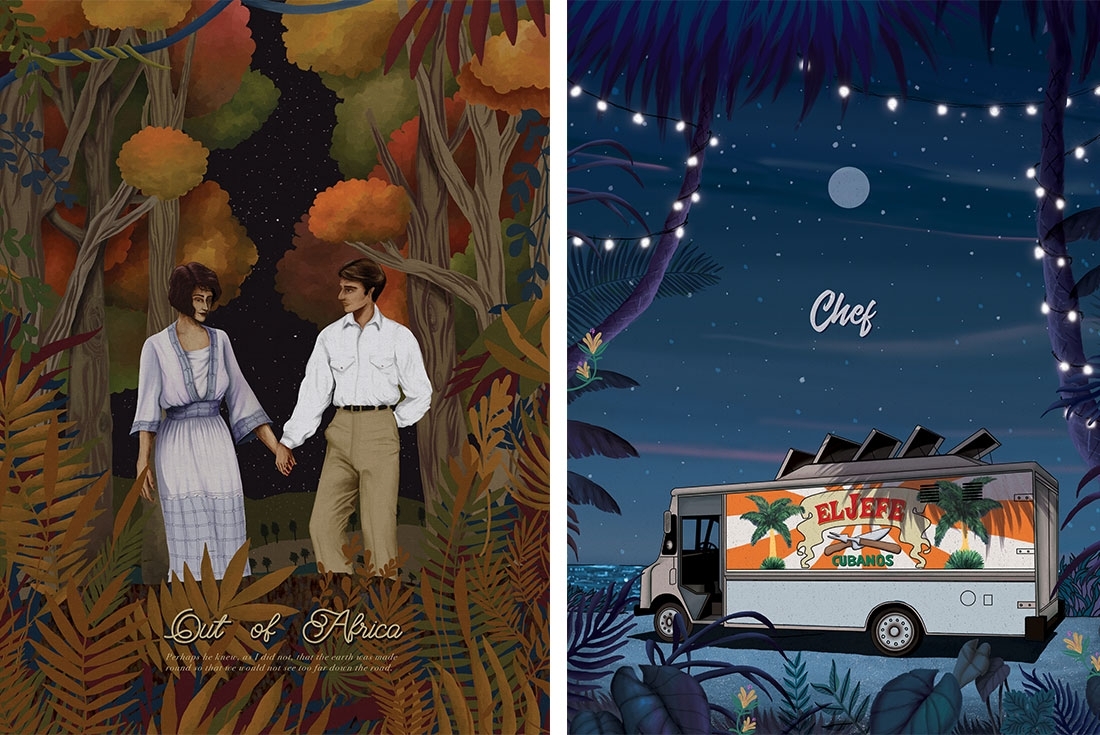 [L to R] Out of Africa, Chef, both by Namrata Lenka
Ink, Reels and The Graphics Gang
Curator, Arjun Sawhney
'Ink, Reels and The Graphics Gang is a graphic art show. Ink is word and word also signifies books. Reel is of course Movies and the graphics gang are the artists who are working on this project. I did not put any boundaries on the artist saying it has to necessarily be pop art but it evolved and moved in that direction. I figured there is so much amazing talent in this country especially in the area of graphics that hasn't really been tapped into. The only guys that broke out were Thukral & Tagra and look where they have reached. If they can do it what is holding back these amazing individuals all across the country that are making some incredible design. So I wrote out the theme and reached out to 20 top graphic designers and 14 replied back.'

What was your curatorial process while conceptualizing the show?
I selected the people who are participating very carefully. I looked at all the works they have produced and I admire a lot of their work. We had a conversation and through that I gathered how they perceived the show. I spoke to them and gave them feedback and guidance as they worked on their artworks. I did not over do it with my thoughts as I did not want to interfere with their creative process per say but I tried to keep them within the boundaries of what the show was meant to be. It was very interesting how each artist reacted to our conversations and how they interpreted that in their work.
What is it that fascinates you about Pop Art?
Pop Art is short for popular art and there could be a perception that its shallow as its popular but I really don't think so. It's popular art that reaches a very large audience. And I think anything that has the capabilities to connect with such large audiences across spectrums is very powerful. It has always fascinated me and I addressed it through this show and it's been a fantastic journey.
[L to R] Apu [Pathhar Panchali] by Rabia Gupta; Mickey Bardava.
You have curated some very interesting and diverse shows over the years – what is it that you look for when deciding on taking on and putting together a project? And what's next?
To be honest it's my own curiosity. I go into areas that I am curious about, that engage me, that interest me. I don't like to bound myself to any one particular medium or genre so my next show will be a photography show it will examine three of the most important rivers in this country and will be called Dariya.


Participating Artists
Jiten Thukral & Sumir Tagra of Thukral and Tagra; Vivek Mathur of Indika Design, New York; Divya Thakur of Design Temple, Mumbai; Chetana Vij of I, Me design, New Delhi; Mickey Bardava; Gulab Saggu; Rabia Gupta of RDG; Gopika Chowfla of Gopika Chowfla Design; Pushkar Thakur of The Grafiosi, New Delhi, Himanshu Dogra of Play Clan, Kapil Sharma; Manav Sachdev and Namrata Lenka of Green
Goose Design will showcase their creations at the show.

[L to R] Flying my Neverland by Rabia Gupta.
Show Title: Ink, Reels and The Graphics Gang
Curator: Arjun Sawhney
Private View: 15th November, 2017
Open to Public: 16th November – 20th November
Venue: The Lodhi, Lodhi Road, New Delhi – 110003


Text Shruti Kapur Malhotra