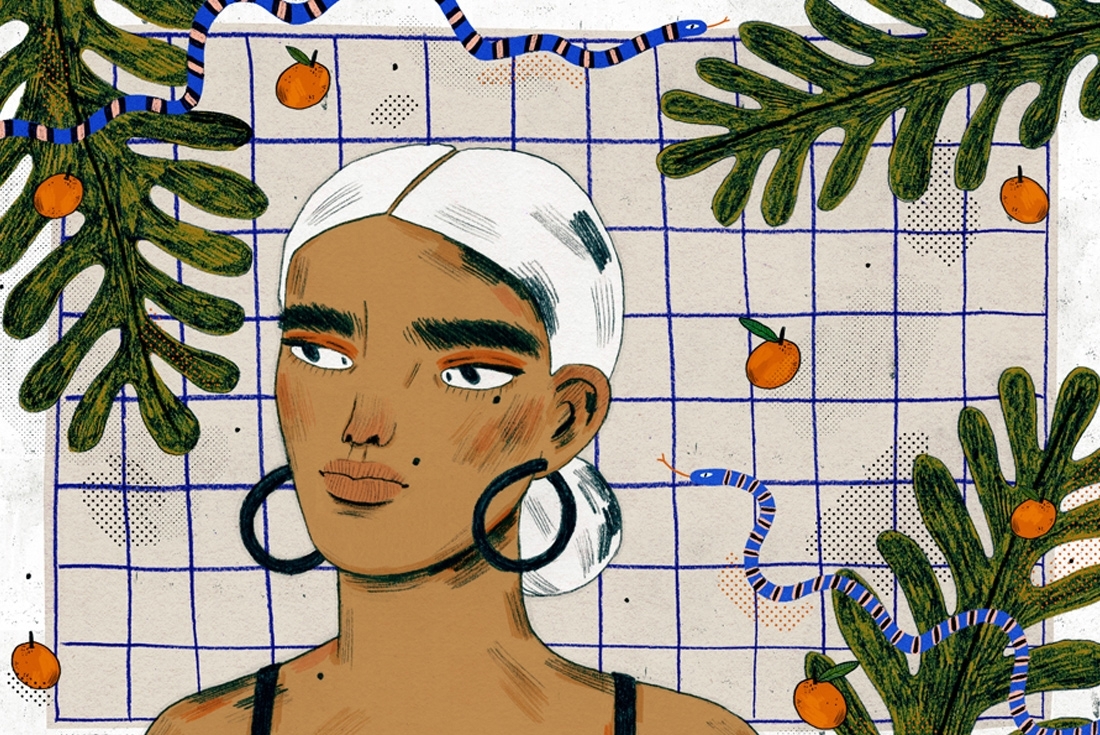 With a refreshing narrative approach to illustration, UK-based Manjit Thapp's Instagram feed swims in a sea of melancholic, bushy-browed brown girls. She distills diverse influences— music, fashion and films—into strikingly detailed and layered imagery with a muted, autumn-toned palette. Working across comics, fashion illustrations and book covers, the 23-year-old is already an online sensation.

'I like to create work that has a narrative quality, and focuses on emotions and feelings in a subtle way that can be interpreted and deconstructed by the viewer,' says the recent graduate from Camberwell College of Arts in London. Her process is an intimate mix of traditional and digital media. Her sketches begin on paper, and are later coloured on Photoshop. 'I love the textures that traditional media create, especially when using pencils, and I like to retain that as much as possible in the finished piece. I love to combine the looseness of traditional media with the more refined nature of digital art.' Her fashion sketchbook comes alive with runway looks from Proenza Schouler, Miu Miu, Gucci, Ashish and Céline, illustrated with painstaking detail.
[L to R] Illustration for Frankie's cover; An artwork
For her recent collaboration with Adobe Project 1234, she created work for a campaign to end violence against women, and more recently, for the occasion of International Women's Day. Strong-jawed women of colour are a recurring theme in Manjit's body of work, one that stems from the lack of representation of South Asian women in popular culture. 'I think representation is so important, and the lack of it is disturbing. It dawned on me that if I'm unhappy with it, I should do something about it in my own work rather than wait for other people to do it. I think back to when I was younger and how much of an impact it would have had on me if growing up I'd seen more women of colour on the cover of magazines and in artworks.'
This year, Manjit teamed up with Frankie Magazine and created an illustrated cover for their latest issue. She has also been busy working on a personal series where she illustrates scenes from her favourite movies, such as The Grand Budapest Hotel, Jane Eyre and Moonrise Kingdom. This year, Manjit will be working on an exciting book project and a Wes Anderson themed zine.