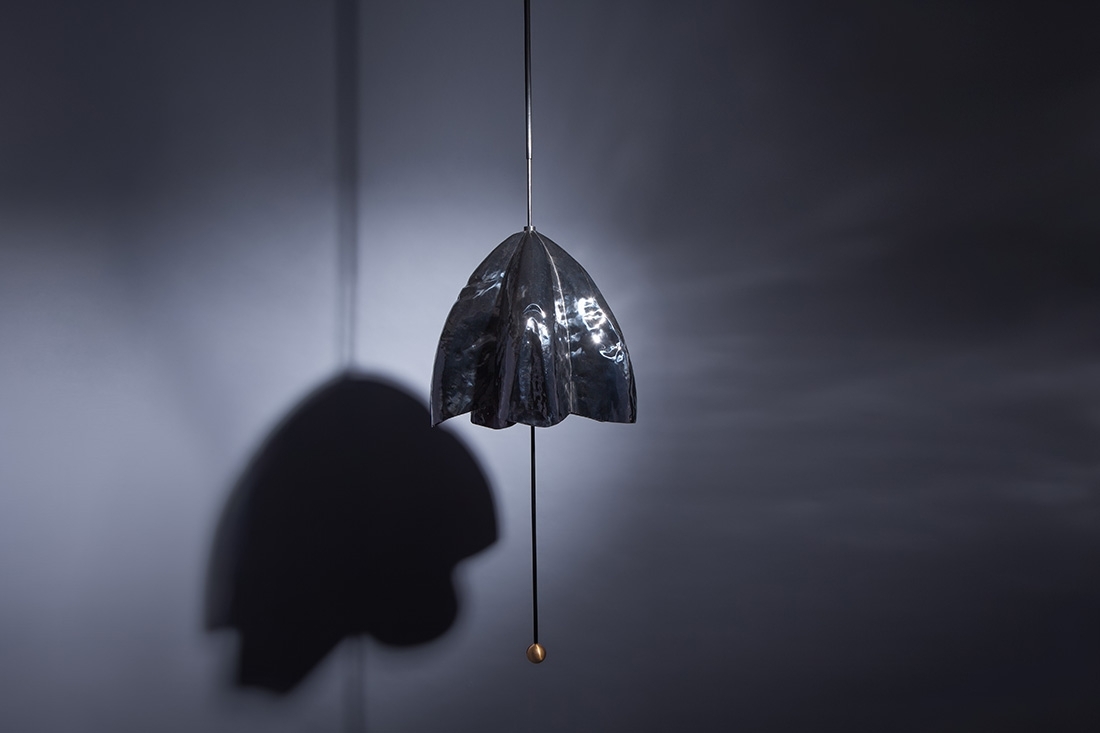 Overlay I | Photography by Dwaipayan Mazumdar
Paul Matter x Kallol Datta
The last time we spoke to Nikhil Paul, he was busy wrapping up his debut collection of lighting sculptures for his atelier, Paul Matter. Since then his practice and sensibility has only gotten sharper, melding influences from mid-century Modernism with a fresh and sleek aesthetic. Recently, Nikhil collaborated with designer Kallol Datta to mark Paul Matter's second year in the industry, and created a curious collection of lighting sculptures titled Overlay & Underlay. The moody, striking lights come in four variations of ceiling pendant and floor lamps, and carry a hint of both Nikhil and Kallol's charm. Kallol arrests rippling folds of fabric in metal, and Nikhil flavours the design by adding a brass ball powered by touch sensors, allowing the light to be dimmed or brightened with the touch of a finger. 'This collaboration explores different approaches to light design, that blend the traditional and the experimental, form and function, detail and the benign,' says Nikhil. We connect with him to find out more.

This is your first collaboration with a fashion designer. Why Kallol Datta?
Paul Matter entered the second year with the idea of launching a small series of 'One of a Kind', design collaborations to emphasise different approaches to light design, that blend the traditional and the experimental while celebrating the creative process of these designers. The first in this series is with, clothes maker, Kallol Datta.
I have been following Kallol's work since his Art-Fashion residency days at Khoj. Discussions about his design process was intriguing then and now which led me to pop the question about a potential collaboration to which he said yes! There is a brand synergy between Kallol Datta 1955 and Paul Matter. For example, The perfect imperfections in Kallol's clothes, in a way, is quite similar to the way we approach our design and production process. We interpret each fixture as a light sculpture for a space within a given context. Similarly Kallol's clothes, when they walk the ramp, have a sculptural quality to them. I feel we have leveraged on these aspects with this collaboration.

Overlay II | Photography by Dwaipayan Mazumdar
What inspired the series? What materials did you explore?
Overlay & Underlay are metal forms that are also light objects. Objects which wont just fit into a space but will create conversations about the interaction between space and light. The entire process consisted of paper patterns migrating from fabric to metal. Arresting free flowing 3D folds on metal dictated the forms. A parallel concern was to remain cutting edge with LED technology and push the boundaries.
We have had to create our own lamps and circuits, for eg, the glass tube resting on Underlay and the glass tube concealed under the polished steel shade in Overlay have been created from scratch. We also introduced touch technology to incorporate an aspect of familiarity and human touch to these otherwise benign forms. In the end, the line proposed is a vision closer to contemporary art.

All the lights and components including the fluid forms are completely handcrafted in beaten and casted metal bringing industrial uniqueness to each object. The appearance of surfaces and textures on objects and materials are manually achieved with age old techniques such as buffing, patina and burning. No two pieces will be the same. The pieces are drawn from a rich material palette that includes aged brass, burnt brass, polished and burnt Steel, and etched glass. In the initial experiments we explored leather and stone as well. I can proudly say that this collection showcases design and manufacturing to its best abilities and the products, in terms of finess, manufacturing and technology, are at par with its western counterparts.

[L] Overlay II; [R] Underlay II
Photography by Dwaipayan Mazumdar
Take me through the collaboration. How was the experience of working alongside Kallol?
This is the first time Kallol's patterns have left his studio and been lent out, so for me it was a greater responsibility to capture the essence and execute them as per his vision. The collaboration was spread over a period of 5 months including initial discussions and ideation to the final execution and presentation. In terms of manufacturing, it was an iterative process and we had to keep reminding ourselves of the pure essence of the fluid fabric folds and the challenge to achieve it in metal or any other material.

Then there was the aspect of collaborating from two different cities and conversations went on constantly on emails, and chats, Sometimes live videos and images were shared to get instant feedback. I will admit that there was information lost in translation at times but it came along with a lot of exciting surprises. To put it simply, it was exciting at times and frustrating at times but surprisingly drama free. Kallol is definitely the one to collaborate with. For Paul Matter, it has been amazing challenge, because I feel we might have broken a few rules and pushed a few boundaries.
It has been, in all ways, an equal contribution and therefore, it is a collaboration.

What's next for Paul Matter?
Some of the projects and sites we did last year are beginning to surface. These are some really exciting spaces and architects that we are working with from across the globe. I am quite excited for year II. We will be launching another collection in the fall followed by a global showcase.

Take a look at Overlay & Underlay here.


Text Ritupriya Basu
Nikhil and Kallol working on Overlay I
Photography by Dwaipayan Mazumdar