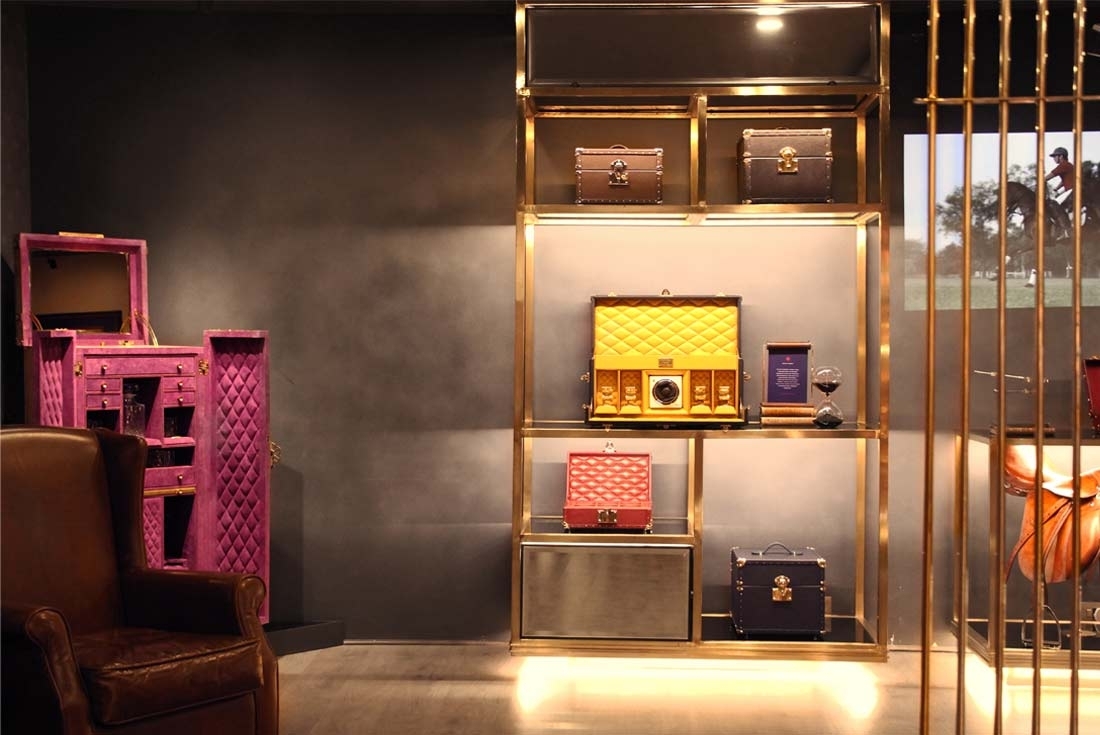 From the very era of the British Raj, trunks have been synonymous to royalty and luxury, and at once evoke images of maharajas venturing on month-long voyages, aboard steamer ships. But as the world learnt to move faster and distances shrinked, these travel companions from the yesteryears were lost to cobwebbed corners of closets, holding in them only a memory of the past. When brothers Paritosh and Priyank Mehta conceptualized the Trunks Company, their sole intention was to bring these chests out of the closets and into the mainstream. Inspired by their childhood spent around the skilled craftsmen from Jaipur, they wanted to reinvent the trunk – keeping close the nostalgia of the yore, but upgrading it with a modern aesthetic, making it perfect for the contemporary traveller.

When I found myself on a flight to Jaipur for the launch of Trunks Company's flagship boutique, little did I know what to expect. What followed, was a weekend seeped in the histories of the Pink City, leather workshops and hands on interactions with karigars. The boutique at the Rambagh Palace lives upto the opulence of its location, and poised in every corner, you find snippets of inspiration. The trunks form the centrepiece, each one created by hand with painstaking detail. From the signature suede quilted lining, to the gleaming brass hardware and the wooden trim finish – everything hints at a keen eye to detail. No matter what you want to tuck away, there's a trunk to meet your needs, whether it be watches, jewellery or even a poker set. I connect with Paritosh Mehta as he outlines the journey of the label and maps out their plans for the year to come.

What inspired you to launch Trunks Company? What sparked the idea?
It all started when I was traveling the world for my other business. While exploring hotbeds of creativity and culture across the globe, my thoughts always continued to return to India. I felt that India's vibrant & rich culture, its incredible array of arts and crafts ought to be celebrated on a global scale. And with this realization, a dream was born – to showcase Indian craftsmanship at its best.
Fuelled by this passion and instinct, I, along with my brother Priyank, founded the Trunks Company in Jaipur in 2011. With the thought that trunks could be much more than mere accessories, we spearheaded its transformation into a contemporary lifestyle pieces, crafted specially for connoisseurs everywhere.
What do you [Paritosh] and Priyank bring to the table, individually?
An aficionado of fine artisanship, Priyank harnesses his knowledge and immense experience in leather crafting to ensure that each of their unique trunks is executed flawlessly. He delights in showcasing the best local talent through the intricate design of each trunk, and through his extensive travels, sources the finest material to adorn these creations. His passion and eye for detail are instrumental in making these custom-made trunks a rare kind of treasure, one that's global in sensibility and Indian in soul.
While, I look over the creative aspects of the brands. Along with the team that dedicatedly works towards exploring new creative domains, I watch over the process to have minimal deviations from brand ethos and ideology that is inherent in each trunk we make.

From your launch in 2011 to today, how has the label grown?
Over the past few years, a lot of our time has been invested in extensive research on craft research and development of trunks and now we plan an international establishment in 2018, the first step towards which is our two months pop-up at Lane Crawford Hong Kong.
One of the first milestones for us was the overwhelming response that we received being covered & endorsed by publications like New York Times and Economic Times. Also, having ambassadors like Lady Bamford and H.H. of Qatar for our brand is like a golden feather in our cap.
Lastly and most recently, the inauguration of our first exclusive boutique at the Rambagh Palace, Jaipur is a major leap forward towards our long term plans for retail establishments.

Why trunks?
When it comes to raw talent, Indian craftsmen are unsurpassed. Since time immemorial, they have captured the world's imagination through stunning artworks, palaces and monuments. Their talent, while still awe-inspiring, struggled to evolve and keep up with the changing times. Our dream has been to take their centuries' old craftsmanship and manifest it into something that oozed extravagance today. By honing their aesthetics, making them experience the world of contemporary opulence and detail, we transformed these master craftsmen into passionate artists to lead into the future. And in the trunk, we found just the perfect medium to do so.

How does the production process flow?
Each trunk is completely handcrafted and is a result of average 400 man hours by skilled craftsmen who work on trunks at different stages. From sanding down a piece of wood, finishing process of leather, carving, stitching of leather, to hammering the nails - every aspect is handled with singular focus, care and discretion. The expertise of Indian craftsmen, great attention to minute detailing, and uncompromising quality gives life to these classic timeless creations. To give you an example, we had to design a sentinel to hold watches which was a new amendment for us as no one was designing such pieces. A lot of effort was put in to meet this challenge. We experienced a great level of satisfaction and pride once we overcame this to have a design patent on it.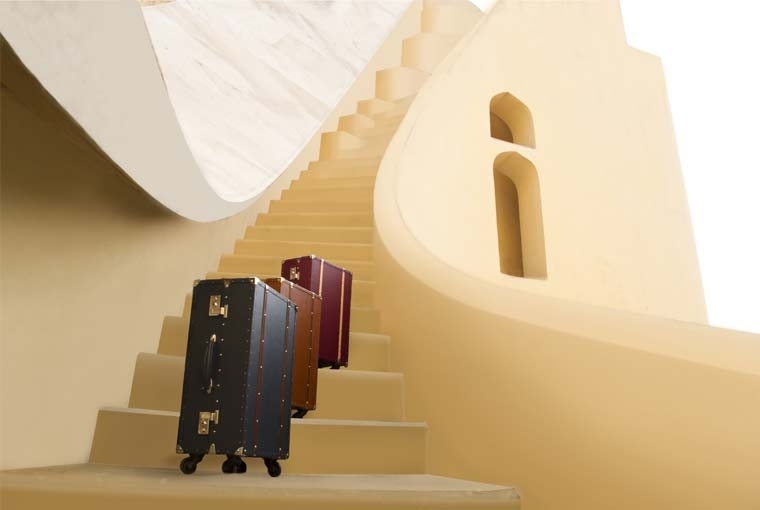 When you launched the company, what kind of research went into the design of the trunks?
Handcrafting trunks is a very discreet art, and requires a lot of focus & attention to detail. We face a lot of challenges but they help us evolve. The team meticulously handpicks raw material from the finest sources available worldwide. From developing the idea, to zeroing in on the right leather, to training the karigars to think beyond their immediate surroundings, every step brought its own challenges. For one, the leather we needed for these trunks was completely different from the kind typically used in conventional industries. Finding the right fit, and the right tannery that could process it for us, took more than a few iterations, but led us to rich, fine-grain leather that epitomizes luxury and ages beautifully. Every little detail of these trunks is thoughtfully perfected to create something that's truly one-of-a-kind, made entirely by hand. Our embellishments, for instance, are completely handcrafted and buffed, so no two sets of hardware are the same. From using the age old technique of sandcasting to stitching every handle of every trunk by hand, we leave no stone unturned to ensure a flawless finish.

Walk me through the latest collection.
Trunks Company is extending its travel segment and introduced the Suitcases and Briefcases, comprising of legacy of old aged trunks. The world may be smaller now, and our journeys shorter, but there's still plenty of room for making it unforgettable. Inspired by the voyages of the maharajahs of yore, each trunk in our travel collection is a work of art with modern functionality. Since Travel has emerged to be a means of self-discovery, our Travel Trunks sensationalize the way one travels. Designed to elevate travel, the suitcases and briefcases are handcrafted in fine grain leather, vibrant inner lining, brass embellishments and our signature wooden trim, making them an ideal Cabin Luggage.

What does 2018 hold for Trunks Company?
We recently launched our flagship boutique at the Rambagh Palace in Jaipur. We are also working on a new collection which is more lifestyle and travel driven. Simultaneously, we are planning international Pop-ups to showcase these collections and engage the local community.
Also we recently initiated our global presence in UAE and Hong Kong.

Text Ritupriya Basu