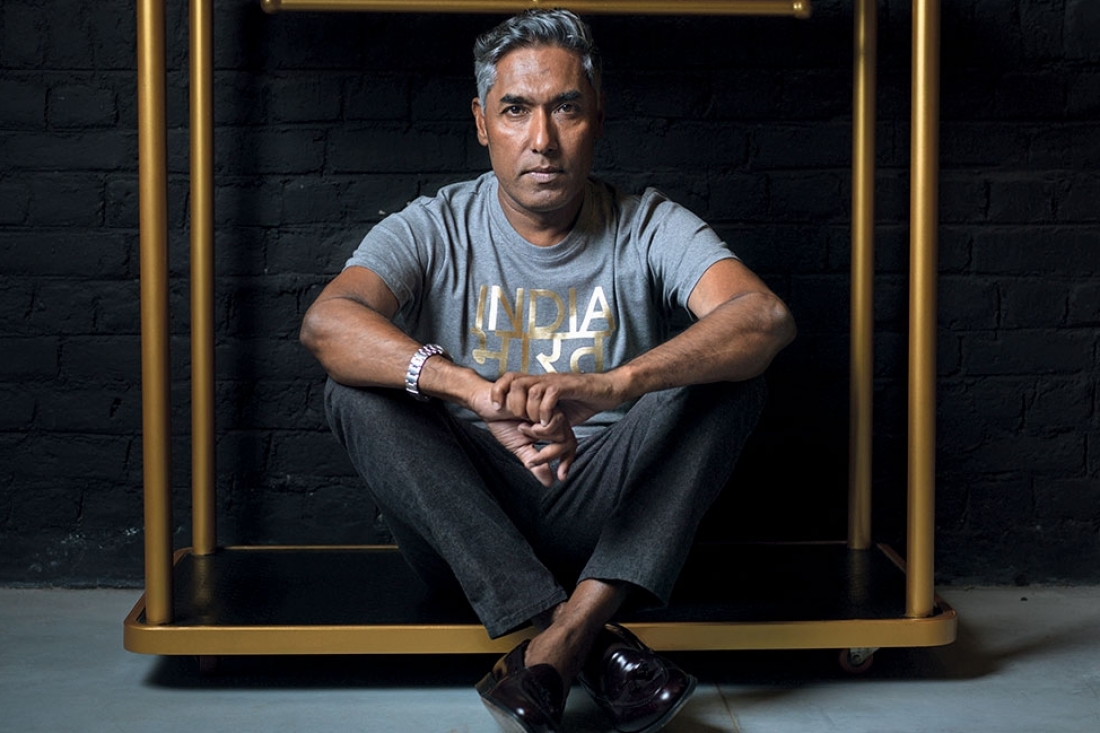 INTERVIEW OF THE WEEK
Photography by Vartika Sharma
Two's of India's most influential and exciting Design thinkers, V. Sunil and Mohit Jayal have had an enthralling ride so far, which from the likes of it, is going to get even more challenging. They changed the landscape of advertising by starting a boutique agency, A, that went on to collaborate with W&K, a small agency that was instrumental in some very large and thought-provoking campaigns such as Indigo and Royal Enfield to name a few. They worked with the government and spearheaded the Incredible India and Make in India campaigns and got global recognition. They began a very niche and artsy publication called Motherland that has a very unique voice celebrating culture. V.Sunil is one of the founding trustees of Kochi Biennale, India's first Biennale. Every four or five years, they embark on change and with that change comes some intriguing projects. Today, we see them start their new company Motherland, which has grown into a for benefit organization that is working on urban development, place making, merchandising and hospitality.

While sitting in their very cool, contemporary studio I picked their brain to see what all goes into a mind that is just not used to seeing small… A mind that thinks beyond numbers… a mind that wants to affect change… and wants to do it all through Design.

Tell us a little about yourself and how did you connect?
Sunil: When I joined Ogilvy as a Creative Director—that for me was a game changer. The role that was clearly defined to me was to fix the office. And at the same time we launched the Incredible India campaign. Ogilvy was a great company. We won a lot of awards. And that's when I realised I could do this without being a part of a large organization, so I left and started A, and we were instantly working on large brands such as Nokia and Incredible India global campaign. And we were literally a two-person company with a freelance writer who used to text me headlines. Then things just rolled, we collaborated with W&K and I got involved in the Cultural Industry and something clicked…and here I am today.
Mohit: I joined the creative industry because my brain always thought more creatively rather than analytically. I had done interviews with management consultants and was told that I was not a very mathematical guy and was advised that I should work in a more creative environment. And I took their advice and that's when I joined an advertising agency and I found it very exciting. I love brands and the creative process. I have always been a Brand Strategist and I also ran businesses.
A very close friend of Sunil's happens to be my cousin, and he actually thought Sunil and I would work together so he introduced us and we connected. Soon after we met we started A and ever since then we have been business partners.

How important is Design in our lives and how do you think India reacts to design?
S: Earlier, when someone was getting married, you needed design as you needed a wedding card at a very basic level. So they would go to the printer and the printer would not charge for design but just the printing so that was our idea of Design. Even now it takes a lot to make people understand that Design is an art form of its own that requires recognition, as it is extremely important in everything we do. Although what has helped is that the government is getting involved and understanding the whole concept of Design, and at the same time people are getting conscious now. So there is change. But I think we still need major shift in thinking to come about in corporate boardrooms as that's where big change happens, and it's there that I find that everything falls apart. The Marketing Heads of companies have no sense of design and or aesthetic. They grew up on case studies so that's all they follow. However, when we talk about Art and Culture in a boardroom with government officials, somehow they understand much more than the corporate world. So there is a lot of ignorance when it comes to the design and art world.
M: Design plays a huge role in our lives. We can design ourselves around all the chaos we see around us. I just feel where we lack is that our design community is yet to stand and take responsibility for the impact of their design. Designers have not been able to explain the importance and power that design has and how imperative it is. But the hope is that the new wave of people will do it, as they know their game.
Photography by Vartika Sharma
What would you say are some of the great opportunities in India within the design world today?
Today there are massive opportunities within the Design world. If you see, there are a very few companies that are doing boutique advertising. W&K is one of its kind and I cannot think of any similar company at that level. It's a small company that is working with large brands with huge impacts. While large agencies can think of scale and come up with some good ideas once in a while, there are very few that have the depth and intellect to come up with something solid. Some companies have the depth but are unable to execute on a large scale. They can do small, cute things but when a big thing hits them, they get lost. So we are in a funny space right now.
M: Within the creative world the opportunities are plenty as there are a very few Indian brands that have the weight to actually be globally competitive and to actually make India proud and profitable. So the opportunity is to go and create them.

Motherland started as a publication and is now the name of your company—what is your vision for it?
M: The reason we are called Motherland Joint ventures is because we want to be the focal point of all the progressive and exciting companies in India and abroad. We want to connect people, ideas and products. And the real mission of Motherland is how we can be a successful company and at the same time keep fixing broken categories around us.
S: Right from the beginning, we have been problem solvers and found ourselves fixing something. As of now our company is focusing on two- three things. We are used to doing large things, so we are concentrating on that scale as we have realised over time that the efforts are the same to do something small or large. Now we have an eco system that executes all our ideas and that's what we did with Make in India as well. The campaign got the whole world involved; even though it was Make in India, the collaborations were global and reached far, and are still going on.

Jodhpur is one of our on-going projects where we are in the process of reinventing. You can call us place makers—we started the project as an urban regeneration plan but I think it's basically place making. We are not just cleaning up a building and leaving it, we are actually building a complete eco system there. We are creating a group and making the group larger. Other than investors and retailers, we now want to bring super technology sitting under while heritage comes on top—focusing on technology of and for the future. We are plugged into think tanks, Vision India, Fab Life…these companies basically problem solve and keep thinking about the future and how to better it. So we want to use all that and create a great solution for these kinds of areas. Once we are done with it, this model can go anywhere as we are going to make it public. We are going to put all the knowledge out there so if someone wants to duplicate the model in Varanasi, he/she can. This kind of thinking according to the Harvard Review is called For Benefit Organisation. So I think that is what Motherland is—a For Benefit Organisation.
Our focus centres around projects such as Jodhpur where we are taking old buildings, fixing those and bringing an eco system by offering better food, better design and a greater experience. As of now all our efforts are directed towards that. Merchandise is another part of Motherland. We are focusing on products that celebrate India. Ayurveda is also something we are focusing on.
Photography by Vartika Sharma
What's the blueprint for Jodhpur?
S&M: Jodhpur happened by accident. In 2014, I [Mohit] was in Jodhpur conversing with Dhananjay and Nikhil from Raas, our partners there. They were also involved in buying and selling properties there and offered us a couple of havelis, but I said instead of a few let's take a whole lot and create something spectacular. I shared the idea with Sunil, he loved it and we began instantly.
We have got about 20 buildings, small and big. We are looking at hospitality—around two-three hotels and a few hotels that are one level up, for backpackers. One of our partners is OYO, so we are building on that brand and creating two more new subsidiary brands of which one is called The Townhouse and will offer rooms for 2500-3000 rupees in existing buildings that we will redo and clean up. The next brand we are building will be a notch higher, so each room will be around 5000 and will be a different kind of experience. The whole idea is to give choices so that one will really think before checking into a five-star hotel. Retailers such as Good Earth, Forest Essentials, Portside Café etc have taken a few spaces and we are going to open up a few cafes and bars.

What are some of the challenges you have faced along this project and what is the ultimate goal?
S&M: Even though we are spending our own money cleaning up Jodhpur, we still have to think of the various issues and concerns of people, their religious sentiments, the government giving a positive nod, so we need to keep a lot of people happy while making a better tomorrow for them and that's the biggest challenge. Our main aim is to create a group of people and include the government so that the group can sit anywhere and place make. In Jodhpur, we are creating and reviving. Ideally we want to find cities like that with culture, as then we can build a lot of stories around these. The plan is then to work with financial institutions; government, artists and other thinkers and have them all on board.

What are the major issues you see stemming from the Creative Industry?
S: I feel that in the last six-seven years business has changed so much, but the creative industry is still trying to figure out how to get behind it. The people in the industry are still used to waiting for a brief and direction before execution. They don't take initiative to start something radical or affect change. And that's why I think the creative industry is left behind. We are yet to see an Uber or Twitter kind of idea stem from our industry. We, as designers, have the power to affect change and that's what we should do as otherwise we are not making use of our full potential. Many creative industries do not want to work with the government. If you see, before independence we were very good. All our cities were very well planned. Every city had culture and every city had character. There was a sense of fashion and style and now there is complete confusion. When you land in a city, unless you really drive out, every city looks and feels the same. Another problem is that all the intellectuals who talk about design cannot practise it. They have the knowhow, but their aesthetic of design is pathetic. And people who can do it are at times not able to articulate their idea well. One also constantly sees that when creative professionals break away from companies such as W&K or Ogilvy, they start their own company and begin by doing something small for which they hope to be awarded and they think from there they will grow. What they don't realise is that starting small gives them that stamp of a small company with small ideas. And all of a sudden you are 45 and find yourself caught in the rut of dabbling in small things. Unless some miracle happens, he or she will not find himself or herself doing anything new. I have seen this kind of situation happen a lot with the young and the old.


"Sunil: You can call us place makers—we started the project as an urban regeneration plan but I think it's basically place making. We are not just cleaning up a building and leaving it, we are actually building a complete eco system there"
Without getting political, what are your views on the Make in India concept and where do you see it headed?
S: I feel campaigns such as Make in India and Incredible India create a certain kind of energy that gives a little push to the system. With the Incredible India campaign, change began instantly. They fixed the airports without any delay as the tourists were coming. In the case of Make in India, the Prime Minister saw the campaign and he met Amitabh Kant, the key instrumentalist of both the projects, and he was so excited that he decided to launch it so suddenly that the campaign got even bigger than what we had envisioned.

Lastly, what is your state of mind now?
S&M: Our main aim from the very beginning has been to focus on experience design and that's what we did with Indigo and Royal Enfield, so the past 10 years have been satisfying as we are getting to interact with people who understand and appreciate design. As for now, we think if we achieve Jodhpur and are successful in our vision for hospitality, we think we'll get a lot done. While we fix the infrastructure, we would like to revive their craft. If we can have an impact, we feel we would have got a lot done.


Text Shruti Kapur Malhotra