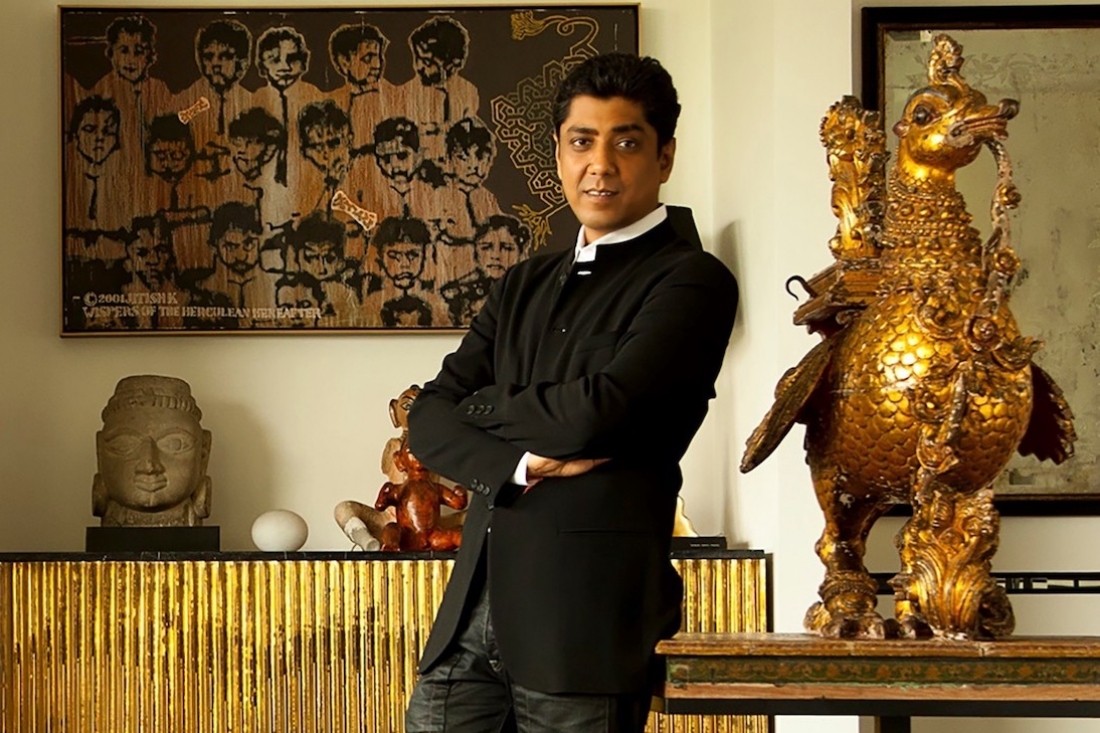 As you walk inside Bikaner House to view the ongoing exhibition by Vikram Goyal that celebrates Viya Home's 15 years, you are struck with an awe by the dramatic yet sophisticated design aesthetic. With his primary material of practice, Brass, shining magnanimously around us, Vikram Goyal himself took us around his exhibition, explaining to us the intent behind what was at show and what a particular body of work signified. Vikram's work covers the twin poles of contemporary furniture design – from modern twists on traditional motifs that are dramatic and sculptural but formalist to installation-like products that are exuberant, expressive and free flowing and break away from the confines of sober geometries. Led by Vikram Goyal with sister Divya, New Delhi-based Viya is much sought after for its "dramatic masterpieces" - which blur the lines between art and design and design and utility. Vikram has long championed for a "Modern Indian" design language and been a poster model for Made in India. As we were shown around the beautiful exhibition, we also had a chance to speak with Vikram about his journey so far. Excerpts from the conversation follow.
You're celebrating Viya's 15th year anniversary now. How would you summarise your journey so far?
When we started, our primary objective was to create a modern Indian design language, one where we would work with (a) local artisans and revive traditional craft communities; (b) local materials such as brass, traditionally used for ritual and decoration, ; and, (c)local inspirations from traditional cultural and architectural elements. Today, while our work is Indian in its artisanal and material DNA the inspirations and designs have moved beyond local borders. When we started selling our work internationally, and then working with international designers, my interactions with them kind of moved me away from the Indian design part of it. So our materials continued to remain traditional and so did our workmanship but the design was very non-Indian, if you know what I mean. All the abstracts things you see in my exhibition, there is nothing Indian about it, other than the fact that they are made in Brass. And today we are working some of the leading international design companies from London, Paris and New York, so that has been one big journey. The other was working with local artisans and trying to get them on the same page as us in terms of quality, timelyness and all of that. Now we have got our own studio, our own workshops and all these amazing workers, and we have invested alot in their skills, which has been quite challenging but it has been quite a journey when I look back now. It certainly was challenging but it also demonstrates that its in India's heritage, the craftsmanship and references, it is in our DNA you know that you can spend about six months just making one object. So that has been quite fulfilling.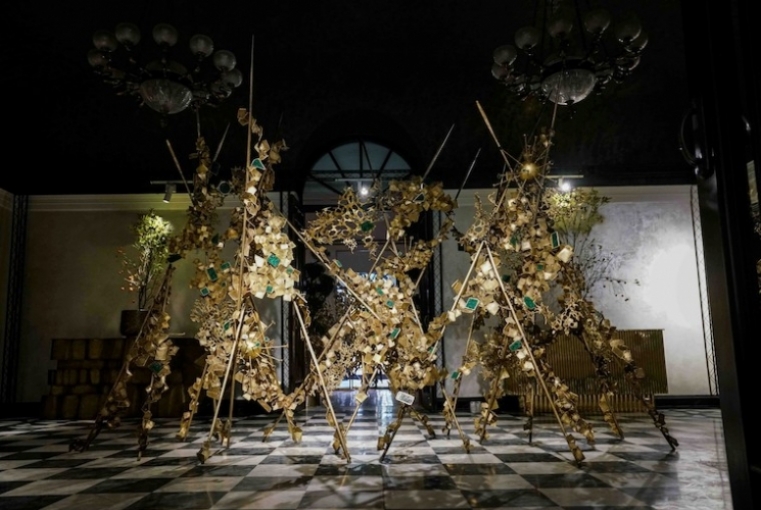 How would you describe Viya's design sensibility as and have you managed to stick to it for all these years or has it evolved?
I would say that its quite exacting, you know, its not got frills. Its quite precise and does not have extra appendages. Its glamorous without being ostentatious. There is a certain glamorous appeal to it. I would like to put it as a confluence of art meets design meets drama.
The sensibility overtime has completely changed. I started with India Modern and now it has become completely abstract and esoteric. So it has changed alot.
Can you briefly take us through how Viya's sensibility and work has evolved overtime?
I think you should refer to this brilliant essay written by Peter Nagy on our work because he describes the evolution quite beautifully.

Excerpts from Vikram Goyal and The Voyage of Viya by Peter Nagy
Vikram Goyal, through the body of work he has designed and produced with his company Viya which he started with sister Divya, sums up something of this circuitous history of design and the comfort it finds in our topsy-turvy present...Like any confident artist, Goyal has accepted a set of parameters to dedicate himself to, while recognizing the infinite varieties possible within these parameters, resulting in a program of refinement and excellence.
INDIA MODERN
Viya's first phase, described as India Modern, explored the fluted domes and columns of Mughal architecture and the synthesis of floral and geometric shapes common within Pichwai imagery.

ORGANIC | NATURE
Phase Two, evolved into Organic/Nature and showed Goyal moving away from any man-made references. Now, all manner of flora and fauna became grist for the designer's mill, with special emphasis on textures to be found in both the jungle and the sea. While continuing with many of the same functional forms from Phase One (tables, both cocktail and coffee, consoles, standing screens, and hanging light fixtures)
ART DECO
Phase Three brought Goyal and Viya into the terrain of Art Deco, which made a strong presence in India some thirty years after its European debut. Prodigiously geometric, most of the pieces from this phase celebrate the look of industrial production and as they are actually hand-made, relate to the minimalist sculpture of Donald Judd and Sol Lewitt, by way of this ironic twist.

CHINOISERIE
Chinoiserie is the name given to Viya's Fourth Phase of production. The series employs the technique of Repoussage extensively, creating low relief panels by hammering thin sheets of brass on to pre-designed forms.

SCULPTURAL
Viya's Fifth and most recent Phase is called Sculptural , and here Goyal brings his functional wares the closest yet to pure sculpture. Employing a language both geometric and organic at the same time, many of the pieces from this phase recall the bold artistic statements of Abstract Expressionism and improvisational Jazz.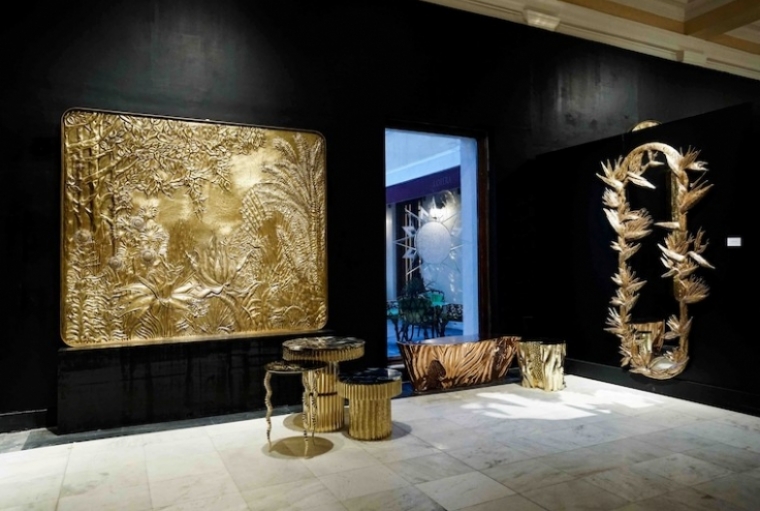 What was the curatorial process behind your ongoing exhibition?
We just wanted to put our best work together. So if there is repoussage, we have put our best repoussage panels here, if there is hammering we have put our best pieces from hammering forward, and so on. So as an entire gamut, I just wanted to show the best of what we do.

What are your views on the current scenario of Design industry in India?
My view is that I think alot of design and architecture today is very derivative. Like even the interior design and furniture design, at the high end of it, everyone wants to buy it from Italy and so on and people are still not taking as much pride in our heritage and our local materials and our local craftsmanship as they should. Alot of design is based on, what they call contemporary design. Today houses are looking like airport lounges you know. Its sad because we have such a history, such a legacy and so much individuality in India, so its a shame. I mean there are very few people today who have kind of tried to promote Made in India.
Lastly, what is next for you?
I don't know! I am very tempted to work with a new material and I am trying to figure it out. But then we have gotten where we are because of this material so part of me wanst to hold on to it as well. So I am not sure what's next to be honest.

Text Nidhi Verma