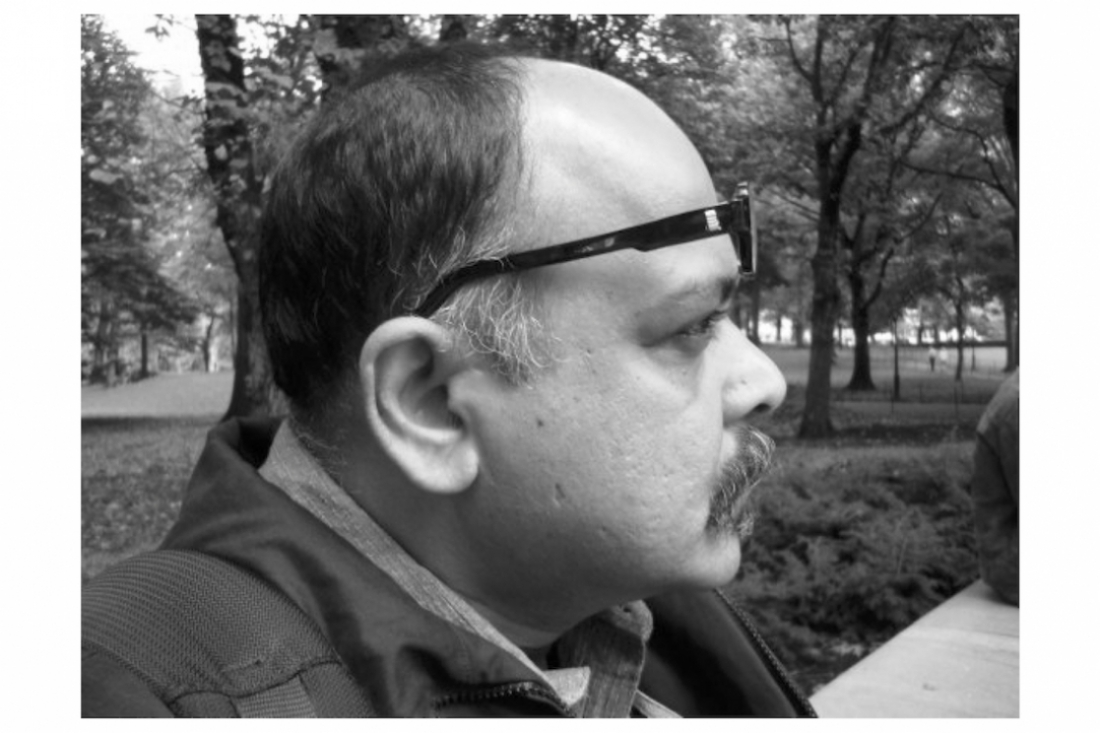 Yours Animatedly
Prakash Moorthy, Design Pioneer
An animation filmmaker who does graphic narratives, designs wildlife interpretation centres and drives production design for a certain kind of cinema, Prakash Moorthy has slowly and dedicatedly changed the smart design landscape for India. I trace the journey and challenges of this rather reclusive pioneer.
What informs and inspires your practice?
People and their lives inspire me. Politics, Art, Culture and History do. Incredible advances in physics and study of the Cosmos have also taken me, giving fresh perspectives to the positions held. The gravity telescopes (LIGO) picking up signals of events millions of years old, and researchers getting closer to the origins of neutrinos… is a wonderful time to live in. I believe this knowledge points to the marginality of everything, including the expedition called Design. And why these expeditions better be good and sustainable is becoming paramount.
How has your craft and design sensibility evolved through the years?
Though trained as an illustrator and an Animation Designer from two Premier Institutes of the country (MSU and NID), I found myself dabbling in storyboards for cinema, soon as I came out of college in the early 90s. There were not many jobs in either discipline those days.
Cinema waits until someone teaches it to you, and then it sets out to teach you life! This is the most incredible thing about the practice of cinema. It fixes concerns and empathy in their right places. It teaches you to look through, observe and understand the actual. To understand predicament and deliberate deliverance, I believe, is the amazing soul of design. In my practice this learning has been decisive. How form traverses time and space to make sensible meanings is an important lesson in the learning and practice of any design.
"To understand predicament and deliberate deliverance, I believe, is the amazing soul of design."
What are some of the projects that have helped shape you and contributed to your design journey in important ways?
Mostly all the projects I have worked on have helped shape me. I teach sometime and every class I take also does. I have had projects that changed me in various ways. The Production Design of the feature film Vanaprastham is one.
During its shoot in 1997, I was making a set of a room in which a particularly sad event was to be canned. I made the room so very dense with sorrow that my colleagues experienced lumps in their throats while walking by. But then, the Director of Photography Renato Berta came in for a pre light exercise and told me to remove '20%of the sadness' from the room. I asked him if it was in the colour? And he replied, 'no, 20% of the sadness'. Then I asked him if it was in the texture? And he replied again, 'no, 20% of the sadness'. Again I asked him if it were in the props, and again he said 'no, 20% of the sadness'. Renato is regarded a Master Cinematographer in European Cinema. He is known for his work with the likes of Alain Tanner, Alain Resnais, Jean Marie Straub, Fassbinder, Luis Malle, Eric Rohmer, etc, and this was his first collaboration with the Indian Director Shaji Karun.
Later that day, his stoic glare and the final nod of approval taught me that mine was the difficult job to prepare the 'correct' (vulnerable) space where a scene of great melancholy could be performed by actors, camera, sound, music and montage. He told me that making a room full of sorrow was easy and that it would lack any sense and reason, existing by itself. That it was together with all the other elements that the audience would see the sense and raison d'etre of it. And that it was when the act of seeing is also over that the design can be called complete. This lesson completely changed the way I look at Design.
What is the role that design plays in the development of a country, and how far have we gotten with it?
I strongly believe that design as a practice is built upon a socialist concern to bring egalitarianism in sensibilities across a hugely unequal world. The practices of Vkhutemas, and its contemporary Bauhaus, the twin engines that started off this modern expedition, are still prime examples of this concern. So is the primary age-old role of craft and toolmakers in all cultures. It is to bring universality in function and aesthetics that the makers have been toiling for. However, when this socialist (for the want of another word) concern to bring this parity is lost, Design becomes a frothy production of fluff. Surely like how everything falls when the floor is removed from beneath, this fluff will also float awhile and fall as fluff does. Development of a people requires a thought that has within its core, an urge to bring in Parity, if not in other ways but in basic sensibilities.
"I strongly believe that design as a practice is built upon a socialist concern to bring egalitarianism in sensibilities across a hugely unequal world."
Animation in India. Your views.
I am an animation filmmaker who must sadly report that though we are players in the world animation industry, the character of what we produce is yet to make a mark globally like how other cultures have. Perhaps we need more time. Perhaps when contemporary literature of our land gets translated into our animation content, we will. Perhaps when we stop doing the mythological, we will. However, with song and dance our main stream Cinema has made a perch for us. May be, we could use that perch to launch our animation Design, all over again. Design, like craft did for ages, brings pride to a people. It is indeed important for their development.

This is a time of great transformation in art and design—the mediums are blurring, the disciplines are merging and sustainability seems to be the common connector. Your views.
Yes these are times of great transformations. Technology has brought in amazing new possibilities; of democracy in accessing information, communicating, documenting, conserving… Making and producing is faster, new materials, new styles…but products and services are dying sooner than they did before. Newer technologies render young objects obsolete in months. Sustainability has taken a hit. Is it only thus that sustainability becomes the common connector between blurring disciplines? This is a grave question. As an answer Massimo Vignelli says, "Styles come and go. Good Design is a language, not a style".
What is the single-most biggest challenge you've faced along the way while bringing about a design shift and how did you overcome it?
In 2007 I joined Miditech New Delhi as Head of Animation for Gali Gali Sim Sim project, the Indian version of Sesame Street. We were twenty animation film designers, graduates and postgraduates from NID. We were radical in our thought. We considered ourselves technically efficient to take on any challenge that came our way. We had to do more than a hundred short animation films for pre school children. Seemed like cakewalk. Our Clients were Sesame Street of New York, with whom we work shopped endlessly before we began.
It was after a few rounds of discussions on our ideas for the first set of films that we saw it. We found a certain level of stress creeping into the feedback they were mailing us. Soon they came out with their predicament.
They had a room full of pre school children in their office – eight month olds to two year olds, to test our animation content. Their reactions would be recorded on video. Then the scholars would repeatedly study the video to construct a feedback for us. We wondered why that could be so stressful. They slowly revealed to us that children of that age go through major neuron activities in their brains that no scientific study has been able to figure out why. "Neither do the children tell us what is going on inside their heads, nor do we, who have passed all that, remember what went on inside our heads" The child specialists, behavioural scientists and educators, against all odds that come along with a room full of kids, study various signs in their reactions to our films, to put together as sensible feedback. "A child looking away from the animation on a screen and laughing while doing so is not necessarily unimpressed by it, but is probably reminded by it of a funny incident from her future!"
This did not cause a great design shift, but it equipped most of us with humility.
What does your work in progress look like?
In 2016 I began writing a biography of Mr. Rammohan, the father of Indian Animation. It involves interviews, trips to his house in Mumbai, trips to his old School and College in Mangalore, and his childhood town in Kerala. I have many audio files, notes, photographs and video clips to begin my final work. His journey is an amazing trip filled with remarkable people like Satyajit Ray, Mrinal Sen, Utpal Dutt, Arthur C Clarke and such, besides the giants of World Animation Cinema.
Last year friends encouraged me to make a graphic narrative for an anthology that was being published by Harper Collins. The anthology is called 'Longform 1' and is a collection of graphic narratives done by many veterans and new entrants like me. Though while in school, I fancied myself to be an artist of comic books, this late oppurtunity was a rare boon. I made a piece based on a classical folk performance of North Malabar. The book is now out and I am very proud of it.
During my last visit to Mr. Rammohan's residence in Mumbai, I showed him my new graphic narrative that appeared in the 'Longform 1' Anthology. After going through it, he expressed that I could consider doing his bio as a graphic documentary. I said yes and have since plunged into it. This is my work in progress and I am liking it.

Text Soumya Mukerji