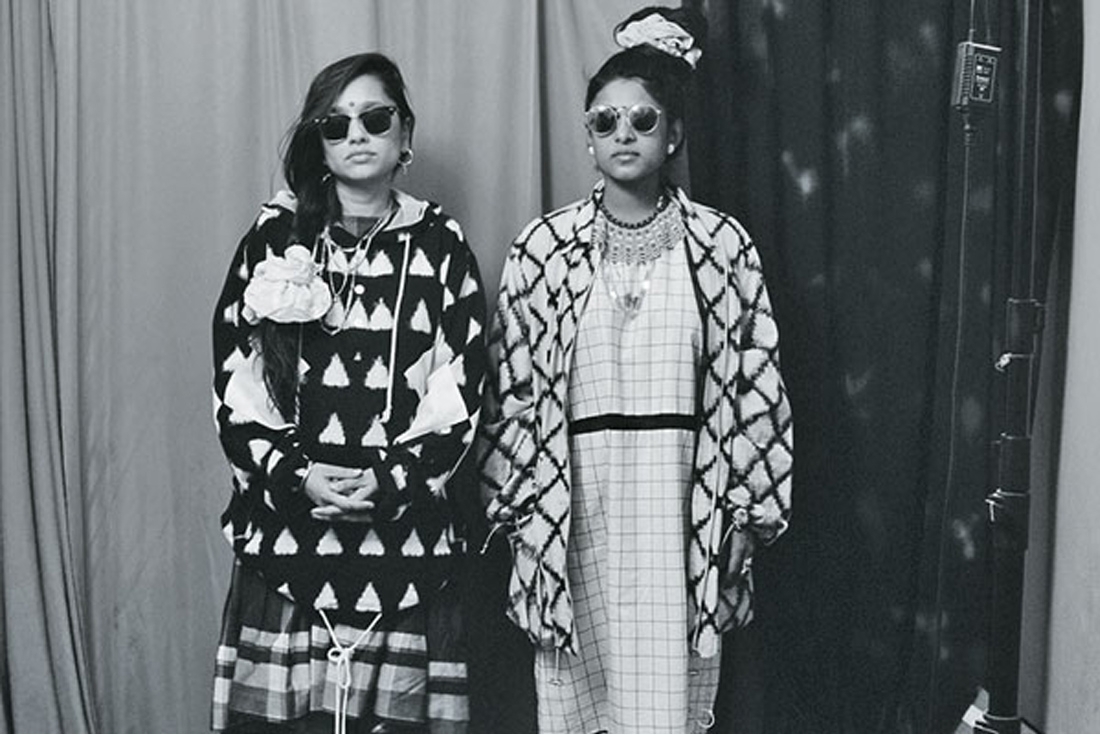 Art meets Fashion
with NORBLACK NORWHITE
The most recent artsy-edgy label on the Fashion scene, NORBLACK NORWHITE is making inroads into synchronizing native textile traditions with new age street style by way of their eccentric offbeat collections. Describing themselves as 'Part anthropological experiment, part art and part fashion', Mriga Kapadia and Amrit Kumar hit the nail on the head by infallibly living up to the same. Collaborations with artists, dynamic fashion presentations, fashion films doubling as lookbooks and an ode to a historic city, revival of traditional textile practices into contemporary fashion are all the ways in which NBNW is dazzling the art and fashion world.

Their latest works include A woman was harassed here and Velvet Vixen. The former is a collaboration with artist Aqui Thami and Dharavi Art Room, immortalising the artist's work to spread awareness about sexual harassment faced by women. Initially, the artist wheat pasted posters reading 'A woman was harassed here' across Mumbai at the places where she or someone she knew were harassed. NBNW released a collection of T shirts and totes reading the same message. The latter is their most recent streetwear collection featuring velvet ensembles exuding a sporty yet 'paint the town red' vibe with the addition of a fashion film read lookbook which is an Ode to Old Delhi. The said video sees a mashup of a Kishore Kumar track with ultra modern beats while the model dances on the streets of Old Delhi, bringing out the essence of the label effortlessly. Mriga and Amrit let us in on their journey so far:

How was NORBLACK NORWHITE born?
NBNW was born out of our desire to explore India through its textiles, artforms and handicrafts. It pays respect to these traditions, while making them relevant to a present context. We want to challenge the popular notion of what 'Made in India' means to the world. We started NorBlack NorWhite as more than a fashion label. We wanted to document the process of creation, explore the cultural landscape of the country through textile, create art, collaborate and tell stories. NBNW was conceived as being part art, part anthropology and part fashion. We both are good friends from the diverse city of Toronto, where we were initially drawn to each other because we love to laugh a lot. We happened to have a similar eye and aesthetic of remixing Indian traditional textiles worn in a current context. We also found that we shared a similar sense of the way we create, the style in which we work with all types of people and the longing to learn about indigenous communities and art forms. We moved to India to experience a new way of living; to connect to our Indian roots and to study Indian art and life from an anthropological lens. This informs the way we make things happen, how we design our life and work. We have both spent a couple weird years working for an ad agency, while balancing our side hustles of working with local music festivals and a Toronto iconic vintage store called 69 Vintage. We learned a lot and soon felt it important to create our own path in our process. Neither of us come from a fashion design school background, but we quickly learned to apply all of our artistic loves and practices in creating NorBlack NorWhite.

What draws you to these ancient practices of textile design? How does the process of contemporizing them look like?
We're fascinated by the intricacy of creation - the idea of a loom taking 20 days to prep in order to just begin weaving is mind blowing to us, and the mathematics and science involved in these crafts is breath-taking. In India, over the years this value has eroded, but thankfully there is a small section in the newer generation that can see these skills disappearing, and they are eager to support, learn and be a part of the rich craft-driven history of the country.

NBNW seeks to present these traditional design practices but in an updated, modern aesthetic.
We were always exposed to beautiful Indian textiles through our mother's wardrobes growing up in Toronto and were captivated by them. At the same time we were exposed to a certain Western street style aesthetic and would often mash the two together in to our personal style. We're constantly pushing the boundaries of how we can merge these two worlds, and that experimentation is one of the best parts of doing what we do.

Take us through your design process.
Some of our textiles are sampled by specific artisans we've been working with for years, and others are new ones we are starting to work with. Our muses are usually people within our community of cuties & some fine finds online that keep on changing. We style and art direct our work, so all the visuals and aesthetics do often come from our personal vibes. We didn't go to a formal fashion school, so our process is pretty raw and rooted in our intuition, we feel something and then build up from there. Depends on really anything. What flowers we are in love with, what foods we are exposed to, what environment we are in, what nature we are in love with and what people are inspiring us.

How would you sum up your design philosophy?
NBNW is more than just a commercial fashion brand – we see ourselves as storytellers documenting cultural movements, ancient narratives and histories in fun & accessible new ways. We aim to contemporize indigenous culture with the utmost respect. NorBlack NorWhite aims to preserve that tradition, continue to showcase India's love affair with colour, all the while ensuring it remains modern and relevant. NBNW is inspired by the hand-made, colour, old school hip-hop/rnb and Michael Jackson!

What is it like to work directly with artisans specialising in textile crafts? How much a part of the design process do they get to be?
Over the years, we've worked with Ikat weavers in Andhra, zardozi craftsmen in Benares, and textiles from the North East of India. We've been blessed with meeting some truly special artists while sourcing for our collections, especially in Kachchh. It's here that we met Judy Frater, an extraordinary woman and mentor, who has dedicated her life to the preservation of crafts and artforms in Gujarat. She introduced us to our bandhani family- the Khatris, with whom we produce all of our tie-dye. We worked with them on our very first collection and we just get each other. The Khatri brothers- Aziz and Suleman Bhai, and their family are magicians with tie-dye. Aziz Bhai especially is as much of a fan of experimentation as we are. It's a very collaborative process of creation that has been such a great source of learning, and just good vibes! Everytime we visit, it's a beautiful, casual family vibe, with all of us sitting around the television and watching TV together. Our style of working with traditional artisans (or artists actually) is very collaborative. We'll never have the level of understanding about these art forms that they do so we let them work their magic. We're big fans of experimentation. So we encourage them to create with us. We explain a vibe and then we sit together and come up with possible ideas and let the process develop organically.

Is there any particular Indian textile craft that you particularly want to explore that you have not yet explored?
Block Printing! We are super excited to get into this space as the possibilities are endless with the types of blocks we can create and the patterns we can design. We have been super obsessed with bandhani and ikats and all types of dyeing so the idea of getting to explore a new technique that we have been waiting to for years feels like an adventure.

One of your latest projects, your collaboration with artist Aqui Thami intends to create awareness about sexual harassment. How significant a role do you think Fashion can play in educating society about the problems it faces, and may be even, in changing perceptions?
In a way clothes have always played an important role in the dialogue around sexual assault, in this dialogue, we are working with the t-shirt being a voice to a message that leads people to stop and think for a moment. How people dress is always brought up in the redundant talks about what not to wear to attract unsolicited attention, however hopefully some of those same unwanted gazes will stare right at this message and in turn become the uncomfortable one. This conversation is important for us personally, as through the years of travelling & sourcing handcrafted textiles while working in a heavily male-led industry, there were one too many experiences in which we questioned our design journey in lieu of our safety.
We used to joke about adding a "Harassment Tax" to our costing as it was a very real expense. This project is an effort to wake people up, even if it's just for a split second. This is our idea of using feminism in action while using art and design as a powerful tool.

A lot of your collections are Unisex. Is there a reason behind that?
Gender is fluid and we all know that. Apart from being bored of old constructs and systems & categories, our brand is literally about exploring the grey space so this applies on all levels. We personally have been wearing "mens" clothes for a long time and really as long as things fall nicely and look good, who cares? It feels ridiculous to attach a gender to a garment, when the piece of clothing can really only come to life when it's worn. It's awkward when we have to categorize things on our online platform and generally, but we know everyone is still coming to terms with their views on gender so we are trying to be sensitive to that and present things in the way we'd personally like to see them.

How would you want people to remember NORBLACK NORWHITE?
FUN, FLY, THOUGHTFUL, BEAUTIFUL, CLASSIC & THE FUTURE.

Text Supriya Jain