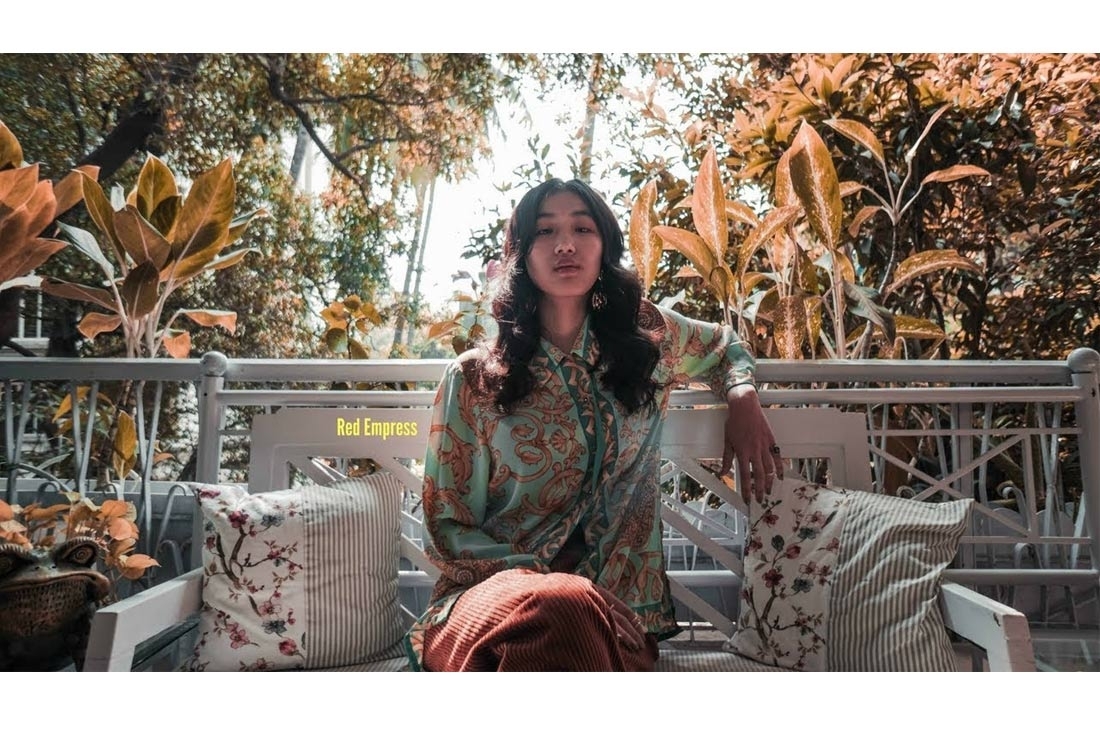 As I browse through Red Empress Label's Instagram feed, I come across some vividly eccentric pieces of clothing that would give fashion giants a run for their money. As I scroll down; an oriental red jacket, an emerald green top embellished with gold sequins in a leaf pattern, a digitally printed vintage dress with gold links and antique clocks covering its surface, a tasseled chandelier skirt in gold and white catch my eye amongst the many other vintage finds that Aesha Merchant and Asu Longkumer have stocked from over their travels. Let alone the fact that these are all highly covetable one off vintage pieces, the duo have also succeeded in nailing the label's branding with some impeccable styling and heady fashion films.

From its inception back in October 2017, the label till date is a headrush of sporadic sourcing trips and a 'take it as it comes' attitude. However, Aesha and Asu vow to take a more planned approach in the future owing to Red Empress's unprecedented climb to popularity in such a short span of time.

The duo takes me through their journey of being one of the rare affordable vintage fashion stores in the country.

So why the name Red Empress?
Aesha: Red Empress for me is a powerful feminist name. Also Red is the colour that we both really like! It reigns my wardrobe and Asu's makeup. It is something that we both relate to, and Empress is obviously a different name for a Queen, a boss. I remember it was in the middle of a Garnier shoot that we both impulsively decided to sit down and brainstorm names for our Label. The name Red Empress also ties to the fact that I am obsessed with the Orient. I like everything to do with the silks and the prints, with history. I am a huge fan all of that. If you see our pieces you will find that we have a lot of Oriental prints and the fabric is also oriental in its own way.
Take me back to the Label's inception.
Asu: Aesha was my boss in the beginning. She was a stylist whom I was assisting. We got along really well. We both have the same sense of style. We would both end up in the office wearing the same thing or similar outfits and then we were like, we really need to sit down and talk about this.
Aesha: That's why she did really well as my assistant too. I rarely had to watch over her. I just knew she would pick up stuff that I would love or pick up myself. Also, in time we also noticed that each of us owned a lot of vintage pieces that we would wear. I had a lot of my mother's and grandmother's clothes and she had a knack for finding vintage things in Mumbai. So it was her initial idea, that we could try to find random pieces that were vintage and sell them. She also suggested to devote a little more time than me to the Label as I was super busy back then, so I guess, that's how it started.

How often do you take your sourcing trips?
Aesha: We would just go on these travels and happen to stumble upon great vintage pieces in thrift shops. Nothing was ever really planned till date. I think we will have to start planning now! Though I do go to my homeland, New Zealand at least twice a year from where I source some noteworthy finds.

Your label has succeeded in filling an important gap in the market. In an age, where high street brands are all the rage, Red Empress has been able to break the monotony by way of their unique, one of a kind, hard to find pieces. How has the response to Vintage Fashion been in India?
We have had a great response, a far greater response than we imagined, although I feel It is still picking up in India. Even environmentally it is better to bring back old pieces, because these days it's all about Fast Fashion. I think the more people understand about Vintage Fashion, the more it closes that gap. It is way of recycling clothes. It is good to have a brand in which you are not manufacturing the way that everybody else is, basically literally saving pieces and giving them a new life.

Red Empress stocks a lot of statement pieces which are unique and hard to find. They deviate from the minimal aesthetic found in High Street brands in India. Do you feel a shift in the Indian Fashion consumer moving towards a more individualised sense of style and straying away from run of the mill High street Fashion? Or Vice versa?
The indian consumer I would say is still extremely interested in the High street Fashion because it is more affordable and secondly because it's easily available in every city. Though I do know that there is a big group of people, especially people who are in the creative industry such as photographers, makeup artists who are consciously making that effort to become more individualised and are moving towards organic Fashion.
Any future plans for the Red Empress?
We plan to have a website up soon though we don't want to open a store because we feel the overheads for a store are really expensive,especially in Mumbai. We are going to start taking appointments with the clients so that they can come over and have a look at the pieces and purchase the stuff. We are also planning on doing some pop ups though we are not sure which pop up we will be a part of. That's the plan so far though we are still trying to figure out how to go about it.

Text Supriya Jain