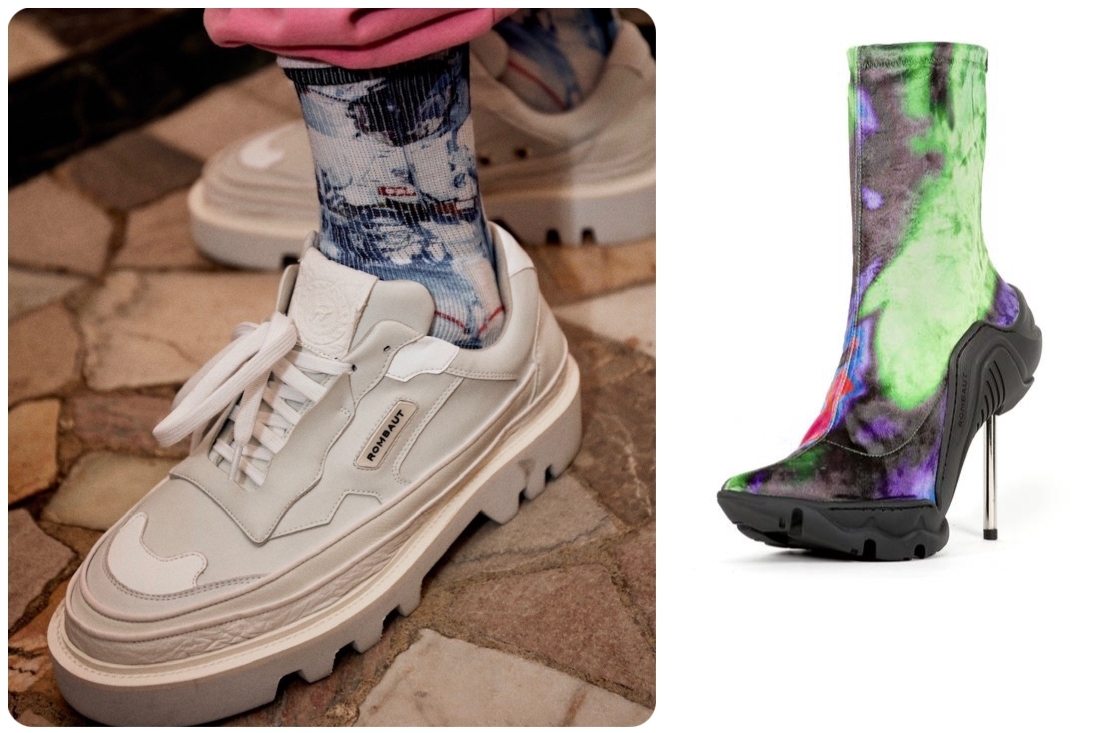 A vegan accessory brand with sustainability at its core, ROMBAUT aims to provide a way forward for a world in need of progress. Color, form and detailing are singular and bold. Using luxurious plant-based materials, recycled fibres and high grade artificial leather, ROMBAUT creates unique sneaker styles with a story.

The Founder
Mats Rombaut was born in Ghent, Belgium in 1987. He is a multi-disciplinary creative, currently based in Paris, France. After completing a Master's degree in Business Administration and Marketing, he pursued Fashion Design in Barcelona, Spain. It was later at Lanvin and Damir Doma where he learned about footwear. He draws inspiration from art, natural and scientific processes, and especially music. In 2013, ROMBAUT was founded, his first independent project. Mats is the Creative Director and Founder of ROMBAUT, and a Creative Consultant and Sustainability Expert.

The Beginning
I think it was a combination of different things, but mainly I thought it was going to be fun! I'm from a small village in Belgium, and when I watched Absolutely Fabulous at the age of 16, I thought: 'this is how a life in fashion is going to be.' (Laughs). I have been designing for my own brand for three and a half years now. Before that, I was working in product development for other brands like Damir Doma and Lanvin. I decided to start my own brand because I felt ready for it and I thought the idea I had was very relevant and needed to be out there. When I was younger, I was a Comme Des Garçons fan and my earliest fashion wish was to sell my work in their store in Japan. It came true when they bought my first collection. It was the most exciting moment of my (fashion) life.
The Challenge
It was hard because I didn't want to make compromises in the beginning. I wanted to make a vegan shoe that was also bio-degradable and all-natural. It was technically difficult to come to a first prototype because I was substituting all the different shoe components with other untested materials. They were organic, haute couture shoes made in Italy, and not many people can afford that. Now I have two lines within the collection: one is natural and organic, the other also uses technical fabrics and manmade leathers.

The Material
I use natural fibers wherever possible, such as cotton, pineapple fiber, coconut fibre, etc., but also manmade leathers which are PU-based. For footwear, the materials you use are quite specific and they need to be very durable, so synthetics are a good alternative to leather. I have used all these materials, but not all together in the same shoe. I'm still working with natural rubber and coconut fiber, but lately we are using more pineapple fibers and ecological cotton.
The New Normal
It's adapt or die, and we're good at adapting. I hope people will become more conscious about what they're buying, and start seeing the bigger picture. There is a lot of talk about 'sustainability' but very little action. This whole greenwashing by big corporations and mainstream media makes me angry. I hope people will see through it, but I think now everyone has time to pause, reflect and educate themselves. So I do believe there will be some good coming out of all this!