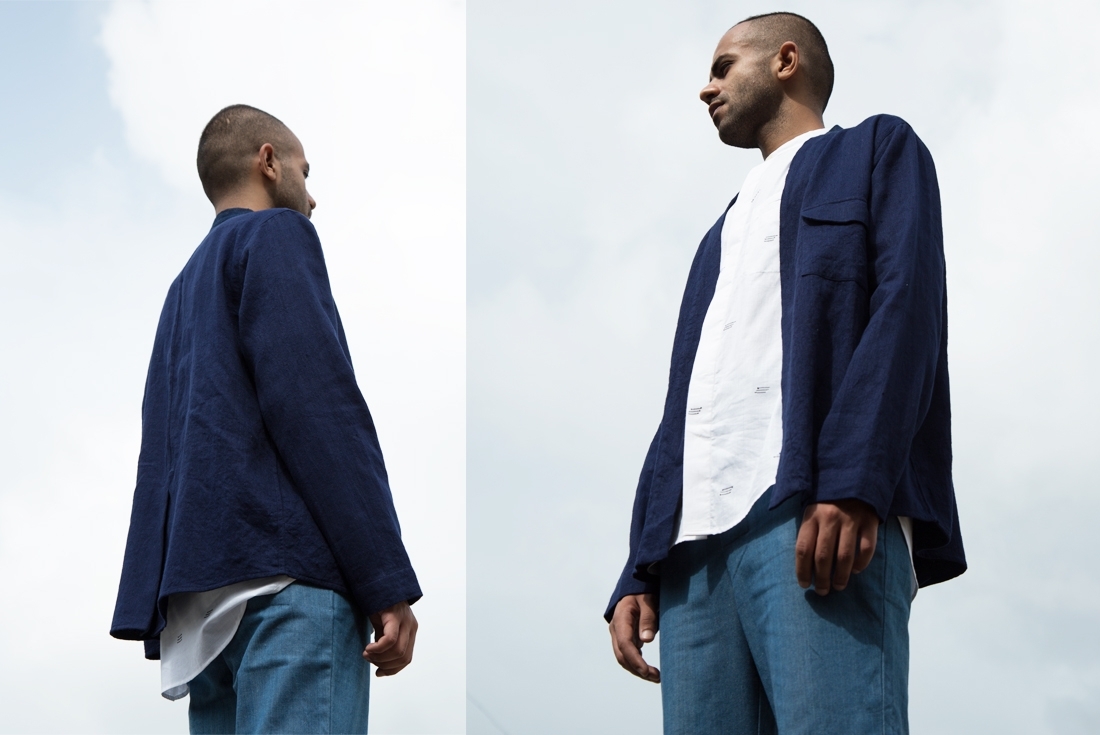 INTERVIEW OF THE WEEK
Menswear Collection 2017
Nimish Shah has had a long-standing passion for fabric and conservation alike. One strong enough to fuel the makings of Shift back in 2011 and one that continually exhibits itself in the brand's culture. A fashion label that started off as Shah's contribution to conscious clothing, Shift makes an all- arching statement in the otherwise moderately involved consumption habits the world of apparel dictates.

Nimish's signature style and new-wave mechanized sensibilities were born out of his need to usher in a practice built around environmental consciousness in the fashion industry. From dealing with organic, fair-trade natural fibres to incorporating a sustainable approach towards each one of his collections, Nimish's studio has an emerging business philosophy- one that values people, planet and profit all the same.

Having recently hosted one of his highly regarded make-shift stores in the city's art district, the Mumbai-based fashion designer elaborates on what makes his label his.
Latest from SHIFT- Menswear Collection 2017
To begin with, could you tell us a little about how Shift came into being?
As a start-up I wanted to launch something with a new voice, dry sense of humour and a modest product / service. I was very passionate about the new age movement of conscious clothing and engaging customers with a brand and not a detached purchase. After almost a year-long procrastination, I finally sampled a women's collection, which we presented at Lakme Fashion Week.
Have you always been inclined towards adopting principles of sustainability to your practise? Or was there a particular instance from your life that helped you realize the same?
Yes, it was always in the subconscious. I did my dissertation on the futures of sustainability – that allowed me to do a lot of primary research. For me more than sustainability it was application of common sense.

Do you ever feel boxed in or restricted by the considerable level of cautiousness you must exercise to stay true to your philosophy?
Sometimes – but it almost allows me to innovate better. Also this is a business – we are happy to adapt and expand our rationale. We want to stay relevant.
Latest from SHIFT- Menswear Collection 2017
What went into the making of Shift India's Summer Collection 2017?
Every season I am stretched thin between trying to create something new while also trying to put up something that strings to our brand's DNA – every new collection is an extension to the old one. The same things inspire and excite me- unlike fashion, I, as a person am not growing that fast.

The brand's signature association is cool vintage. Are there any other styles or themes you're currently exploring or would eventually like to?
I always shuffle somewhere within the old world charm – for me more than the dress it is about the personality and what would she / he has worn in response to the occasion. Think Anglo Indian friend from Satyajit Ray's Mahanagar. Or that cabaret dancer. In my head, I expand the role of a film extra and turn it into a full story.

Where do you think India lies between awareness and adoption of garment care? Is there enough scope for it to be part of mainstream fashion choices for the masses and fashion industry alike?
Indians are very confident consumers, they do not buy into stories or myth easily – they make their own. Garment care is very far in the scheme of things – in our interview with researchers at Unilever, the best comment I heard was about how most people seek out a care label after some damage has already been done. I think awareness is coming slowly – but I feel garment care needs better state regulations, food Industries or electronics for instance. Please read our blog on this.
Latest from SHIFT- Menswear Collection 2017
What was the recent makeshift store at Kala Ghoda's Filter Shop like? Given a chance, where all would you like to host such pop-ups?
Our pop up model is pretty much what it reads – we do them twice a year (now maybe four times to include menswear) and we present our latest collection and invite everyone to view and/or shop. Hosting pop-ups allows us to bring together our clan, which during fashion weeks, is rather diluted. It is the only time we can bring an experience together which sadly for us stays digital since we do not have a brick and mortar store. It's bodes as extremely interesting since we get to engage with the host and bring a little bit of Shift within an existing house aesthetic.
We explore all sorts of spaces for our makeshift shop! Empty office spaces, co-working spaces, warehouses and so forth. We've got something quite exciting coming up very soon.
How do you believe Shift India has evolved over the years and is there a certain direction in which you hope to go with it?
I think we started off being a very modest and passive fashion voice into which grew into an active cracker of a brand (still very humble). I feel that with launch of menswear now we have expanded our range. In the year to come, the challenge for us will be to continue beefing up our collections and getting more and more people to experience a full Shift.
Read more about
Shift
through Nimish's blog,
here
.
Text
Shristi Singh