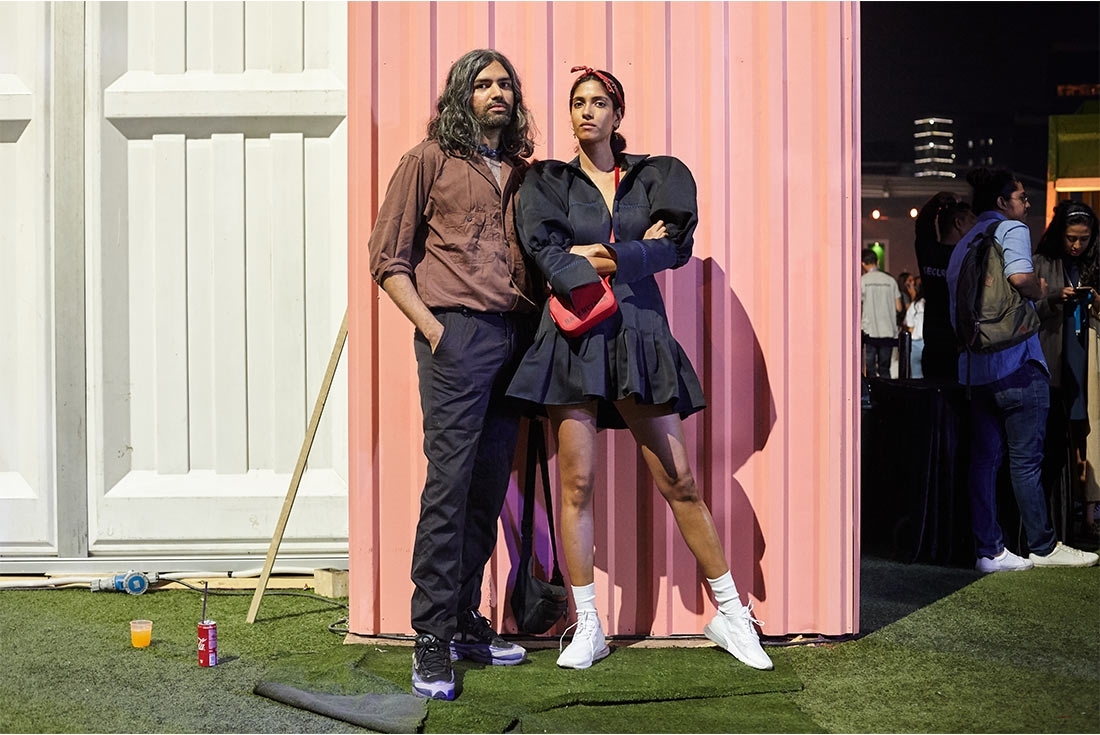 PROFILE OF THE WEEK
Smita Lasrado and Nikhil Dudani
The Model Life: Feat. Artists
Smita + Nikhil
The fashion industry is no longer a lost industry; it has become structured, professional and is evolving constantly. Representation and guidance is given to deserving talent and a concrete path is laid out for them to explore different avenues. Feat. Artists is one such outfit that is founded by talent from the fashion industry, for the fashion industry. Honest, experimental and passionate, Smita Lasrado and Nikhil Dudani describe their sensibility and vision.

Let's start from the very beginning – can you tell me a little about yourselves, how the two of you came together to form Feat. Artists, and what was the thought and vision behind it?
Both Nikhil and I have spent over ten years in the business. Him as a creative consultant and a stylist, and me as a model having worked in all the big markets i.e. NYC, London and Paris. I think we really watched and learned everything we could and we still do, today. We've both grown up in Bombay and come from middle class backgrounds with working parents who supported our dreams even if it was so far from their realities. We're both ambitious and want to be the same people we were, and work with the same principles we apply to everything we do. So in those respects we are similar and it helps us work really well as a team.

What is the company's curatorial process and philosophy?
We want to build a collective of Indian talent. I think it's a great time [to do that]. Right now this is very important to us. We definitely want to expand later, but at present it is about championing Indian talent. We want to work with people who we like, who have personality and who do things in life. Of course, we have to keep in mind that modelling is about fitting inside that box. So we are trying to disrupt the things we can, like the limited definition of beauty and the things we can't we work with. Now, however, with our new artist and talent board of stylists, makeup/hair, art and photography, we are in a stronger position to take bigger risks.

What are some of the challenges you have faced so far and how have you overcome them?
We've been lucky enough to have a lot of support within the market but we do face challenges when it comes to skin colour and the archaic ideas of beauty. But we've pushed through quite a few times.

What do you think is missing in the fashion industry and how are you filling that void, as only if we solve problems can we evolve.
We believe it's come a long way but it still lacks strong collectives of creatives in a space where they share ideas and create work together. We are working towards building a supportive space for young Indians who want to create their space within fashion and advertising. We have started by promoting talent that doesn't just work individually but can also work together and have exchange.

There was a time we had supermodels - 'The Mehr Jesia, Madhu Sapre, Milind Soman era', then film actors took centrestage and they continue to dominate, but one is seeing the focus shifting back to models a little – what are your views on this and on the modeling industry of India?
It is what it is. I think the Indian film industry and cricket are kings in the market and we accept that. But there is still a lot of room for the rest of us to create and bring new, fresh ideas. There is enough of a market that is influenced by others. And we believe if you're good you'll always find success. So that's what we try to do. Be good and hopefully with hard work, one day, be great.


Text Jia Khanna