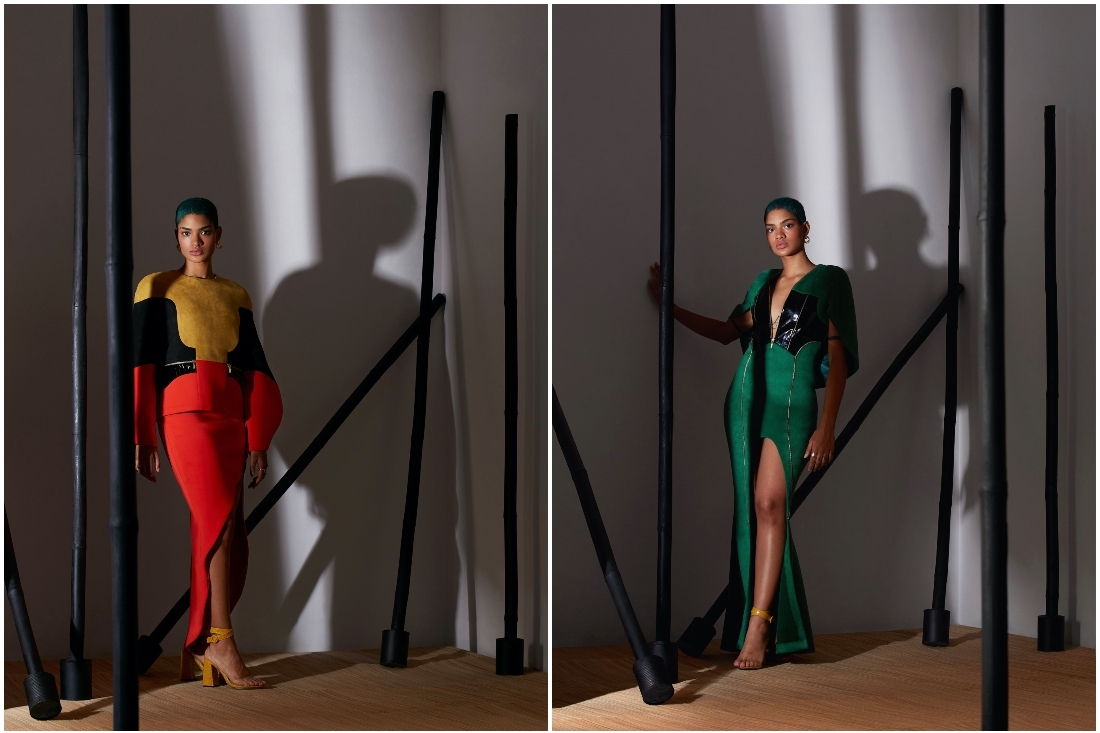 Platform first connected with Vir Shete in 2015, when the designer had just graduated from the London College of Fashion. After a four year stint in Tokyo, and gaining experience while working with multiple labels, the designer and stylist is back with the eponymous label, VIRSHETÉ in Mumbai. Their carefully constructed garments are fluid and modern. We reconnected with the designer to deconstruct the label's latest collection, the process behind it and more.
The Process
My creative process is quite methodical and a lot of the fundamentals stem from my time at London College of Fashion. Each season, a considerable amount of time is spent in research and development and technical experimentation — what I create needs to have meaning and relevance, both to me and to my customer. I love working with progressives shapes and materials, and like to challenge myself by exploring something new each season, all of which takes time and a lot of prototyping. Each collection is a fun, learning adventure, but ultimately it is a business, and creativity and commerce need to go hand-in-hand. Also, there will be days when your creative block gets the best of you. I've learnt to take a step back, absorb and return afresh, instead of pushing myself to feel inspired and productive — it needs to happen organically and which is when your creativity will thrive.
The Inspiration
VIRSHETÉ's Spring/Summer 2020 ready-to-wear collection was an homage to my time in Japan and the incredible people that were part of my journey. I extensively drew from Tokyo street style and Japanese martial arts uniforms and gear. At this moment however, it would be my mother — she unfortunately passed away this January. She was an artist and a very enlightened, empowered, liberated woman. She's left behind a legacy of inspiration which I'm currently in the midst of exploring and incorporating within my work for future collections.
The Aesthetic
VIRSHETÉ's aesthetic is very synonymous with that of my own: fashion-forward yet functional, strong yet feminine, sexy yet sophisticated, and cosmopolitan yet classic. With a focus on investment pieces that personify the empowered, international woman of today, the brand synergises my eastern, western and local influences into an identity that's distinct and refined, yet universal and relatable.
A Sustainable Future
Fashion inherently is an unsustainable industry, in that it promotes obsolescence and over-consumption in the case of most products, which greatly contribute to environmental pollution and employ questionable labour practices. It's incredible to see some of the biggest and youngest names in the business applying and urging change, but this is just the tip of the iceberg. For a start-up, we do our best to be as sustainable as possible. Designers need to have transparent supply and manufacturing chains to track and reduce the ecological impact of the materials that they use and reduce waste, as well as ensure fair labour practices — the labour you employ makes your brand and it's imperative that they're treated and paid well. Unfortunately, due to how the system works, being sustainable can mean more expensive but a lot of the power lies in the customer's court.
When you pay more, know that you're paying for a better quality product that was designed, sourced and produced thoughtfully, and will not make it to a landfill in a few months. Also, be mindful about what you consume as a general rule.
The Pandemic and Beyond
We launched in February, which in hindsight wasn't the best timing. As we work on a just-in-time basis, we were unable to source or produce — things are only now slowly starting to re-open. Also, shoots and events being cancelled lead to many missed PR opportunities. However, we've used this time to work on what we can — building relationships, accelerating digital and establishing a retail network for once things resume. We've also used this time to re-evaluate our ways of doing things in relation to the fashion system at large. Do we really need to do four 20-look collections a year or have a fashion show to have a voice? I don't think so. The system needs an update and one can see younger designers breaking away from the norm and finding their own space and pace to establish a presence and connect with their customer through means most efficient for them.
Text Unnati Saini