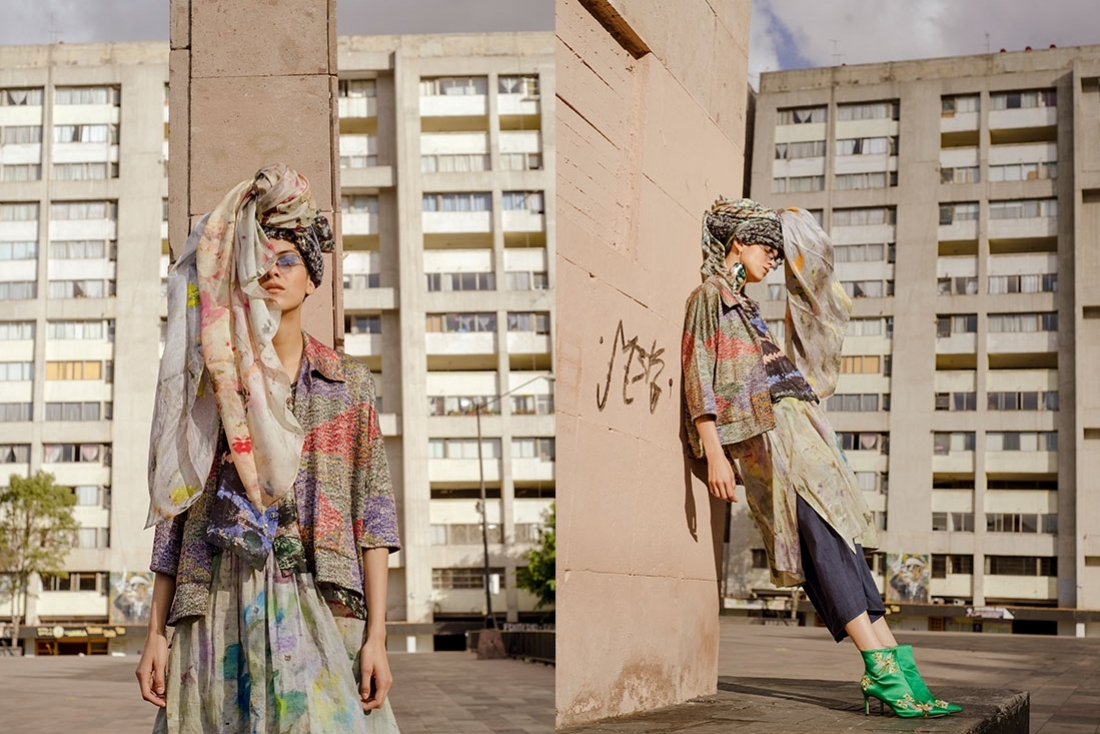 The Designer
A full scholarship student at Pearl Academy, Delhi and a Textile Design graduate from NID, Ahmedabad, Yadvi's accomplishments weren't solely limited to these. She was a go getter right from the start. Taking part in prestigious fashion design contests, exhibiting abroad as well as bagging the best design collection award in Pearl add to her list of achievements. Furthermore, the culmination of both her degrees mingled with the exposure she received only propelled her to forge a strong design voice of her own. The aesthetic that she embodies for her label is not only eccentric but vividly distinct from any of the labels out there. One can predict that Yavï is one of those coming of age labels which has the potential to leave a mark in the Indian and global fashion scene, while carving a niche of it's own.
The Label
At the core of Yavï, lies Yadvi's uncompromising belief of eluding repetition, of creating something brand new. 'My only brief to myself is to do something that does not exist already' Yadvi confesses. She is someone who shuns the fear of failure and embraces her design language fearlessly. A lot of which is credited to her education at NID which focused on refinement and individuality as no two batchmates were made to do anything even remotely similar. She further explains, 'We had regular classes for two years then we got almost one year to finish all our incomplete work'. Essentially the two year programme stretched to three and a half years. 'That's where the refinement came in because NID is based on the Bauhaus School of Thought. It speaks about refinement and not about time constraint so that's where you are really encouraged to go deep with your work. If you are working on a sketch, if you do it for a month the output will be different, if you do it for two months the output will be different.' The same depth is visible in her prints. Layered abstract art paintings turned to prints cover the surfaces of handloom and natural fabrics. While redefining traditional textile practices in a contemporary aesthetic is something that the label embraces, it's unique selling point lies in it's Impressionism inspired prints. 'I started drawing parallels only later. I was doing things out of my subconscious mind and didn't put words to it but when I had to define it later one thing that I realised that nothing is defined in my artworks. You won't see defined forms, it looks like an impression of something and that's when I was like we can call this Impressionism'. Her fascination with Impressionism dates back to her visit to Paris in 2010 where she was exhibiting her collection. After the shows, she would wander around Paris and into the museums and that's when she fell in love with Claude Monet's paintings.
The Latest Collection

Yavï's Spring Summer 2018 collection is shot amongst the backdrops of significant historical landmarks in Mexico City. The collection features ensembles in khadi, linen, chanderi and silk. While the conversion of Yadvi's abstract art paintings into digital prints is the label's traditional route, this time, Yadvi sought to break out of the mould. Five ensembles in the collection have been hand painted by Yadvi directly onto the fabric instead of first converting them into digital prints. To further add, one of the techniques used in Yavï's Spring Summer 2018 embodies innovation in the true sense of the word. A technique that Yadvi developed at NID was to embroider directly onto the soluble plastic paper that is used in embroidery. Traditionally, a fabric is placed below this soluble paper. The soluble paper is generally added so that the fabric doesn't stretch or shrink too much while embroidering and the embroidery stays in place. Yadvi decided to embroider directly on this paper without having a base fabric in order to create a new fabric with the thread itself once the paper dissolved. A jacket in this collection which took 30 days to make is made entirely out of this fabric. The collection also sees hints of floral prints, polka dots, embroideries and ombre dyeing.
The Milestones
Within the short time span since the label came into existence, it's pieces have found a home in the top most museums of the world including Victoria and Albert Museum in London and Museum of Modern Art In New York. Some niche boutique stores across the world including Anthropologie and Macondo in Italy have also displayed the label's pieces.
The Future
Plunging into the domestic market which would include a line of sarees and expanding into home furnishings and other lifestyle products further down the line comprise the future goals for Yavï.

Text Supriya Jain