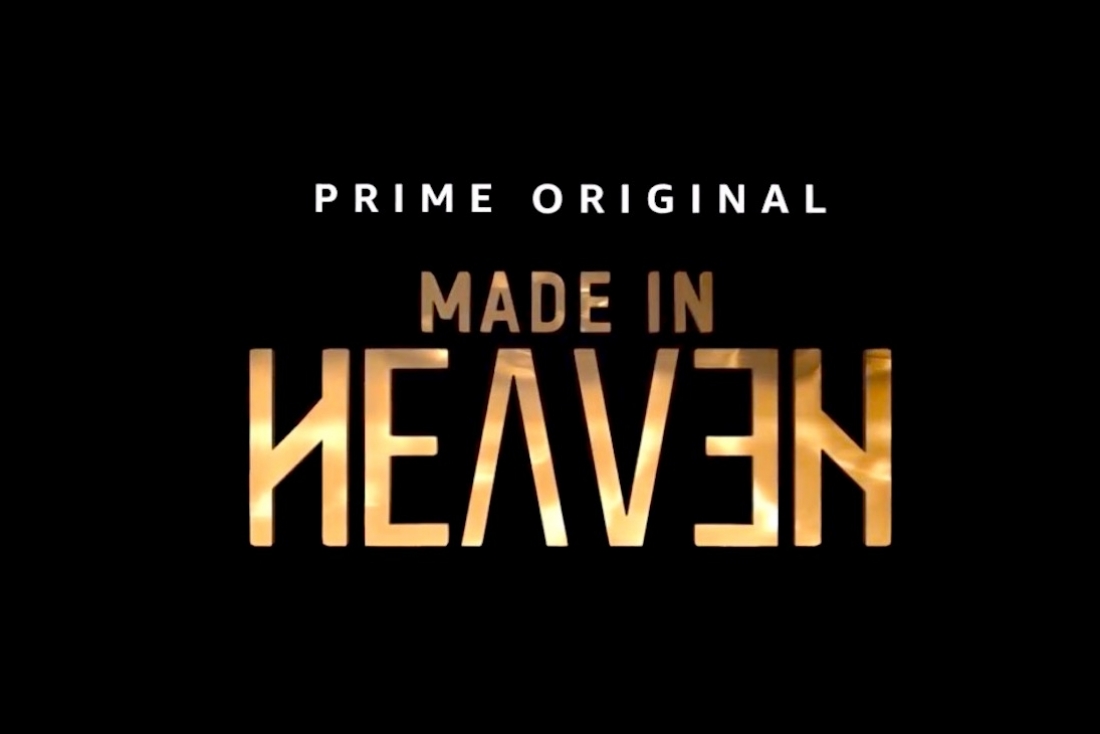 A Hell of a Heaven You Can't Miss!
Platform Review: Made in Heaven
Marriages are a sacred union, a holy bonding of two souls, a partnership for life, a great celebration, a declaration of love forever and after. Marriages are Made in Heaven, or so they'd have you believe...
But marriages may also be the most well formulated, expensive and socially sanctioned facades for all the ugly issues that our society wishes to hide, and the new Amazon Prime Original series, Made In Heaven, manages to bring alive these underlying truths with utmost brilliance. Written and created by Zoya Akhtar and Reema Kagti, directed by Zoya Akhtar, Nitya Mehra, Alankrita Shrivastava and Prashant Nair, and produced by Excel Entertainment and Tiger Baby, the show released on 8th March and has set a new precedent for Indian web series. Just nine episodes long, the series follows the lives of the wedding planners Tara Khanna (Sobhita Dhulipala) and Karan Mehra (Arjun Mathur) who own and run the wedding planning company, Made In Heaven. While one expects wedding companies to be the ones working behind the scenes of a wedding, putting together the catering, design, music, et cetera, there's a lot more that needs to be taken care of to make a wedding successful and Tara and Anand show us what it takes to keep up the facade, not just through weddings but through their own personal lives.
The poster with the entire main cast of the show, L-R: Jazz(Shivani Raghuvanshi),Karan(Arjun Mathur)
Tara(Shobhita Dhulipala),Adil(Jim Sarbh),Faiza(Kalki Koechlin) & Kabir(Shashank Arora)
Made In Heaven is not just a satire on the ostentatious big fat Indian wedding, its a satire on humanity and its inherent need to keep up social appearances. The weddings are an overarching trope creating a solid foundation for addressing almost every issue that our present day Indian society is facing but is too uncomfortable to discuss. From class related politics to real politics, ageism to sexism, dowry to rape, homosexuality to infidelity, the show exposes lies that have been fed to us consistently through the norms of our patriarchal society. It calls out the hypocrisy that has been imbibed in us and is being fought by every individual that is trying to cope with it. As Gupta Ji [Vinay Pathak] says in the show, 'yahan to saari umar nikal jaati hai hakikat chupaate chupaate' [people's entire lives are spent hiding their reality]; the irony is that this is the very reality we live in and so do all the characters of the show, a reality that forces us to hide our real selves.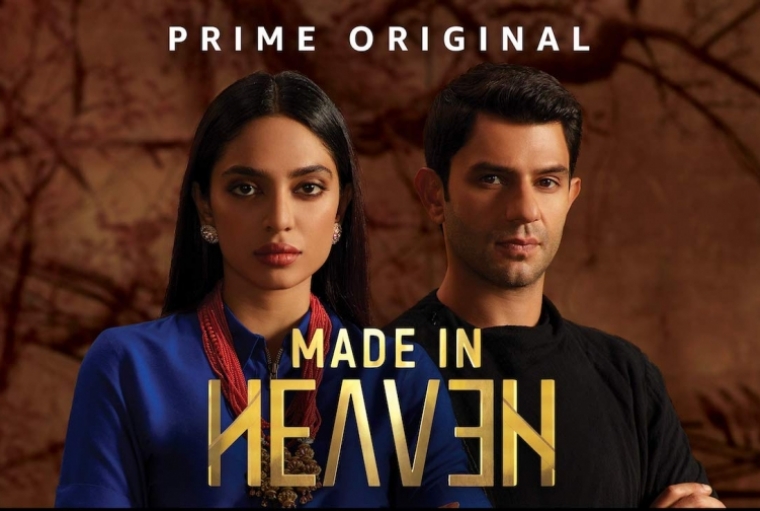 The show's poster with the main protagonists Tara (Shobhita Dhulipala) and Karan (Arjun Mathur)
© Google Images
The show is structured aptly; while it is episodic, since each episode is based on a new wedding, it is also continuous because the lives of the main protagonists unfold through each episode and move both forward and backwards as their pasts are recounted and revealed. Each episode also ends on a cliffhanger so well placed that it makes it impossible to see what's coming next, making it binge-worthy. With each new wedding comes a new set of problems, and as Tara and Anand resolve the problems, the photographer Kabir Basrai (Shashank Arora) iterates that which needs to be said, driving the message home through his words as the outsider who is the narrator. The plot is riveting and its direction phenomenal. We see opulence of the Indian wedding in all its glory and we see the mess behind the scenes. The juxtaposition of the two is pure genius, and that of the perfect weddings against the planners' own imperfect lives adds another layer of depth to the brilliant storytelling.
We meet Tara, the girl belonging to a lower middle class family, having socially climbed to the topmost layer of the rich, as she marries the businessman Adil Khanna [Jim Sarbh]. As we see her, combating the criticism from the society she is trying very hard to fit in to dealing with all the wedding related crisis, we see a woman, ambitious and brilliant with her demons surfacing every now and then and finally revealing themselves in their entirety in the last episode. The image of her, clad in all the jewellery she owns, smoking, sitting in her bathtub of the grand house she owns, is the image of the goal she manipulated not just everyone around her to achieve, but the goal that the society manipulated her into believing that she needed to achieve. We also meet Karan, a homosexual man living with his own set of demons and struggling to survive in an India which was still fighting article 377, an India where homosexuality was still criminalised. We won the war against the rule last year but it still does not take away anything from the grim reality that the LGBTQ community faced as they were regarded criminal not just because of regressive dominant ideologies but also by the law. As both their lives are traced, it comes to light that both their guilt ridden lives, both their tears are cried because they tried to keep up a socially approved image which hurts not just the people around them but also them immensely as Tara loses herself and Karan loses the only love of his life.
Tara Khanna (Shobhita Dhulipala) in a still from the show.
© Google Images
The other characters, that of Jaspreet "Jazz" Kaur (Shivani Raghuvanshi), Faiza Naqvi (Kalki Koechlin), Jauhari (Vijay Raaz), The Gupta family and every character involved in the weddings, are equally important and masterfully presented. Each character comes from a different strata, with a different mindset and a different set of problems. We see the best and most accomplished of women falling prey to status quo and patriarchy: Devyani Singh, a pilot who pays off a poor girl who has been assaulted by her father-in-law so as to not hinder her wedding into the royal family and Geetanjali Sinha, a Wharton graduate who agrees to marry a tree before marrying her husband so as to nullify the Maanglik dosh in her Kundli), to those who dismantle and subvert it and rise above everything that has the potential to hold them back (Priyanka Mishra leaves her wedding mandap the minute she gets to know that her family has been asked for dowry and Gayatri Mathur, a sixty-plus character finds love in her old age and gets married). We see not just men propagating patriarchy but also women (Tara's mother telling her and her sister that they only have their face and youth to their credit, Mrs. Gupta telling her daughter that no one wants to marry an intelligent girl; Karan's mother who breaks his hand when she catches him in the shower with another boy as compared to his father who actually accepts him), and at the same not just women as victims of patriarchy but also men (Vinod Ji and all the gay men, from Karan to Nawab, the latter's adult version is played by Vikrant Massey).
Karan Mehra (Arjun Mathur) and Tara Khanna (Shobhita Dhulipala) in a still from the show.
© Google Images
The show is full of subtleties and yet speaks strong, loud and clear. From the beautiful mise-en-scene to important dialogues, great music score and the correct dose of drama, Made In Heaven is one of the most important shows today, not just for its craft but for its engagement with and presentation of our current society for all that it is. The show is unapologetic and fearless in putting a mirror to our society and exposing all the chinks in its armour. It dismantles regressive norms and raises questions that we need to answer if we call ourselves progressive. In the end, reality bites, which is also, quite aptly, the name of the last episode. In conclusion, the last visual of Tara and Anand, laughing together, having faced their demons and sitting amidst their well formulated heaven in tatters, sums it all up. Their laugh is the laugh of the post modern subjects, now well acquainted with the absurdity and tragedy of their lives and deciding to accept it and move forward.

Text Nidhi Verma