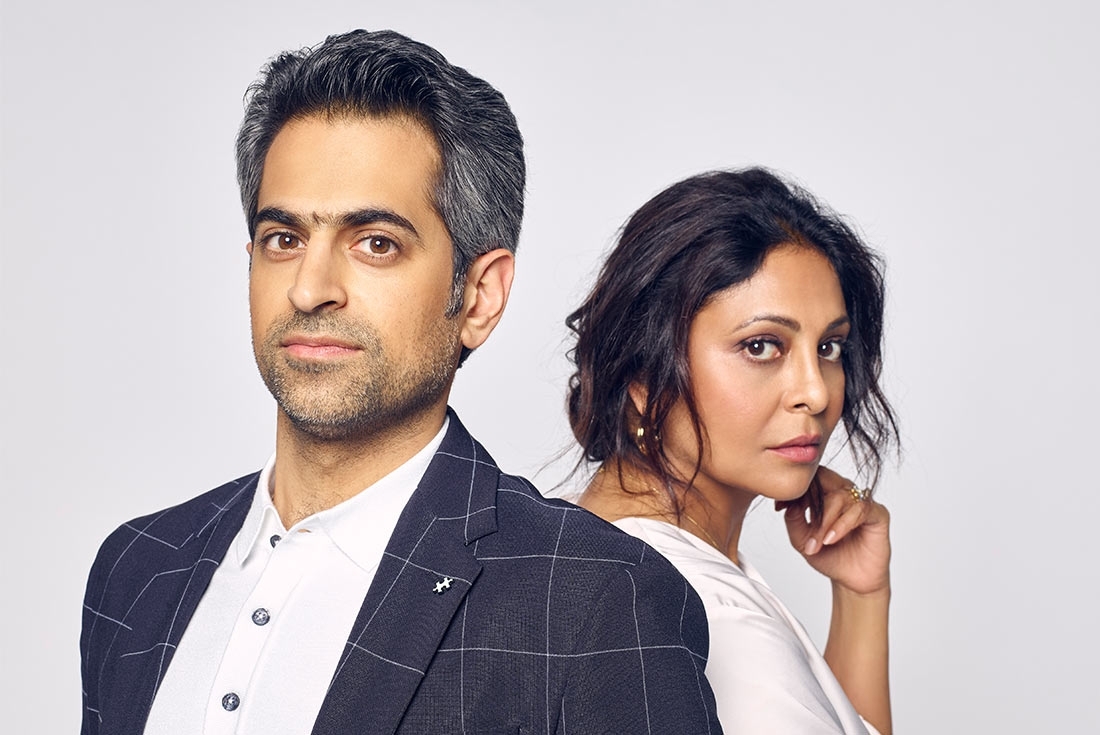 Richie Mehta & Shefali Shah
Back to shake up India after Sundance
Delhi Crime Story
Best known for directing films such as Amal, I'll Follow You down and Siddharth, Indo-Canadian filmmaker Richie Mehta's show based on the brutal 2012 gangrape case in Delhi is creating waves on the web. Richie brilliantly captures the complexities of the scrutiny, the emotional conflicts faced by the investigating team and their determination to bring the perpetrators to book. 'I hope that we've been able to provide context, catharsis, and open once again a difficult conversation that must be had about the forces that enabled this brutality,' says Richie. Delhi Crime Story is now streaming on Netflix after screening at Sundance.

Richie spoke to us about how the show will be carthatic for the audience and how his collaborations with women gave him a fresh perspective.

To begin with—there is a lot out there already about the case, it was covered across platforms and shook India in more ways than one. So what research went into the show to unravel things that are still not out?
I had a family friend in the police who had recently retired, whom I had met in Delhi at the time the Nirbhaya case happened. After sometime, I think in 2013, we met again and he recommended that I make a film on the case, based on the previous work of mine that he had seen. I wasn't convinvced at all. I thought it was not appropriate for anyone to make a film on this subject, let alone make it myself. Then he asked me to read the verdict that the Supreme Court had just given. He took me to meet the officer involved in the investigation. That sort of changed me, the stories of not only the girl but the people who nabbed the killers.

Why did you pick this particular story? How have you treated it differently?
The officers, the policemen, they were all remarkable, I got to know them over years after I started making this series. This whole process lasted for about four years of reading a lot of documents in the public domain. Then meeting the people behind them, writing, then going back and meeting them, researching... so it was a very long process and I wasn't sure what I wanted to do with it because I didn't know if it'll be appropriate but as I got to know the officers more, I started to feel for them and treat them as people, and saw the challenges they faced, particularly in this case. How they tracked those six guys down in five days, having no information about them whatsoever, was commendable. And so I thought this will make a very special series if we go into their lives, especially the lady officers who are at the forefront of fighting such crimes, and to understand their point of view. That became the basis of me putting this together.
Did you take inputs from women on your set or other female collaborators to understand how they exactly feel?
I absolutely took inputs from women on set, and my collaborators. Most of my production team consisted of women...obviously Shefali (Shah) as the lead and Rasika Duggal were there, too. It was very important for me because there is only so much that I can bring to the table. One writes the script, plans it and puts it together as a director, but my view point as a man is very specific in the narrative so I had to have key collaborators. When I first met Shefali, that was what it was about, becoming a collaborator and meeting halfway because I could not have finished this without the inputs of women. And this really became a team effort as a result.
What thought went into the casting process? Shefali Shah has done a tremendous job!
A lot of thought went into the casting process. Yes, Shefali is extraordinary. Even the other actors such as Rasika, Adil hussain, Rajesh Tailang are incredible. The idea was obviously to take good actors but actors who would do the work that is required for the script, because it was a 430-page script and it really needed people who were willing to invest that time and energy to understand the characters and the journey. Also, there were 200 actors I was working with, so we needed those who came from the world of the characters they were playing. They had to understand those lives, like the actor who plays the head constable knows him. They had to have that point of personal reference because in a show like this, there is so little time for us to get it right, and everyone has to kind of bring something to the table and behind all of that were people who could really bring life in a believable way to these characters.

Lastly, what's next? What does 2019 hold for you?
Season2! We have already started working on it.

Text Hansika Lohani Mehtani