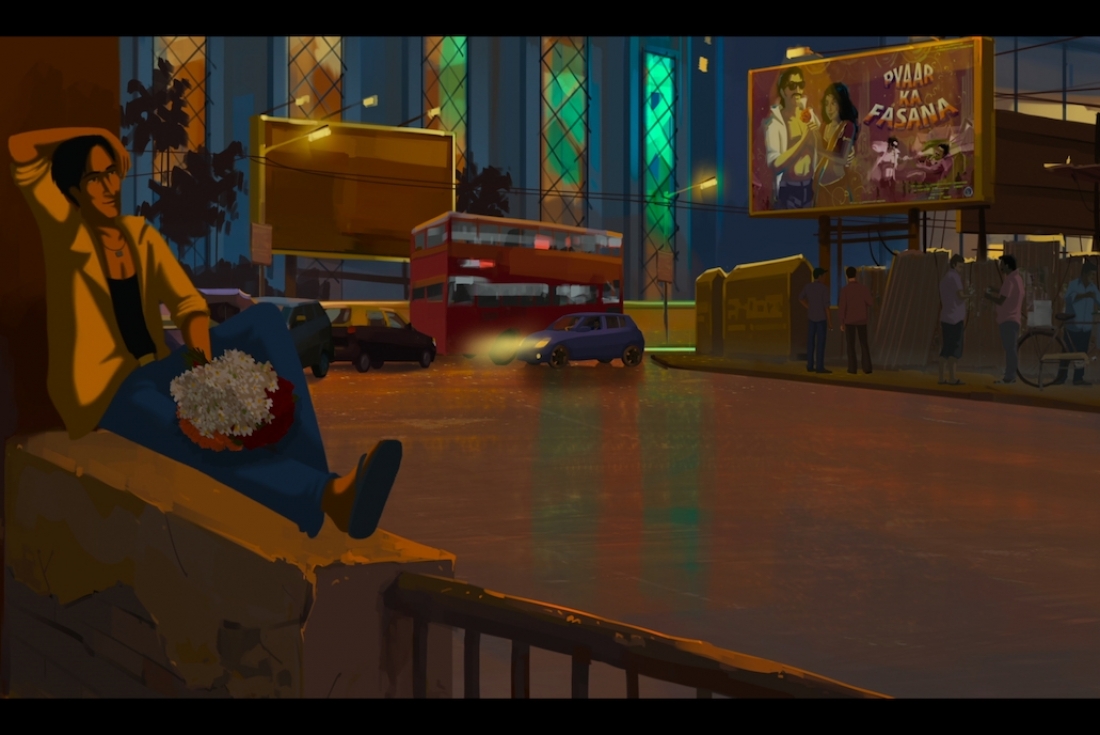 INTERVIEW OF THE WEEK
FILM STILL
Gitanjali Rao
Bombay Rose
Bombay Rose, the first Indian animated film to open Venice Critics Week at the Venice Film Festival is Gitanjali Rao's much awaited debut feature after her five animated short films. Much like the city of Mumbai, moving between fantasy and reality, it draws from the struggles of the bylanes of the maximum city and the relief offered by the cinema halls.
"I have always wanted to paint stories about people who live and love in the streets of Bombay, never become success stories, yet their struggle for survival makes heroes out of them. Bombay Rose is a chronicle of the people who migrate from small towns, seeking minimal life in the maximum city."
We got in touch with the painter, filmmaker, actor and storyteller Gitanjali Rao. Excerpts:

What were your first encounters with Cinema?
I guess it was my father fetching the first VHS player back in the eighties as he was an avid cinema watcher, and watching Hollywood Westerns with him. Then he got me hooked on to those Friday night art films shown on DoorDarshan during IFFI every year. I discovered Ray, Ghatak, Aravindan, Mrinal Sen, Shaji Karun, (Piravi I remember made a very lasting impression on me and made me want to make cinema myself) Adoor Gopalkrishnan, BV Karanth, Girish Karnad, Guru Dutt, Bimal Roy, Vijay Anand etc. through him. Many more..
Literature and Cinema that shaped you and your work?
There are so many, its difficult to list them in a page! But the most contemporary that actually shape my work could be Wong Kar Wai and especially his In The Mood For Love. His colours, his languid and sensitive frames that tell the story. Almodovar's Talk To Her from which I have borrowed a song too! More than books, its artists that have shaped my work. Marc Chagall-esque is how many French critic's term my previous work and they are not far from the truth. The impressionists are my soulmates.
Why does animation play a significant role in your narrative style?
I watched European animation in film festivals and especially fell in love with polish and east European style of animation back in the 90s. Jerzy Kucia's films actually made me decide to take up animation as a powerful medium of emoting through movement. I have always wanted to paint as well as tell stories so since the two come together in animation, that became my voice.
What inspired Bombay Rose?
Stories about common folk living and surviving on the streets on a great big city. And their suppressed dreams. Since I live in Bombay I draw from my own surroundings. The dreams which travel through the rest of India mostly came to me through my travels. My favourite historical places and time and events all come together in the film.
How would you describe your relationship with Bombay?
I am born and brought up here, in Borivali. As a kid travelled to Santacruz to meet grandparents every Sunday by the BEST buses, then college in VT by local train and through all of Colaba on foot discovering my home through it all. I never had a native place to go to in the school vacations like other kids. So I would dream of belonging to tranquil villages and make up those spaces in my imagination filled with visuals from storybooks. That comes back to me in my filmmaking.
What is next for you?
Hoping to travel with the film, watch other films and meet other filmmakers for now. Then when the dust settles, get down to my next film!

Text Priyanshi Jain