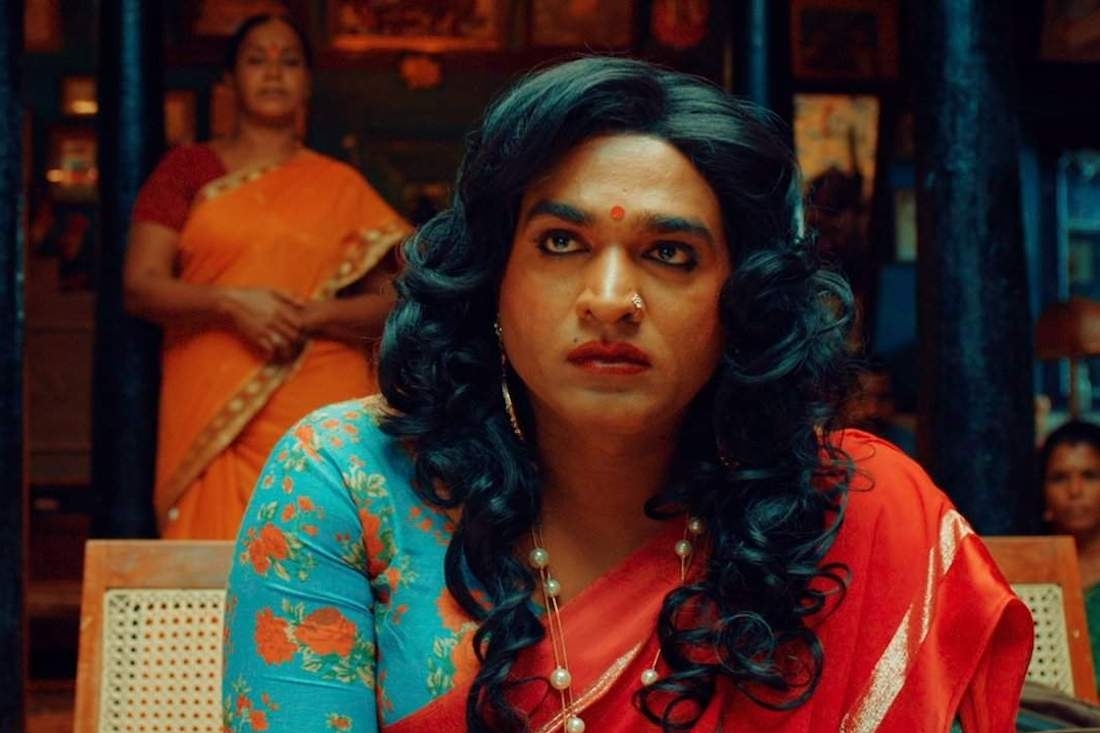 Vijay Sethupathi as Shilpa
Platform Indie Pick: Super Deluxe
One of the first things that stands out about Super Deluxe is its colour palette. The absolutely vivid cinematography takes the viewers through the stark lanes and bylanes of Chennai, passing through broken down houses and slightly romanticising the backdrop, but ultimately lending character to the film. Tracing the inter-connected journeys of four sets of people, Thiagarajan Kumararaja's narrative has a lot to say about the modern way of life, yet at no point does it sound preachy. The movie deals with issues of sex, spirituality and gender amongst other things. The screenplay writers -- Thiagarajan Kumararaja, Mysskin, Nalan Kumarasamy, Neelan K. Sekar -- mould each of the characters with such depth and eccentricity, you can't help but feel for them through the entirety of their journeys.
The dark comedy follows the lives of a cheating wife, Vembu, for whom, all it takes is a death to find some lucidity in her forced marriage; a group of young boys whose main aim is to skip school to watch some porn; a transwoman, Shilpa, who finally comes back to the family she abandoned years ago and a god-man, Arputham, who is facing an existential crisis with his spirituality. As the narrative moves in and out of each of their stories, it does get confusing at times, but the completely arbitrary manner with which each of the stories mingled, lent this sense of continuity that was stirring.
One of the most moving stories was definitely that of Shilpa and her son Rassukutti. All earnest little Rassukutti wanted was the love of his father who left them. The subplot deals with the taboos of society and the ill treatment of transwomen, the sheer dehumanisation of the transbody is stark, with people constantly demeaning Shilpa and referring to her as 'it'. Social stigma surely transcends language and the ease with which Vijay Sethupathi portrays Shilpa's unease is stellar and in some scenes, the need to look at subtitles also becomes redundant. It raises vital questions of representation that have no easy answers -- till what extent is it fair for a cisgendered man to play the character of a transwoman. Super Deluxe establishes itself as a film with an aim to reject societal conditioning and taboos, for such a screenplay, it definitely would have fared better for a transwoman to play Shilpa.
The group of young boys traversing through eccentric, alien packed situations add to the humour, that makes the film all the more enjoyable. The corrupt cop Berlin and his vile actions centre him as the antagonist, hinting towards a larger humanist undertone. All the characters, whether good, bad or ugly, are victims of their circumstances and a crumbling system that refuses to accept their idiosyncrasies. The honesty with which Ramya Krishnan plays the desperate mother and ex-soft porn actress, does drive the point through without sounding didactic.
Samantha Akkineni as Vembu
It may be okay for more than half of the population to consume porn, but acting in it supposedly makes a person immoral. Mugil and Vembu's evolving relationship with the presence of a dead corpse in their backseat is an absolute treat to watch. Samantha Akkineni's portrayal of Vembu also added a certain complexity to the character. The movie does run a bit too long and drags somewhere in the middle while moving towards the denouement, but Super Deluxe is an experience that makes you laugh with all its ironies, serves you with some gut wrenching truths and you may or may not come out having deciphered life just a tiny bit after watching these characters be unapologetically themselves.

Super Deluxe is available for viewing on Netflix and this rollercoaster of emotions is definitely worth watching as you sit at home bored of all the commercial cinema.
Text
Unnati Saini