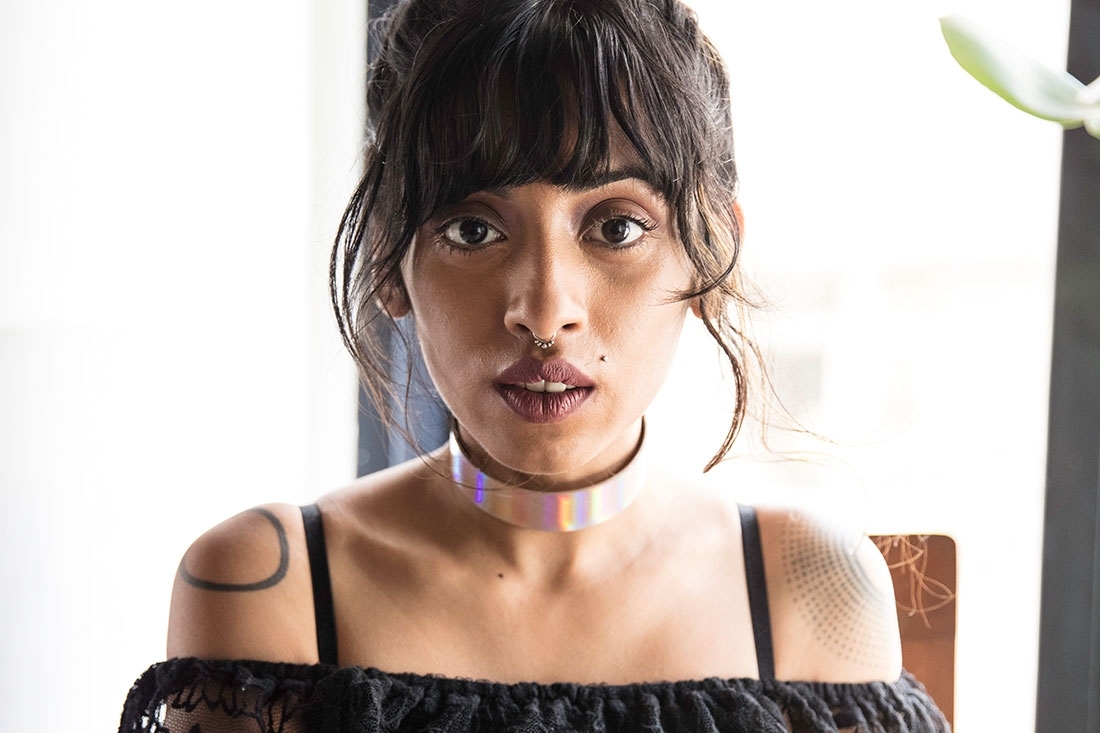 Profile of the Week
Reema Sengupta
Co-founder of the production house CATNIP, poet, and mother to three rescued cats, Reema Sengupta's romance with filmmaking began when she was very young. While most children went on family vacations, Reema utilised her summer breaks immersed in screenwriting and direction workshops. From films and music videos to commercials and video installations, she has tried her hand at everything. Her latest short, Counterfeit Kunkoo, is being screened at the ongoing Sundance Film Festival 2018.

One of CATNIP's passion projects and Reema's first character-based narratives, Counterfeit Kunkoo is an exploration of social issues that plague the daily life of the common man and woman. A 15 minute long film starring Kani Kusrati and Vijay Varma, it is the story of Smita—a middle-class woman trying to find shelter in a city that houses millions. Smita, who has recently found her way out of an abusive marriage, is unable to rent an apartment because of her sans-husband status.

From bagging 16 awards for her first short film at the age of 21 to sharing creative platforms with several award winning personalities at a very young age, we speak to Reema about her filmmaking journey so far and what this international recognition means to her.
Counterfeit Kunkoo Poster
What's your story?
I'm a writer-director-editor based in Mumbai, who has directed narrative films, music videos, commercials, interactive video installations and after-movies across India, UK, South Korea and the US. I was 21 when I made my first short film that won 16 awards. At 22, I was awarded the prestigious Asian Film Academy Fellowship (2012), where I represented India and co-directed a short film at the Busan International Film Festival. The International Green Screen Lab 2012 (supported by British Council, Goethe Institute, Cinekid, etc) selected my first feature film script for development. I was the youngest writer at the Lab and shared creative space with national award winners, international film writers and veteran filmmakers. I'm also a poet, a dancer, daughter to an inspiring woman and mother to three rescued kitties.

What drew you to filmmaking?
I've wanted to make films for as long as I can remember. It has been an important source of catharsis and emotional release. It was my medium of choice because of its capacity to generate empathy, and do so with prolific reach and perpetuity. During summer breaks in school, most people would take vacations; I would take screenwriting workshops, directions workshops, even dubbing classes!
How would you describe your filmmaking sensibility?
I've always been a fiction filmmaker with focus on cinema for social change. Even the non-fiction content I directed went through the same processes as that of fiction content. CATNIP, the niche production house I co-founded, was incidental to my journey. Most of the content we made was approached from the perspective of an independent filmmaker. I'm finally coming back to doing my passion projects after an exploratory three years at CATNIP. It has been my playground to experiment with formats, concepts and techniques and has helped me push myself to evolve as a filmmaker.

Can you tell me about the film, Counterfeit Kunkoo, and what inspired it?
Counterfeit Kunkoo is the story of Smita trying to find a house to rent in Mumbai, as a woman without a husband. It is an intimate perspective on the 'ideal Indian woman' in contemporary urban India. It addresses housing discrimination and marital rape. The film comes from a deep sense of anger and helplessness about the fact that the need for a roof over your head is exploited as an opportunity to employ social prejudice.
How is Counterfeit Kunkoo different from your previous two short films?
This is the first time I am exploring a character based narrative drama. My first short was a satirical comedy about what happens in Mumbai the day India's last tiger is found dead under undisclosed circumstances. My second short was a science fiction film set in dystopian London of the future and spoke about the loneliness that comes from over-dependence on technology.

Counterfeit Kunkoo is an interesting name for a film. What does it mean?
'Kunkoo' is the Marathi word for sindoor or vermillion powder. 'Counterfeit Kunkoo' denotes signs of marriage that have lost meaning, and that now function merely as simulacrum. I have Anand Gandhi to thank for pushing me to name my film with more complexity than I initially was. I've actually been particularly terrible at naming my films; the most amount of time spent on any decision for this short was on what to name it!
What was your reaction when you found out that your short film has been shortlisted for Sundance?
I got their selection email while on the upper berth of a run-down sleeper bus from Mumbai to Goa. I don't think I believed it was actually happening till I saw my name on the Sundance website. It means a lot to be the only film representing India at Sundance 2018, and the first Indian fiction short to be selected there in 15 years! It's all a bit surreal.

Where do you go from here?
There's a lot of work to do for Counterfeit Kunkoo's festival journey. My first feature film is in early stages of development.

Text Pankhuri Shukla