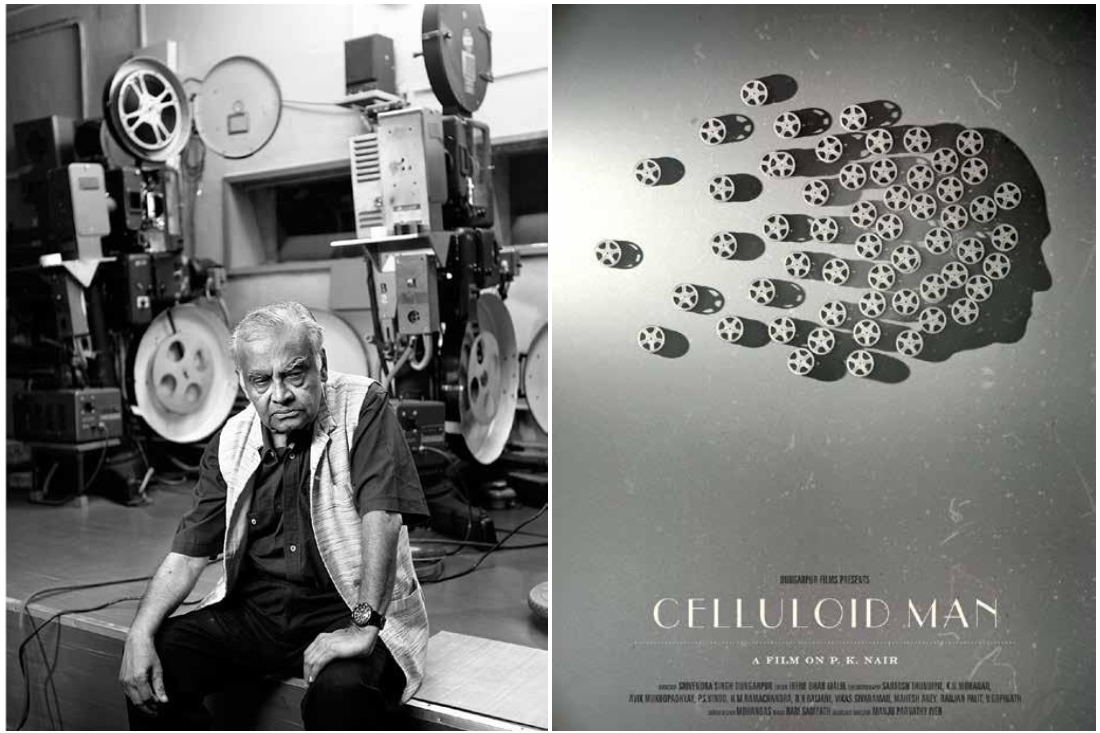 Shivendra Singh Dungarpur: Celluloid Man
The genesis of our film industry dates back to the hoary 1913, when Dadasaheb Phalke pieced together four film reels to produce the subcontinent's first feature film, Raja Harishchandra. Unfortunately, only the first and last reels of this masterpiece remain, now guarded by the national film archive of India, pune. Preservationist P.K. Nair is revered for his penchant for collecting countless such souvenirs at the NFAI, which belonged to the early-age Indian film era. His inimitable dedication towards rescuing these priceless films from being lost in the pages of time, is why we still have a small percentage of cinematic heritage to fall back on.
Mr. Nair's dedicated effort towards protecting the legacy of Indian cinema has influenced a cauldron of Indian filmmakers, including cineastes like Shivendra Singh Dungarpur. An advertising filmmaker and a preservationist himself, Shivendra pays homage to the retired archivist in the form of Celluloid Man. The film is a remarkable black-and-white documentary which is suffused with testimonials by Krzysztof Zanussi, Naseeruddin Shah, Jaya Bachchan, Gulzar, Shyam Benegal, Mrinal Sen, Vidhu Vinod Chopra and several other film royalties. The documentary has been relished and raved about at the New York Film Festival, Telluride Film Festival, Mumbai Film Festival (MAMI), to name a few. I caught up with the filmmaker to learn about his debut documentary.
What drew you towards Mr. Nair's story and how did the idea of making a documentary on him come about?
Well, a film on Nair saab was long overdue, really. Nair was like this teacher, like this sage who had an overpowering aura, and all the students at FTII, including me, grew up watching the kind of films we did, thanks to him. So the idea to make a documentary on him was always there at the back of my mind, but somehow I got very busy with my advertising career. Then, one day I decided to visit Nair saab and see the archives myself. When I saw the state in which the prints had been kept - I was appalled and I felt something had to be done. And that's how the idea for the film came about. Initially, I thought about making a film on the incident and about the film cans, but as I went along, ideas began developing and I started getting more and more concerned about not only Nair saab, but also about the concept of preservation of films in India.
Is Celluloid Man based on Mr. Nair and his legacy of salvaging Indian prints or on early Indian cinema?
Nair saab is someone who preserved what remains of early Indian cinema. He means preservation, he means heritage, he means archival. So when you make a film on Nair, you just can't make a film on him, because there is more to him than the films he has preserved. His passion for showing those films to FTII students and other people for instance, in a way influenced a whole generation of filmmakers - right from Adoor Gopalakrishnan, Girish Kasaravalli, Mani Kaul, Kumar Shahani, Raju Hirani, Sriram Raghavan to Naseeruddin Shah, Shabana Azmi and several others. So the documentary showcases his love for collecting films, especially how he found Phalke's film and others. It shows his efforts to preserve what was left, thereby building the entire NFAI, and it is through his efforts alone, that we see the entire Indian film history unfold itself. More importantly, the film also depicts the advent of the film industry and how it developed, not just in Bombay, but also in Tamil Nadu, Karnataka, Andhra Pradesh and other states.
How challenging was it for you to make the 16mm documentary?
The whole process took three years - it took me a year to get permissions and get Nair saab back into the Archive. I took eleven trips back and forth to the Pune film archive to convince the authorities to allow Nair Saab back into the institution. It was strange that they didn't want him to come there because he used to make a noise about how the government money was spent. Secondly, it's easy to make a documentary which could be your impression of somebody, but it's not easy to make a documentary, which would also be used as an instrument to communicate the concept of preservation. In India this concept is non-existent. And this is one thing I learnt from advertising - communication has to be clear. So I had to drill it into people's heads that one must not let Nair's legacy go to waste; time is still not lost and all of us as filmmakers need to get together and preserve what is still remaining. So I had to keep the language quite upfront. I wanted people to speak in front of the camera, I wanted to do it like the interviews - I didn't want to use another form of expression, which would probably be very creative,but I would lose out on the upper end of communication.
Could you share any interesting anecdotes, which came up during the filming process?
Oh, there were many. One of course was that after I finished the shoot, I happened to go to Nasik and I found Phalke's car, which was tremendously fascinating. Phalke would travel in this car and go for his shoots. I wanted to put this bit in the film, but somehow it didn't happen. What I want to say is that a film like this never ends. It is not made with a concept of ending. It is made with the concept to go on - because preservation is like that. So I don't think there is a beginning or an end. Also, one of the big discoveries for me while making this film was to find the place where people take out the silver from the black-and-white films and colour from the coloured films to make bangles. Of course, I had heard about it, but I had never seen a place like that and I found this place in the suburbs of Bombay. And the owner was quite proud when he told me about the number of films he had washed down and that was scary, because this is one of the reasons why we only have a handful of silent films. We made 1700 silent films and out of that, maybe about 15-16 films we may have preserved, which is a shocking number.
What is in the pipeline?
I am currently working on a documentary on Jiri Menzel, a Czech filmmaker who directed Closely Guarded Trains. Post that, my next production will be a feature film, of course, but apart from that there are several restoration projects, which I'm a part of. We are with the Martin Scorsese Foundation, since we want to make sure that films are restored not only in India but world over as well. I'm also very keen to work on the Chaplin project, again for another organization. Moreover, I keep visiting Bologna every year, where all the big films are restored. Apart from restoration and documentary, feature films will be next.

This article was initially a part of our March/April 2013 issue and belongs to our extensive archive.

Text Radhika Iyengar