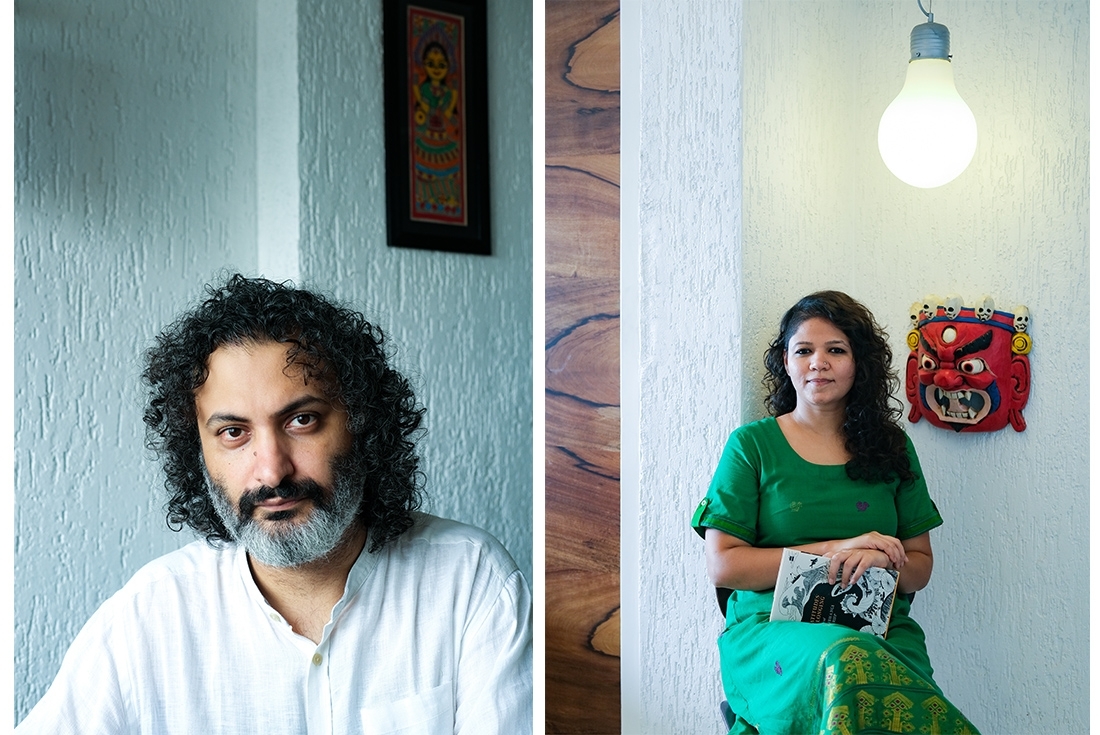 The Writer's Room
Shubra Swarup and Heeraz Marfatia
When one ponders on the Indian freedom struggle it's usually names like Gandhi and Nehru that pop up in mind. What is easily glossed over is how history is always ever fleshed out by those in power. The newly released Amazon original, The Forgotten Army, as the name suggests traces the journey of the Indian National Army, led by Subhash Chandra Bose who fought tirelessly for a free nation in every possible connotation of the word. As these voices get muted in the mainstream narrative, the screenplay by Heeraz Marfatia, Shubra Swarup and Kabir Khan amplifies the pain and struggles of those soldiers who don't find any space for themselves in our history textbooks. Platform gets in touch with the writer-duo Heeraz Marfatia and Shubra Swarup to speak about their journey and what it means to be a good writer. Excerpts as follows:
When did your journey with writing begin?
SS: I grew up in a house that had an immense love and respect for the arts, my sister Shaili is a teacher, youngest sister Shubhangi Swarup [Latitudes of Longing] is a novelist, my mother is a poet and my father a photographer–bureaucrat. My sisters and I were always encouraged to write and taken to poetry readings and kavi sammelans. So the love of writing was definitely transferred from there. My mother had us writing journals and short stories since we could barely spell. Hindi and English were my favourite subjects in school, they were my relief. Since my father was in the IAS, we would move every two years. I have grown up in mofussil towns of Maharashtra, we moved to Mumbai when I turned 12. My love for languages organically led to an English major in St. Xavier's College, Mumbai. I met Eunice de Souza, an English Professor. Under her we studied a paper on creative writing. And that's really when the romance turned real. The craft of writing came into the picture. Eunice patiently read reams and reams of my poems and in her astute feedback was my introduction to the craft behind writing.
How did it all begin with the Writer's Cut and what exactly is it?
HM: It is a collective of writers that wrote many scripts; few I was signed on to directly, few were just meant to be sold. Some good stuff happened, scripts got sold but nothing really got made. But what was interesting was that we worked with a lot of great writers and as these years have passed, they have grown and we have grown and there is a collective understanding amongst us. Shubra and I have known each other since very long; we were high school sweethearts who have grown old together. Even as artists we have evolved together. The first few series we wrote were difficult, but now it has become much easier as we have clearly defined our roles. I am all about getting the work done and extracting the maximum. She is much softer in terms of getting it out by helping in a way like she'll help the writer write it. Shubra, being owner of half the company and the creative producer, has the final say in whether what I write is ready to go out or not and that goes both ways.
SS: When we had moved back from the States 15 years back, armed with our Masters degrees in Writing [me] and Directing [Heeraz]; we were depressed to see how writers were treated in our industry. Indian Cinema is supposedly the largest film industry in the world. And we can argue around it but from the time I was making a tentative entry into this place, what I saw was an absolute lack of respect for writers and writing. But this is where I wanted to be, I wanted to tell stories with an Indian heart. So we naively decided that there is sense in us coming together as writers and putting together a company around our core strength—writing.
What really goes on inside the writer's room? What does the creative process look like?
HM: With this whole new wave of series attraction, very few people know how the writers' room works. It is the time of the writers and show runners. How do you create 500 minutes of content, what kind of discipline does it take? Unfortunately in the past we have not had a culture for writers. In the past the writers were not allowed to voice their opinions; it takes generations to develop that. The OTTs turned out four years back, that does not mean it is going to change so quickly but the realization of the importance of a writer is being felt. Writers come on board first before one gets directors. Largely creators in the West are writers of course; there is a 10-15% writer/director but that will not happen here very fast because it is a director-driven industry. But the change will happen as the demand increases. Essentially the show runner is the CEO of the show. So there is a lot of creative ability; there is a little bit of administrative ability and to some extent a show runner should be interested in writing as well. So the show runner puts together a writers room where we try and put diverse voices in one room and then we have the ADs who are present to give us the allegory of it. There is a story editor, there is a staff editor, there is a script coordinator and there is a researcher.
SS: The process is as if all the heads in the Writers Room are working towards melting into one giant brain. And that one giant brain is going to take on the creation of X hours of content. You have to be able to think out loud, ask questions without judging them. The sheer efficiency of this collective brain when it works well is stunning. It is the secret behind all the great content we see on the web. It does take time to find your groove with each other. But writers have woken up to the strength and efficiency of a Writers Room.
What do you think makes for good writing?
HM: What makes a good writer is when he/she is intrigued and keeps you intrigued. There are two kinds of writing - one is auto where you are very particular about your own style and can't explore others, and craft writing is when you are able to write anything and give it your own voice. Craft is a very important skill for a writer—what they end up writing is their own prerogative, but they need to have the skill to be able to write anything.
SS: A stamina that can keep up with a reasonably talented mind. To comment on talent and writing sounds dogmatic. I would rather comment on the discipline and resilience it takes to make your insights and world view come alive. It helps to have a world view! A curious, ever-changing, irreverent, provocative one maybe.
HM refers to Heeraz Marfatia and SS refers to Shubra Swarup.
Text
Shruti Kapur Malhotra