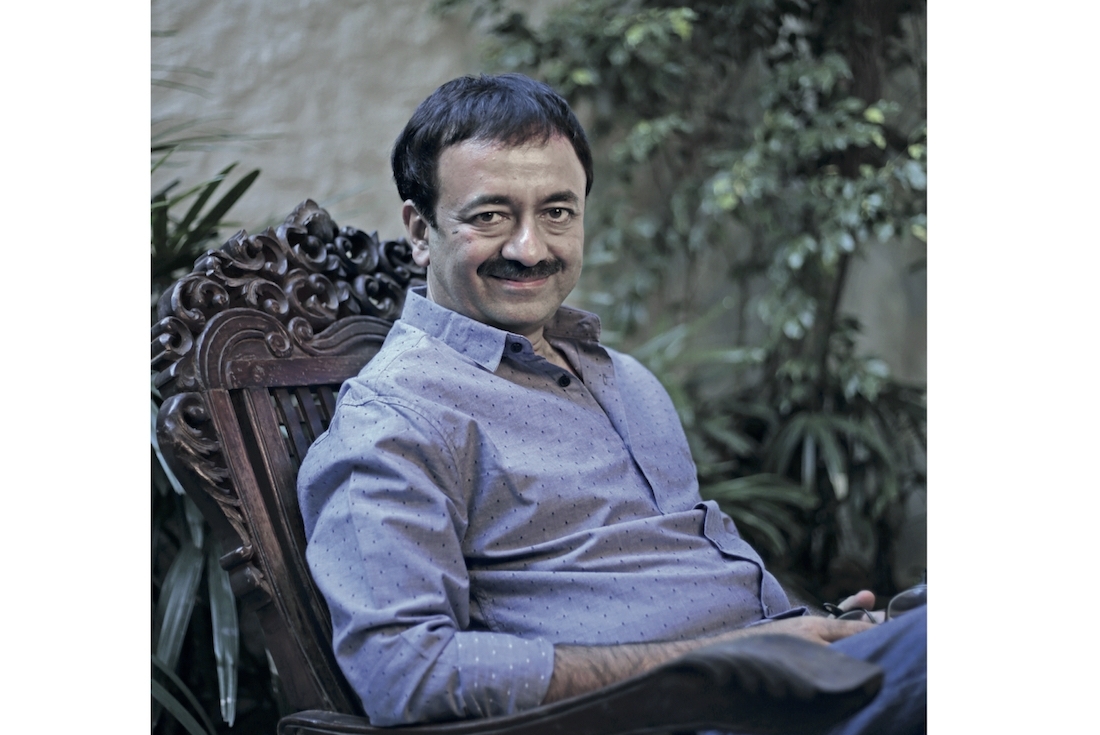 #ThrowbackThursday with Rajkumar Hirani
RAJKUMAR HIRANI HAS A VERY SIMPLE WAY OF JUDGING A GOOD FILM FROM A BAD FILM— 'IF WE'RE TALKING ABOUT IT FIVE YEARS FROM TODAY, IT'S A GOOD FILM.' IT'S BEEN A LITTLE MORE THAN A DECADE SINCE HIRANI MADE HIS DEBUT AND NOT ONLY ARE HIS FILMS STILL REMEMBERED, BUT HE HAS GONE ON TO CREATE THE SORT OF CINEMA THAT HAS ALREADY RISEN TO A CULT STATUS. WITH THE TWO MUNNABHAI FILMS, HE GAVE US CHARACTERS LIKE MUNNABHAI AND CIRCUIT, OFTEN COMPARED TO LEGENDARY COMIC DUOS LIKE LAUREL & HARDY. OR IN CONCEPTS LIKE GANDHIGIRI THAT BRAVELY TOOK ON MAHATMA GANDHI'S IDEOLOGY AND TRANSLATED IT INTO A COLLOQUIAL 21ST CENTURY ALBEIT OVER-SIMPLIFIED VERSION. AND THEN OF COURSE, CAME THE BOX-OFFICE RECORD-BREAKING BLOCKBUSTER 3 IDIOTS, WHERE THE PAINFULLY BANAL, ALTHOUGH BESTSELLING FIVE POINT SOMEONE BY CHETAN BHAGAT, WAS CLEVERLY TRANSLATED INTO A RIB-TICKLING COMEDY AND CAMPUS DRAMA ALL ROLLED INTO ONE; COMPLETE WITH QUOTABLE QUOTES AND AAMIR KHAN. THERE IS A SENSE OF NAIVETÉ IN HIS PROTAGONISTS AND AN UNDERLYING IDEALISM TO HIS STORIES THAT HAVE THE SORT OF FEEL-GOOD QUALITY THAT MAKES MOST AUDIENCES ALL WARM AND TINGLY, LEAVING THEM THOROUGHLY ENTERTAINED. WHAT HIRANI HAS MASTERED OVER JUST THREE FILMS, IS GETTING HIS MOVIE WATCHERS TO EXPERIENCE FEELINGS. AND IN THE 100-CRORE-PLUS FILM-CLUB RACETRACK, HE DEFINITELY STANDS OUT FOR HIS STORYTELLING PROWESS AND SUGAR-COATED MESSAGING THAT IS CONSISTENTLY CHARMING AND HARDLY DIDACTIC. TODAY, THE NATIONAL AWARD WINNER HAS A FORMIDABLE REPUTATION AND IS THAT ONE FILMMAKER EVERY ONE IS LINING UP TO WORK WITH.
I MEET HIRANI AT VIDHU VINOD CHOPRA'S OFFICE IN A SUBURB IN BOMBAY. THE DUO'S PARTNERSHIP IS ALREADY THE STUFF OF FILM- MAKING LEGEND, AND THEY ARE NOW READY TO RELEASE, THE MUCH-ANTICIPATED PK, STAR- RING AAMIR KHAN, ANUSHKA SHARMA, BOMAN IRANI AND SUSHANT SINGH RAJPUT. EVEN AS RUMOURS ARE RAMPANT ABOUT A SANJAY DUTT BIOPIC AND YET ANOTHER MUNNABHAI; HIRANI IS MOMENTARILY PREOCCUPIED WITH WHAT HE CALLS 'STUDIO-HOPPING'. THE PHASE OF FILMMAKING THAT SEES HIM IN ANYWHERE BETWEEN THREE TO SIX STUDIOS EVERY SINGLE DAY, BUSY CLEARING OUT ALL THE LAST MINUTE CHINKS BEFORE THE FILMS' UPCOMING DECEMBER RELEASE. BUT EVEN AMID THE HUSTLE AND BUSTLE, HIRANI TAKES A BALMY AFTERNOON OFF FROM HIS CHAOTIC SCHEDULE TO INDULGE US WITH HIS FIRST PLATFORM COVER AND INTERVIEW. WE MOVE INTO THE WHITE WALLED VERANDA, A COSY PASTORAL BREAK FROM THE OFFICES AND STUDIOS OF THE PRODUCTION HOUSE INSIDE. APART FROM THE OCCASIONAL BUZZ OF AN AIRPLANE OR WAIL OF AN ASSISTANT DESPERATELY LOOKING FOR 'RAJU SIR' TO APPROVE SOMETHING OR THE OTHER, HIRANI CHARMS ME INTO HIS WORLD OF FILMMAKING—STORYTELLING HIS WAY THROUGH IT ALL.
So 3 Idiots held the record for the highest grossing Hindi film in the over- sees markets till it was superseded by Chennai Express and Dhoom 3, years later. You have also won numerous awards and received rave reviews. This combination of critical and box-office success is rare to come by and has made you a 3-film-old filmmaker with a formidable reputation. How does this influence your filmmaking?
When I was making my first film, I never even thought of things like the box-office; the joy was purely in having made and completed a film. When Munnabhai MBBS released, I remember waking up one fine morning and realizing that I had no more work to do—we call it the post-natal blues and I still suffer from that every time a film ends. My assistant called me the day it released and he said we should go check out how audiences are react- ing. I went along with him and we went from one theatre to the next; it was 50% occupancy, but people were applauding, crying and laughing all along! When we were on our way to New Empire, I picked up Boman (Irani); it was his first film too and he burst into tears when he saw the crowds' reaction—it was truly overwhelming. By the time we got out of that hall, we saw the first houseful board. The rest, as they say, is history. But from the second film onwards, it was quite differ- ent; the pressure built up. I keep telling myself that I was not stressed and that I would never let commercial pressures bother me. And while it doesn't both- er me in my work, we haven't bowed down to doing something that will make the film commercially successful for the heck of it, ever. I don't think I'll ever do that. But I do want people to watch my film.
Unfortunately, money and how much a movie makes seem to be the measure that filmmakers are held up to. What is your personal measure of the success of a film?
I know! That is just so depressing. I hate dealing with my own chartered accountant. That's the one meeting I keep putting off. Dealing with money just doesn't give me any joy. Look at my track record; I've taken five years, to make PK. I could have easily made one film a year and made a tonne of money. Even if they had bombed, I would still have been sitting pretty with enough money in the bank. Don't get me wrong; you definitely need a basic amount of money to live happily, but it is not everything. I want people to watch the film. I feel the right parameter to judge a film is by foot- fall. Ticket rates are different, so money is a tricky way to judge. But the actual measure of cinema is if people still remember and talk about your film over a period of time. Today when we talk about Mughal-E-Azam or Sholay, we're not really thinking about numbers; we remember them for the films they were and the emotions they evoked in us.
With Lage Raho, you began writing with Abhijat Joshi. Tell us about how this very successful writing partner- ship evolved?
I spend more time with him than my wife or kid—that should give you an idea of the relationship we share. I met him before I began working on Lage Raho; he had worked with Vidhu Vinod Chopra before that. And Abhijat just happened to be there when I was narrating the script. He lived in the US then, but he had read a lot on Gandhi and he wanted to work with me. I took his offer very casually, but he went back and sent me this stun- ning scene. We worked together via email. We realized that we spoke the same language and had a lot in common. He is now my writing partner, friend and family. Fortunately for me, when we began work on PK, he shift- ed back to India and has been there throughout the shoot and even on the edits. Our writing methodology is quite strange. Usually writers start with a structure—the premise, plot points and a conclusion. We start off with a subject. And then we go for these long walks where we start talking about our lives, memories and stuff we've experienced. We record all that is interesting and download onto a Thought Folder on our laptops. Our anecdotal material will look like roughly 400-500 pages of these strange and random thoughts. Eventually we create scenes around the ones that stand out the most. And we then weave our story around it. Our structure is developed from the mate- rial rather than the other way around.
Is there a method to your directorial style as well?

Yes, it's all in the pre-production. Film is a collaborative process; if I decide that I'm going to do everything, it will be very one-dimensional. You want everybody to have a point of view, because it will enrich your film. But I over-prepare, so I know which path my cast and crew will take. While I leave ample room for improvisation, if it's on a path that deviates too much from the larger vision of the film, I will pull them back to the main idea. I like my team to be completely prepared by the time we're on set. Directing is also a very crowded process. When we were shooting PK in Delhi, we had this shot in this tiny toilet of this stadium. Just for that, there were 5 generators, 10 makeup vans, and security for Aamir and it was just this hectic crazy atmosphere to get that one shot perfect. I'm an editor by training and it's what I started off as. The joke within my cast and crew is that I'm still an editor only, and because I see the film from the point of view of the edit table, everything has to be close to final. When my actors are performing, if pauses are too long, I'll remove them on set itself. I direct the cuts accordingly as well. I try to work on schedules because my upbringing has been a battle with money. My first ad film that I made when no one was hiring me happened over a joke when a friend said he needed an ad made for INR 3000. I said, 'I'll do it' and I did. Even now, I'm consciously aware of time and money. But if the film is not achieving something, then I will shoot till we get it right. There will never be any compromise of quality.
Has the sudden availability of these large budgets changed you as a filmmaker?

It has definitely given me a lot of freedom in terms of being able to conceive and make my cinema with ease. But it also makes us lethargic. I keep telling my team this—when we didn't have money, we used our heads and found innovative ways to achieve whatever we wanted. We shot Munnabhai MBBS on a very tight budget. For the last scene we needed these stills that depicted Sanjay Dutt and Gracie Singh getting married. My art director gave me a costing of INR 30,000 for the scene and we couldn't afford it. We were shooting in Pune and we used to cross this wedding hall every night on our way back home. So, I told one of my assistants, that we could just shoot there after the wedding got over. We were told that by 10:30, the wedding party would clear out, and we shot those stills at someone else's wed- ding! In adverse conditions you learn to think. That's missing now.
What are you like as an editor and how do you understand the art of editing?
Editing is a blissful and meditative process for me. Everything is done, you're alone in a room, you have the entire film in front of you and you're putting it all together. It's a jigsaw puzzle when you have hundreds of shots. And how you choose to tell the story is in what you pick and leave out. It is a process that can make or break any film. The pacing completely decides the final quality of the film. Typically, I take about 4 to 5 months to edit my films. Earlier, I worked from an office but this time I've put an editing room in my home. I have no schedule, half the time I haven't even brushed my teeth and I'm rushing to edit because something has clicked. And by the time I'm done, it's time for bed. It's something I live with and love.
Finally, with PK you will be collaborating with Aamir for the second time. What is your working relationship like with him and what can we look forward to this time?
Aamir has this terrible reputation of interfering with directors, to such an extent that the first day of shooting with him, even I was worried. But he's been a dream to work with, because over these two films, I cannot think of a single day when he hasn't given me his complete commitment and professionalism. He will sit with you and discuss every detail about the film, but that's something that should be every film- maker's dream because he is invested in the film. A successful film needs a collaborative process—and Aamir is all hands on. In fact, because he has also been a producer and director, he is very good with feedback once your film is done, and he's fantastic with marketing too. He comes with a whole set of skills that only add to your film rather than take away from it. As for PK, somewhere there's an activist in me. I'm not going to say what I'm talking about in this film, but I'll definitely say that this is an issue that I've been fascinated with since childhood and it's been a topic that I can't stop talking about. I'm very nervous and excited about PK!