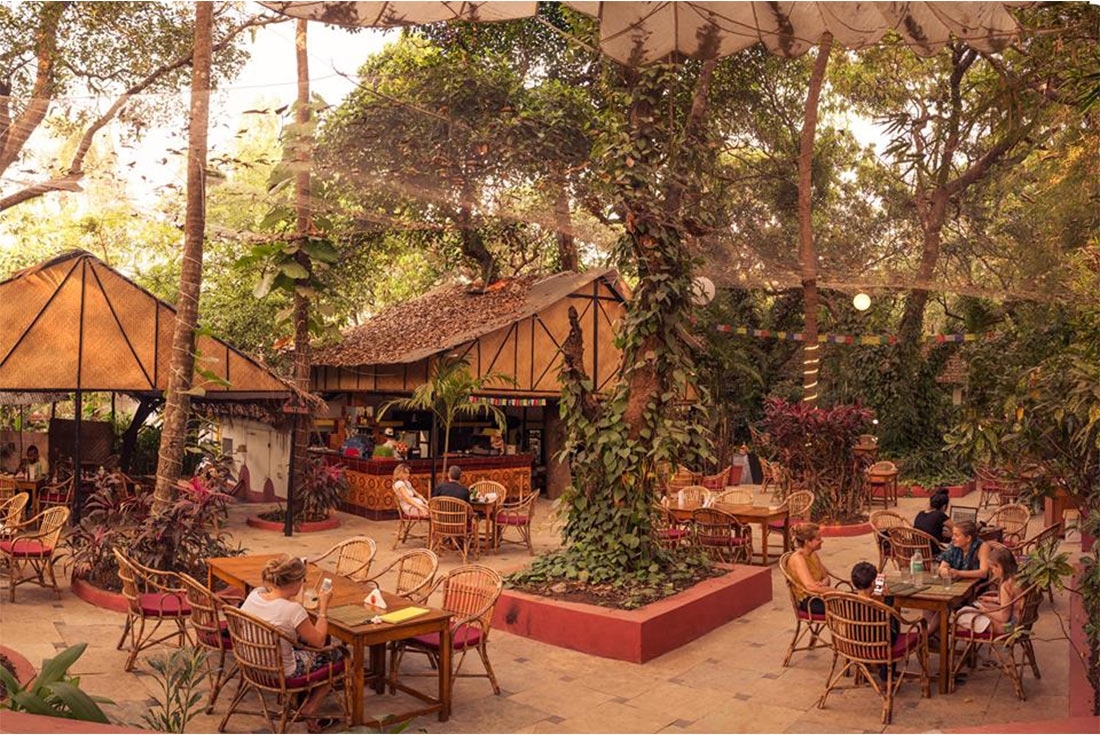 Close to nature in palate and ambience, these are our picks of the coolest vegan eateries to try out!

Bean Me Up, Goa
Bean Me Up is a place for the nomadic traveller. It is an award winning restaurant, bed & breakfast, yoga space and conscious boutique located en route the Ozran beachfront in Vagator, Goa. There's yoga at dawn, suites under a canopy of age-old mango, jackfruit and palm trees. Amongst it all is nestled the bustling restaurant, playing chill-out music and serving innovative vegan food, fresh juices and speciality beverages. Bean Me Up brings together like-minded people that share the joys of relishing and nurturing oneself with thoughtfully created cuisines from around the world. The menu of the restaurant includes essential vegan options like seitan, tempeh, quinoa, kombucha, chia seeds among many others. This beautiful piece of heaven in Goa is geared towards ethical, compassionate and a sustainable lifestyle by supporting organic farmers and procuring sustainably grown produce.
The Seeds of Life Raw Food Cafe, Bali
The Seeds of Life Raw Food Cafe, Bali
Located at the centre of Ubud on one of the most popular restaurant streets, Jalan Gootama, The Seeds of Life Raw Food Cafe is one of the best raw vegan cafes in Bali. Raw veganism stands at the apex of the green food pyramid as raw vegans exclude not only all products of animal origin, but also food that is cooked at a temperature above 40°C-48 °C [118 °F]. This would make one think that raw vegans have the least amount of options available to them but The Seeds of Life Raw Food Cafe proves otherwise. Since the Raw Food Cafe is positioned in the mountains of Ubud, they have access to some of the most vibrant organic produce grown in rich volcanic soils and fresh picked deli which is served through fresh organic juices, super food smoothies, delicious raw & vegan deserts, soft centred-tonic-herb filled raw chocolates. The cafe takes the brilliance of raw vegan food even further through dishes like papaya crepes, Sol Jars, smoothie bowls, chia porridges, triple layered banana pancakes, raw warmed pizzas, lasagnas, Malaysian laksa, Korean hobak rolls, and many more. The delectable food of this cafe is highly coveted by both vegans and non-vegans alike since the dishes not only taste equally amazing as non-vegan versions but are also highly healthy and nutritious. The Seeds of Life also has a Tonic bar serving drinks that support optimum health from the Indonesian, Ayurvedic & Taoist herbal systems and a Raw Food Academy where they provide Raw Chef Certification Programs, retreat chefs for events and various workshops.The place is also famous for its serene yoga retreats and small, intimate dining experiences.
Tian Restaurant, Vienna
The experience at Tian is like walking into a fascinating world of vegetarian and vegan dishes that meet high standards of quality and creativity. 'Food does not require a specific language; food requires a soul,' says Paul Ivi—Chef de cuisine at Tian. According to Christian Halper, the visionary founder of Tian restaurants, truly well made, healthy, vegetarian food is integral. It's why they spare no efforts to combine their own high standards for extraordinary cuisine with the pleasure and delight in experimentation. For this they draw on a multitude of rare and all but forgotten vegetables, fruit and assorted grains, their unmistakable aroma and valuable nutrients. Respecting natural cycles, they pay attention to preferably organic products, created in a fair way. Their seasonal ingredients are predominantly supplied by regional partners, that understand and adhere to their standards of quality concerning fresh food. The name Tian is not a coincidence either as it is the Chinese word for heaven, as well as a French vegetarian stew. Christian Halper and Paul Ivi's passion for wholesome, vegetarian food is rooted in their past. With Tian they have both fulfilled a longstanding dream: vegetarian food prepared in a way that will have your taste buds tingling while indulging all your senses. Their performance has been honoured by multiple awards: Never before have a Michelin-star [2014] and three Gault-Millau toques [17 of 20 points since 2014] been awarded to a vegetarian restaurant in Austria.

Compiled by Nidhi Verma