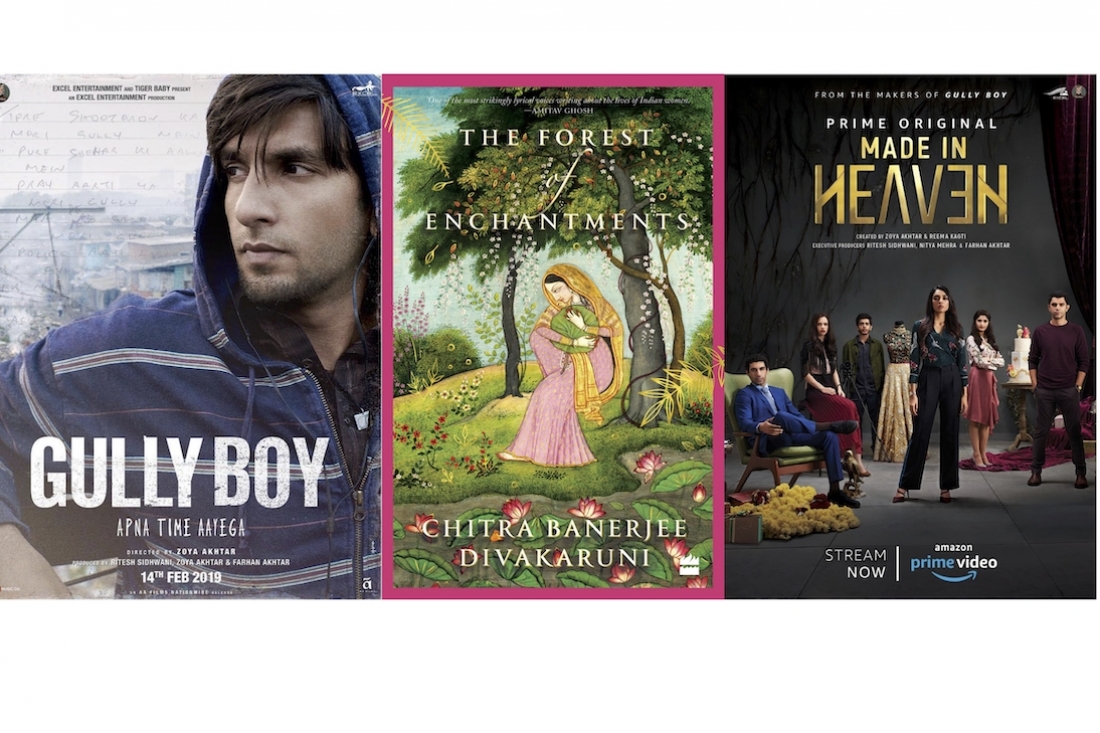 Best of what we've seen and read this year
2019 kicked off on a great note, and as we step into spring-summer, here's rounding up the best of books, movies and shows from the first quarter that are never too late to catch!

Go ahead, pick that paperback, tune into that show if you haven't...
BOOKS
The Forest of Enchantments by Chitra Banerjee Divakaruni
Chitra Divakaruni retells Ramayana from Sita's Perspective. The retelling of this great epic places emphasis on the humanistic characteristics of the often misunderstood, marginalized and demonized women like Kaikeyi, Surpanakha, Mandodari. It is an evocative commentary on honour, betrayal and infidelity, women's struggle to retain autonomy and free will in a society which privileges men.
The Selected Works of Abdullah the Cossack by H.M. Naqvi
DSC prize winner Naqvi's second novel has an exuberant narrative. Set against the vibrant backdrop of "Currachee", it follows Abdullah, an unaccomplished man and his quest for meaning. Naqvi once remarked in any interview, "Perhaps there's some of Abdullah in me, some of me in Abdullah. Perhaps he is like us all: somebody with fears and anxieties, hopes and ambitions, somebody who yearns for meaning in life."
The Far Field by Madhuri Vijay
An 18-year-old, naïve Bangolorean baffled and angered by the unenlightening coverage of the Kashmiri issue...this is a gripping tale of a restless young woman forced to make a series of choices that hold repercussions for the people she has come to love in a remote Kashmiri village.

The Freedom Artist by Ben Okri
In an interview Okri remarked "it is our primary responsibility to ask questions about that mental, spiritual or cultural prison, so that, we may begin some kind of journey towards that true freedom.", it is this examination of truth and freedom that he explores in his novel.
Black Leopard, Red Wolf by Marlon James
James' perfect blend of imagination and borrowing from African history and mythology forms an adventurous saga with unforgettable characters and is an exploration of limits of power, over-ambition and the constant need to understand it all.
FILMS
Gully Boy
The Gully Boy jukebox took the nation by storm with its anthem-worthy rap and the movie lived upto the hype with stellar performances by Ranveer Singh, Alia Bhatt and Siddhanth Chaturvedi among other talented cast members. With Zoya Akthar's directorial excellence and Oza Jay's brilliant cinematography, this movie must be watched.
Ek Ladki Ko Dekha Toh Aisa Laga
The first mainstream Bollywood film with a plot revolving around a lesbian romance and the LGBT experience, this film had its heart in the right place and was a welcome move in after the Supreme Court ruling against Article 377 of the IPC. While a lot more could've been done there, this sure makes for a good beginning!
Captain Marvel
The much-anticipated sci-fi movie from the Marvel franchise revolves around the life of Carol Danvers who goes on to become one of the most powerful superheroes of the Marvel universe.
The Boy who Harnessed the Wind
Chiwetel Ejiofor's directorial debut based on a novel by the same name is a spoonful of powerful performances and an inspiring story of a young boy from an agricultural background who brings electricity to his village with his invention of the windmill despite his lack of prior knowledge about its invention.
High Flying Bird
What makes this film interesting is the fact that it has been entirely shot on an Iphone, it takes on issues of race and power in the NBA, packed with Andre Holland's brilliant performance.
As Told To G/D Thyself
Set to the tunes of Kamasi Washington's music, this 24-minute poetic visual treat was shot over a course of three days. Packed with visual treats, this experimental film is a sensory delight.
Sometimes I think about dying
Abel Horowitz's 13-minute film is based on a play she directed in 2013, Killers. She recreats that with the short film which stars Katy Wright Mead and Jim Sarbh.
SHOWS
Made in Heaven
An Amazon Prime Original series, Made in Heaven is an explosion of talent, brilliant storytelling and crisp writing. It explores the dynamics of the marriage business and the ugliness of the behind the scene drama through the two protagonists, Tara (Sobhita Dhulipala) and Karan (Arjun Mathur). The series becomes a commentary on the underlying façade, ugliness and hypocrisy in the society. If you thought Marriages are made in heaven, this show will prove to you that they are in fact made on earth! Read our review here.
Russian Doll
Caught in a loop of repeated never changing event, the protagonist, Nadia keeps reliving her 36th birthday party and keeps dying at the end! This comedy drama is an engaging watch.
Queer Eye S03
The Fab Five are back with laughter, joy, positivity and all things sunshine. This show is sure to tug your heartstrings, leaving you with exuberance of warmth, love and hope, we can guarantee happy sobs.
Conversations with a Killer: The Ted Bundy tapes
The crime docu-series unravels the psyche of the infamous serial killer, Ted-Bundy. The attempt to understand the intentions and motivations of this man makes for a documentary you can't resist binging.


Compiled by Samiksha Chaudhary