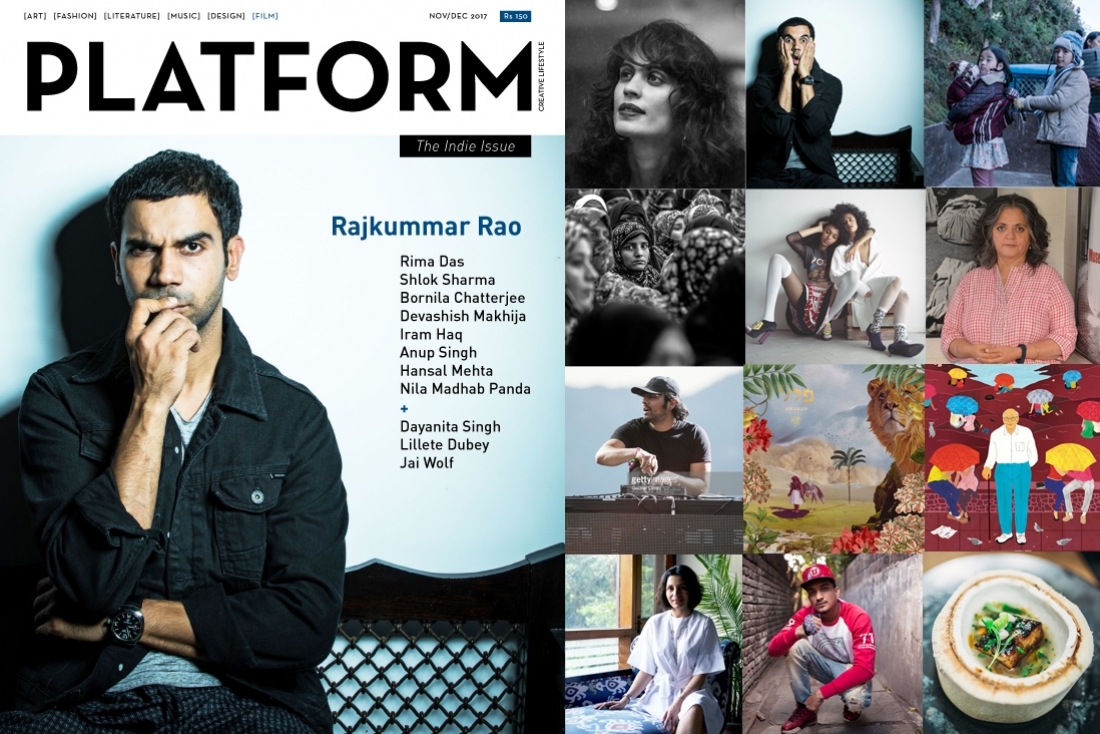 Inside Our Film Issue 2017
We are delighted to bring to you Platform's latest Indie Issue that celebrates the most powerful independent cinema that India will see in 2018. From this year's biggest acting talent, Rajkummar Rao, to films that have won hearts and accolades at international festivals, the lineup will have you sit up, raise a brow and get ready for a different strain of cinema that's taking over.
Cover Story
Our Cover story is led by one of the finest actors India has seen in recent times, Rajkummar Rao. His effortless acting, and extremely riveting and consistent performances have made him a critic and audience favourite. This year alone he was trapped in a one man film, he played a 324 year old man, was the protagonist in a film that is India's entry to Oscars and stole the show in an out an out commercial film – we think Rajkummar Rao is brilliance personified.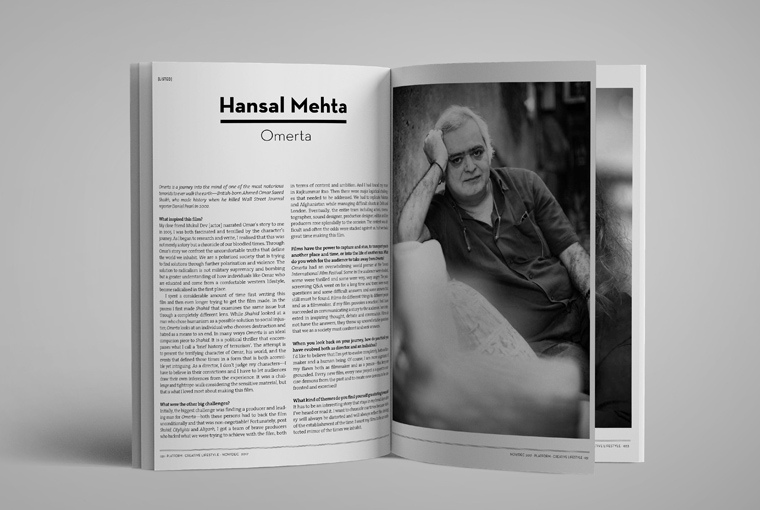 Rima Das. Shlok sharma. Bornila Chatterjee. Devashish Makhija. Iram Haq. Anup Singh. Hansal Mehta. Nila Madhab Panda.
Listed
All the eight films in our issue are extremely gripping, dark, twisted, disturbing and at the same time very real. The Hungry by Bornila Chatterjee is a tale of revenge between two families mired in money and success and the complex emotions that come with it. Hansal Mehta taps into the mind of one of infamous terrorist Ahmed Omar Saeed Sheikh through Omerta. Shlok Sharma picks up an iPhone and makes Zoo, marking the beginning of a new revolution in filmmaking. Iram Haq, in What Will People Say, tells a compelling coming-of-age story in the backdrop of culture clashes. Ajji by Devashish Makhija follows a desperate grandmother who will stop at nothing to shield her granddaughter from the monsters of the world. Village Rockstars by Rima Das takes up the problems of floods and patriarchy in the North East, The Song of Scorpions sees Anup Singh tracing the story of a camel trader and a folk healer through a twisted tale of love and revenge, and Nila Madhab Panda's Halkaa tells the story of a conscientious little slum boy who doesn't want to defecate in the open.
Danish Renzu. Siddharth Chauhan. Paakhi A. Tyrewala. Suresh Triveni.
Forecast
We have Tumhari Sulu, The Illegal, Karma and Pahuna, directed by four promising debut filmmakers who have each written their own story and created original content.
Jeet Thayil, The Book of Chocolate Saints
Extract
Take a deep peep into a few pages from Jeet Thayil's powerful new novel, The Book of Chocolate Saints.

Centrestage
Jai Wolf, with his beautiful music that blends Bangladeshi and American sensibilities, tells us what it takes to create a sound that spells harmony across hemispheres.
Three Minutes
The ever-brilliant photographer Dayanita Singh shares notes from her life, her likes, dislikes and Musuem Bhavan.
Our Fashion Story takes us on a trip of dance and rapturous reverie while Travel makes you experience NY, NY twice over through Uptown & Downtown. Add to that the best of talent in Design, Photography, Literature, Art and Chef's Tables across the world to enjoy exclusively, and that's the perfect wrap to 2017. See you in the New Year!