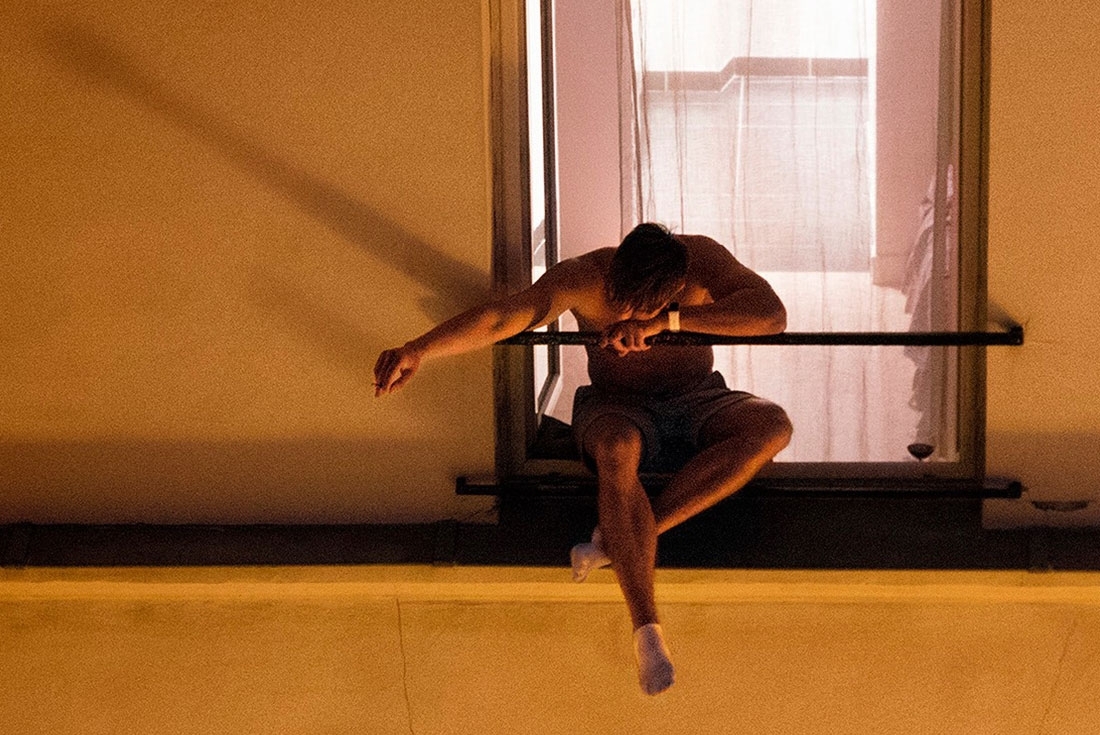 Leonardo Pucci
The Curious Eye
It's the magic of things that has always drawn Leonardo Pucci to what he does, perhaps combined with his natural leaning to beauty owing to his birth in Pisa. Whether it is peeping into that little box of his father's that opened a window to a wondrous world or getting enchanted by some extraordinary creators of fashion [and even 'stealing' some tricks from them], his is a journey as inspired as it is inspiring. Leonardo has not only added his creative expertise to fashion setters such as Prada and Christian Dior but is also a self-taught photographer, now living between Paris and Rome. He was able to nourish his eye for beauty and narrative through his work in fashion at Italian and French Maisons where he supervised creative and development processes, and today, his first solo photographic exhibition, Episodes (without a real order), stands testimony to his multifarious explorations.

The artist, whose work is informed by the great photography of Franco Fontana, Saul Leiter, Merry Alpern, and Philip-Lorca di Corcia, allows his photographs to act as indefinite episodes, stolen moments in the lives of individuals or couples caught unaware. But the narrative that he is most interested in is the stories his photographs elicit from the piece's observers rather than the story of his subjects themselves. Shot mostly at dusk or at night, his imagery blurs with throbbing undercurrent, which is left unto the observer to decipher most discreetly. The indulgences of his subjects appear as secret, solitary, suspicious and sensuous—a blend for absolutely delicious art.

'They are crystallized instants and therefore appear strangely like a canvas that everyone recognizes, adding their own meanings, tales and emotions which go beyond the image itself.'

We connect with him to understand the making of his powerful passions.
On Photography

Take me back to your first memory of photography. Your father recorded every significant memory as you grew up...
In the '70s during the many trips I took with my family, my father would record everything with a Yashica Mat 124G 6x6, meticulously studying the exposure and angle shots. Transparencies were his passion. That black contraption with its two glass eyes seemed magical to me: he would look into that little window on the top and the box would capture things and persons.

What inspired this series?
I remember that years ago I was struck by an Italian theater performance by Motus. The show was entitled Twin Rooms and underlined the role of the hotel room's space, which once lived in, for a short moment becomes the fragment of an open story.
Since then, the broader idea of an intimate and apparently protected place that becomes a possible episode for an emotional narration fascinated me. Gradually I developed the desire to create a vast and complete photographic project.
The opportunity came when I moved to my new apartment in Paris. As soon as I walked in, I saw in the window in the attic in front of mine a couple that was passionate kissing. That moment I understood the project had begun.
How does the observer make a story more interesting than its subject in context of your work?
My images induce a vague tension in the observer. On one side there is curiosity, an intimate attraction to the delicate sensuality of a stolen moment, while on the other side there is a feeling of discomfort: he is looking at something he shouldn't be seeing.
How does the observer overcome this emotional strain? Through his own personal narration. He recognises those episodes as part of an indefinite familiar plot and immediately starts to evolve this scenario adding his own meanings, tales and emotions which go beyond the subject itself. At this point for the observer the potential story becomes even more credible and acceptable because it draws directly from his mind digging deep into his dreams, his desires, his memories and not least, into the need to have his story told.

Do you find traces of expertise in fashion engaging with your photography? How closely connected are the two mediums, for you?
Fashion in the last two decades has been one of the most important experimental terrains, obsessively redefining aesthetics and communication codes. This allowed me to nourish an intense aesthetic research on images, but above all to develop an attentive and curious eye, a way of observing the world and reality, constantly searching for a synthesis between the importance of details without losing the beauty of the whole.
Take us behind your creative process in conceptualising, photographing, editing.
I'm constantly attentive since images are suddenly "formed" before my very eyes. I always have my camera with me, night and day, and when the opportunity arises, I don't try many different shots, I don't change the point of view too much, usually I quickly choose one angle and that's it. In strictly technical terms I prefer a single main focus point and very few compositional plans that gravitate around it. Later at home, once the images chosen, I concentrate on calibrating the color.

Composition and colour have equal importance as the subject of the image because, in my opinion, they don't just have to illustrate or contextualise the image but they must also contribute to the meaning of the image. The lines and the plans, the relationships between shapes and spaces, the geometry of the forms, the psychological impacts of the chromatic choices, all this can make the narrative aspect much more eloquent and meaningful.
On Fashion

You have been in the fashion industry for over 20 years—can you tell us a little about your most significant experiences?
In all these years I had the chance to work for top Italian and French Maisons, Bottega Veneta, Prada, Dior… and that's where I met extraordinary people at all levels. The creative directors of these fashion houses wrote important pages in the fashion history of the last decades and I "stole" something from each one of them. From Miuccia Prada, I learned to break into normally avoided territories, from Tomas Maier, the refined pleasure of materials and techniques, from John Galliano, the intense sense of glamour, from Raf Simons, the vision of the future in the everyday reality. Not bad as a training path!

What are some of the biggest changes you have encountered in the fashion world?
Fashion used to be based on rules and precepts, it was based on a clash between a hypothetical refined idea and a vulgar taste.
Today, it's no longer like this. Today, fashion is flexible to preferences, it's made of proposals, not of rejections. Based on Zygumunt Bauman's words, one can say that nowadays in the liquid-modern era, fashion has changed to adapt to the individual freedom of choice and to the individual responsibility towards this choice.
How has Social Media affected fashion, with the latest styles going out to the world even before a model walks out of the runway? At this pace, where are we headed?
Designer Alber Elbazsaid sometime ago, "In this digital age we live through our screens, documenting the moment. We no longer look: we film. We no longer listen: we tape. And we no longer talk: we post." In these terms fashion and the means through which fashion itself is represented underwent major transformations without there being a final univocal formula for this. Even in this case, there is no final paradigm. For example, some predict abandoning old forms of presentation like fashion shows. To me, this depends: in most cases they are useless and dull, but then there's always that one particular show that is so creative in its message, in strength, research and visual impact that the "goosebumps" experience of physicallybeing there can't be replaced by any touchscreen.

As a fashion influencer, what kind of responsibility do you shoulder and what are the challenges you meet along the way?
Today, the responsibility of a fashion influencer is to reach a vast and indistinct audience that often has excessive or unpredictable reactions.
Economic interests at stake are very high and little by little heavily affect credibility and integrity… to appeal to such a wide public, one tends to be self-critical and the result is that amidst all this great freedom, we have all become more rigid and somewhat reactionary.

The solo photography show by Leonardo Pucci opens at Nature Morte this week and is on till the 4th of August, 2018. At Nature Morte, Neeti Bagh, New Delhi.

Text Soumya Mukerji