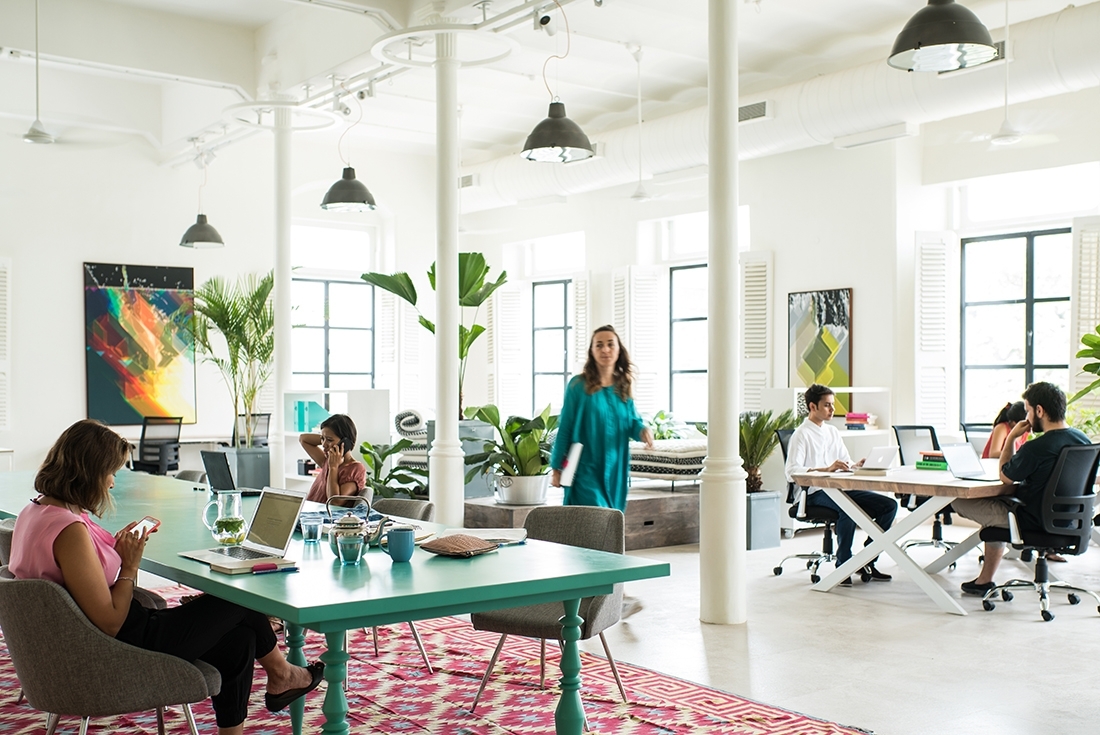 One Year On
Ministry of New | Nicobar | Oddbird Theatre
Newborns are beautiful. Whether human or a work of art, a project just birthed is a subject of excitement, possibility and creative vitality. However, it is only a year later that you actually see it blooming and transforming—whose eyes has the baby inherited? What vision has the project manifested? Does it crawl, cackle, twinkle, gurgle—has the creation started to express its own voice, move happily in its space and evolve as a work in progress? In one year, any life assumes its unique identity; its features, strengths and character chiseled much clearer and headed in a far more confident direction. Which is why we go along the journey of some of the most powerful projects in the creative design space—Nicobar in Retail, Oddbird Theatre in Performance, and Ministry of New in Co-working, which stand tall and inspiring One Year On. The creators of these very distinct design identities share with us what it takes to be game-changers and trendsetters while taking on the challenge of having no pre-laid path to follow.
Ministry of New
Can one of the oldest historical landmarks in a city become one of the most contemporary and cutting edge co-working spaces in a country? Those are the wonders that good design can do, to turn a marvel of yore into what's now a year-old hub of throbbing collaborative activity—the Ministry of New [MoN] in Kitab Mahal, Mumbai. When Natascha Chadha, a brand consultant, and Marlies Bloemendaal, an art director, set out on their idea of constructing a creative mind-space with a global character that ran through their Dutch roots, they had no clue about the milestones, possibilities and challenges that it would reveal as it shaped up. 'It's been an exciting journey with a lot of learning on different fronts…getting the right themes, members, meeting with different collaborators. You don't really know what the challenges are until you're out there, up and running', observes Natascha. MoN was recently named "the second most beautiful co-working space in the world" by Forbes, and being selected from 4,000 co-working spaces across 105 countries is no mean feat.

The win perhaps comes from one of the strongest and simplest qualities that define the space: Effortlessness. 'What made us move from the Lalbaugh address was the building's inherent quality, which also resonated with our sensibility. It's open and light and spacious, which is our goal for co-working—to give members some headspace, to allow them a calm and relaxing environment where their inner genius and imagination flows. That home-like feeling that is hard to get at a 16-storey business centre or other co-working spaces that build so much pressure with loud colour schemes and 'go for your dream' signs plastered all over,' says Natascha. So, a year since its inception, the members range from four-year-old to 67-year-olds, creative freelancers, CEOs, scientists, consultants, investors, social entrepreneurs, startups, expats, corporate and even some visiting pets. The activities range from something as informal as an Indian lawyer and a Japanese lawyer chatting about their countries' laws to organised brand launches, collaborations, creative events, corporate networking and just about anything conceivable.

All of this occurs in the interesting sections that the space is composed of. The Café [called Café Monday] has a soft-toned, hand-painted mural designed by Deborah di Fiori. Lekha Washington's Moon Dot Chair is a favourite selfie spot for visitors, and many guests have made themselves comfortable on Gunjan Gupta's Gadda Daybed and Chairs. A large Sufi Light by Bombay Atelier was customised for the space and dances at the top of The Chapel– one of the team rooms. All the team rooms have been playfully named. Artworks curated by Matthieu Foss decorate the 2,200 sqft Gallery – a large open space where 50 individuals can sit and work, while enjoying stunning views of VT station and the rest of Fort. Then, there is a Boardroom where outsiders as well as members can book a meeting.

As thoughtfully designed as that sounds, Marlies makes a note—'actually, it's more décor than design, since we already had the beautiful 8,000 sqft space, double-height ceilings, original steel columns, wooden doors and windows that we had a tough time asking the landlord to not do away with'. But even as the vibe is clean, green, elemental and easy, it sits rich with culture. There are vintage chandeliers, travel trunks picked from Crawford Market, Jaipur rugs as well as artworks from local galleries. An old-fashioned rope swing hangs nonchalantly in the middle of the Library – a place from which members can enjoy stunning views of the South Bombay architecture while listening to soothing background music. There are plenty of breakout areas including a sky-lit open courtyard, complete with hanging plants, cane chairs and dome lights.

The plan from here is to make the MoN experience richer with more activities, sport and bonding. And, to take a step back. 'The first year in any business is a lot of hard work. We did a lot of events and PR to get people through the door, make them aware; we went all out with it. A year on, we are thinking of taking a step back and seeing where we've come and what direction we now need to head toward.'
Nicobar
If there is one design entity that has transformed the retail landscape in lifestyle over the past year, it's Nicobar. Much like the phases of its inspiration that lies in the island and the moon, it has gone through different stages in its ongoing journey, emerging more empowered each time. 'If the dark, new moon represents potential and a blank slate, the full moon is the completion of a cycle, and of release. We celebrate them all.' The brainchild of Raul Rai and Simran Lal and the creative headwork of Aparna Chandra, Nicobar recently opened the doors to its Chennai store after flagging Delhi, Mumbai, Bangalore and Jodhpur.

'Two decades after the launch of Good Earth, we felt the time was ripe for the birth of a new line within the tribe and Nicobar was born. I always felt the need for a brand which reflects a personality which is simple, relaxed and easy. We wanted to create a contemporary brand that reflected the subtle changes we see around us today: a reflection of the modern Indian way of living, dressing and looking at the world. A world where good design is not just for special occasions but part of everyday life,' says Simran. While this reflects in their no-fuss, relaxed apparel and earthen home-ware with a distinct natural aesthetic, it is the underlining values that really define Nicobar's early success.

'We have just started and are at the infancy of our journey which I hope lasts a long time. What's important at this stage is a good, steady beginning with strong foundations—even if it's quite distant from how we define ultimate success. Success for us will be if we manage to nudge and shape culture and we have barely begun; we are extremely happy to be recognised a bit already but ultimately, time will tell, if we have managed to shape culture, if we have managed to establish a new global aesthetic, rooted in Indianness but at home everywhere,' says Raul.

It's deep purpose, passion and patience, and nurturing a culture of creativity and collaboration that drives the Nicobar design philosophy. This, he says, is achieved via its different expressions — product, the Nico Journal, and a fast-building community. Two of the biggest learnings over the year for the team have been to zoom out, and put chaos before process. 'As an operating entrepreneur the tendency is to get into all the details which is critical. But it is also important to zoom out. As a PE investor, I developed a great strategic feel for businesses and a wide network, which helps me zoom in and zoom out at the same time. Another guiding principle for me came from one of our advisors, Prof Raman, who three years ago told me "Out of chaos comes revenue and out of discipline comes profit. Remember you are in the chaos stage and just focus on creating a product that customers love at this stage. Don't get process oriented in a rush - focus on content not process". So we embraced chaos because creative environments require some chaos. This was great advice for a type A driven investment banker / investor like me!' shares Raul.
Another important realisation along the way has been that people can make or break good design. 'The biggest challenge is finding great people. At the outset, we spent 250 meeting to find the core founding team of 10 people. It's the best investment I ever made,' he says. And the other people in the picture are equally important—'We do everything to ensure we have a personal contact with our customers, whether it's through conversations on mail between me and our guests or styling activities in store led by our design team or team members managing the shop floor during pop-ups. We want conversations and not monologues with our guests.'

This is best achieved by blurring the lines between online and offline. Therefore, it is very important for Nicobar to have a strong omni-channel DNA. We launched in March 2016 with online and our Mumbai store opening simultaneously. People want to touch and feel - we are focused on merging physical experiences with a digital platform. We aspire to be a human centered digital brand.' The key, for them, has been experimentation, learning and iterating. 'A DNA that respects the mad, non-linear creative process. Saying NO is far more important than multiple Yes's!'

Next, Nicobar is set to make its presence felt with new stores, apart from fresh infusions in design. 'Nicobar's new season is rooted in China's vastly inspiring history. We're merging historicist inspirations with modern styling, borrowing from Chinoiserie traditions as much as the constellations & punctuating journeys to East Asia with stargazing. Our palette is darker and you will find shiny licorice black, inky navy, and rich crimson as well as graphic checks and dramatic florals, all in our signature fabrics and silhouettes, from featherlight Chanderi and silky Mashru through to silk-coon, poplin, and knit. We always maintain that collaborations are at the heart of our brand, having worked on interesting collaborations last year like a menswear capsule with Suket Dhir, a shop in shop edit at Teothra Dhora and across cultural spectrums. We intend to keep this going this year as well and in the pipeline for us is a collaborative capsule with WWF [World Wildlife Fund] to create awareness around coexistence between man and animal. We are designing a line to create awareness around some marine life which again ties back to our namesake inspiration. We are also joining hands with the Elephant Parade team to create awareness around the Asian elephant and its corridors, which when encroached lead to human animal conflict,' shares Simran.

Oddbird Theatre
On the day of hosting the first play last year, co-founders Shambhavi Singh and Verkein Dhar were busy ripping off the plastic covering from the just delivered chairs; it was 3 in the afternoon and the performance was scheduled at 7. 'We'd never forget that crazy day. Akhil, also a co-founder was vacuuming the floor himself and we also had our domestic help, he was scrubbing away at everything. It was like all hands on deck, let's just make this happen.' And one year later, that driving principle makes them the most distinct cultural performance space in Delhi. Located refreshingly in the off-town Dhanmill Compound in Chhatarpur with a free warehouse vibe to it, Oddbird has taken strong flight and revolutionized the performing arts scenario ever since its inception. Each artistic collaboration here has been revelation in experiment and experience, and the space's interactive performative design, 'un-stage' dynamic, globally styled seating and breathing areas have been welcomed by performers and audiences alike.

'Akhil and I go back a long way as friends, and we wanted to start something. He was an engineer and I had a job in advertising but I wanted to be involved with the performing arts nearly all my life. I grew up with this perception that you are either an artist or a teacher, and I wasn't aware of any of the other options in between. I did not know then that arts administration was a flourishing, thriving field. So a lot of this endeavour came from trying to understand the question of how to earn a living through the arts without being an artist, and while I've seen people do it, I wasn't brave enough to. Then it was the realisation that you don't have to be the performer, you can actually enjoy putting together a place where all these things can happen. Akhil and I always held similar views on community spaces and people coming together for a shared experience and having a conversation around that, being able to see something together and then discuss it. That adds more enjoyment, more informality and more fun than to go sit in a theatre and passively consume the arts rather than really engage with it. We wanted to break those barriers and get more people interested in the arts, shares Shambhavi.

Once the intention was clear, space was the next hurdle. It took a year and a half for the team to choose the land it stands on, today. 'We didn't like any of the spaces we saw for the performance format. Commercial spaces have flaws and building and columns in the middle, and don't have high ceilings. We were very clear that the performance was front and centre of the community aspect of the experience. So we decided we would start doing events at different spaces and whenever we find a space, we'd create a theatre. We went to Quicksand's office and we couldn't do our event there because it had a lot of pillars but they recommended we come and check out this space. So in passing, we drove in and knew immediately that this was it,' says Shambhavi.

While planning design, the keywords were flexibility, openness and room to breathe. 'We wanted other people to come and change things around while they performed. Very early on there was this discussion that it would start just as just a warehouse with some air conditioning and a bathroom. Which essentially is what it is. There was a performance in May called Guild of the Goat where the introductory song led people in to the theatre space by using the top of the bathroom, the bar, each area of the space… that is how we've always wanted it and we were all interested in design so we let it flow free to let the arts breathe,' says Akhil.

Oddbird, a non-profit initiative, has hosted many inspiring and collaborative events ever since, from the Ignite dance Festival that is helmed by Verkein to The Lives of Others and much more in music, theatre and dance. 'The Ignite Festival happened over a week and it was a significant learning for us in terms of showing us the direction that we need to go from here, and also the importance of processes and some structure in the scheme of creative workflow,' says Verkein.

It hasn't been easy to get here though, because Oddbird did not have a pre-laid path to follow. 'One of the challenges that we had to go through was that we had to create a lot of things from scratch. Akhil enjoys that, breaking things to the basic and then start from that and I found that a little bit stumping sometimes because there was no path to follow. What is the model we were supposed to work with, both in terms of space and functioning? 'This is how it's done' couldn't be the answer to anything, and that questioning is important even now in the way we work. But when you build something from nothing into something that stands on its own, you gain confidence and now we actually manage to enjoy the show nights without being stressed all the time!' says Shambhavi.

This year, apart from adding equipment, creating storage space and focusing on least intervention in performances, the plan is to make room for day events such as workshops, meets and rehearsals and put literary performances on the line-up. 'We hope that more places like these open up. It'll just lead to the entire system changing.'

Text Soumya Mukerji