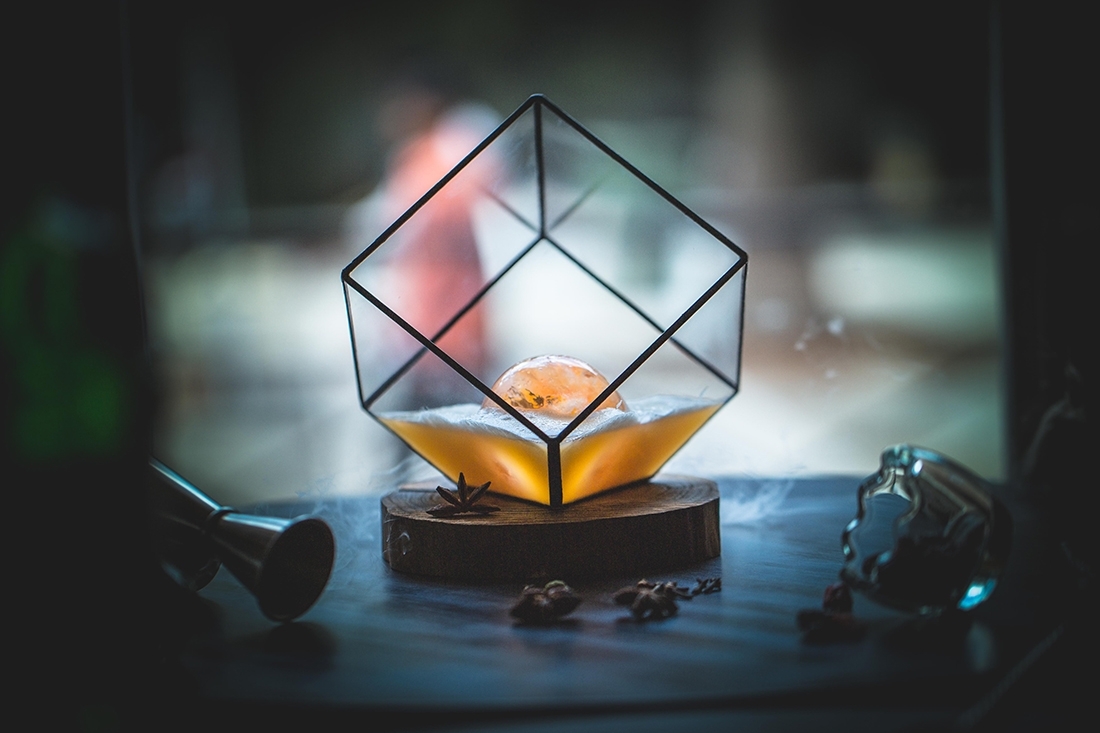 KODE, Mumbai
After changing the Indian restaurant game with unique successes like Farzi Cafe, Pa Pa Ya and Masala Library, Zorawar Kalra partnered with the Executive Chef of Massive Restaurants, Saurabh Udinia, and together they travelled extensively across three continents and hand-picked the most savoured dishes from around the world, giving each one a unique modern twist to surprise the palate. Add to that some great design and you have a place like no other.
KODE presents a breath-taking contrast between natural stone and cutting edge industrial design, which is highlighted by the 40 tons of specially excavated natural stone from the quarries of Rajasthan. They harness the charm of Japanese aesthetics. What's more, every dish at KODE is carefully conceptualised after months of rigorous food trials and showcases favourites from different global cuisines in a modern, freestyle avatar. Reinventing the art of mixology, KODE showcases a liquid dégustation menu that pairs drinks course wise and the Liquid Chefs have created a range of innovative cocktails with whimsical presentations. It delights all the five senses with a generous dose of futuristic taste.

Nine Lives, London
This new watering hole tucked away in a Victorian basement close to London Bridge has an uber cool concept. Launched by Sweet&Chilli, Nine Lives adheres to a zero waste ethos. Curated by owner Tom Soden, the bar menu is spilt into Shorts, Talls, Tarts, Lowriders and Loops. Closed loop cocktails re-use key ingredients, giving them a new life instead of being tossed into trash. Like a humble lemon at Nine Lives is used for it skin, oils and juice in cocktails, and then the pith is redistilled to produce essential oils which are used in liqueurs and hand soap. Any leftovers are neutralised and composted to be used in the backyard herb garden. They do away with plastic, introducing reusable bamboo straws. The frontrunners of the menu feature Ômu Kooler – campari and watermelon finished with a splash of homemade cucumber soda water – and Moby Dick – a coconut oil-washed grain whiskey, with salted caramel syrup. 'The name Nine Lives refers to an ethos of salvation – unveiled treasures, nothing wasted, everything lovingly sourced and selected with intention. Recipes are reinvented from past favourites, ingredients are repurposed to reduce waste and disposables are removed from the bar's operation. The aim here is to drive a positive and sustainable movement within cocktail culture.'

The Storyteller's Bar, Pondicherry
'The stories need to be heard.' Dilip Kapur, the brain behind the luxury brand, HiDesign, knows the nooks of Pondicherry blindfolded. He is enamoured by memories and stories that make you forget reality and let you escape even if it is for a little while. That was what he wanted when he conceptualised The Storyteller's Bar. Next he met his long term friend Simran Mulchandani, the genius behind Blue Frog, and together they gave us this memory museum.
The bar, situated at a beautiful heritage site, The Promenade, serves as a podium for all the travellers to tell their stories as they go. Kapur, who has grown up stealing mangoes from ashrams, wanted to create a menu from his homegrown ingredients to communicate with passersby in his unique way. The menu is inspired by Auroville's almost dogmatic insistence on healthy, organic and sustainable food and beverages. Mukesh Khatri, the mixologist, spent weeks in Pondicherry trying to absorb the culture and understand the produce, and designed the versatile drinks menu.

Cocktails at The Storyteller's Bar
Edited by Suhani Lakhotia