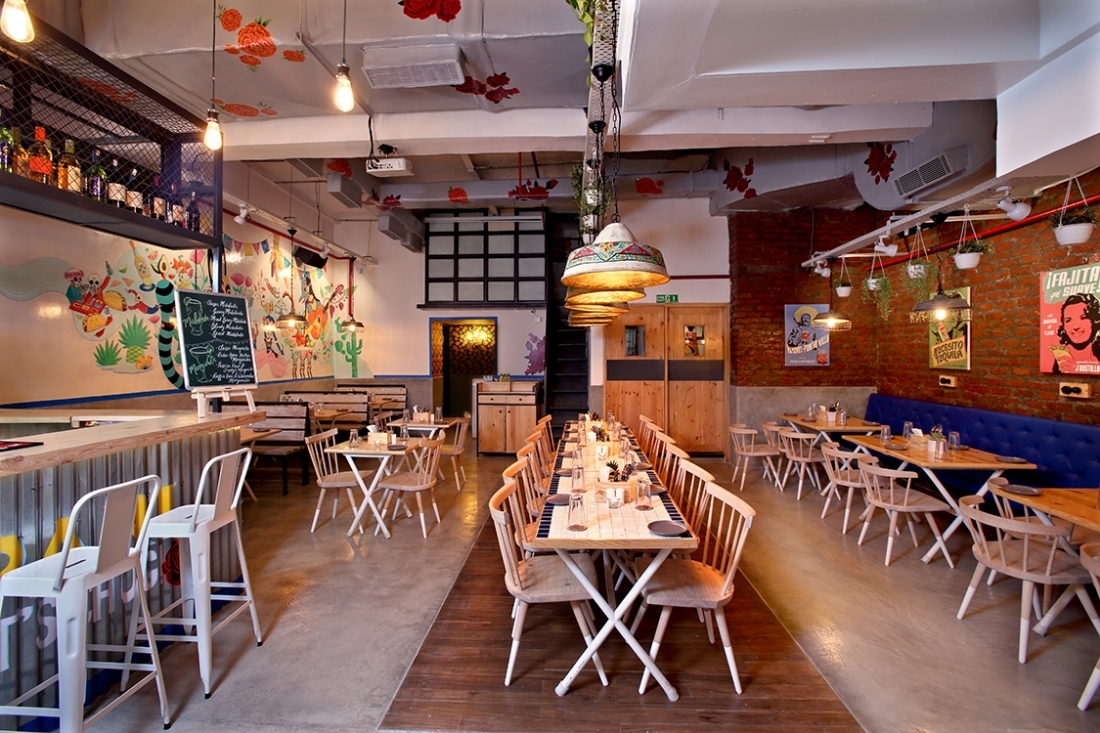 Rodeo Cantina and Kitchen
Nestled in the heart of the capital's food junction, Connaught Place, Rodeo Cantina and Kitchen is the Mexican heaven that offers more than your usual mexican treat, tacos. The place does justice to its intent of providing the optimal Mexican experience with its food, drinks and ambience. As you walk in the restaurant, bearing in mind that you're about to step in an exclusively Mexican eatery, the little pops of Mexico in the architectural set-up of the place take you by surprise. Whether it is the little mexican hat shaped lights, a wall covered in pop-mexican grafiti or the beautfiul Mexican posters, the place immerses you in its celebration of the beautiful culture of the country with just its lovely ambience. Another applaud worthy thing about the place is its demarcation of space in terms of lighting. If you're intending to go for a hearty lunch to the place, you'll find yourself to have the option of both a seating area that is well lit because of sunlight flooding in and the aesthetic white interiors, and the seating area that is dimly lit and beautiful yet.
The food menu will take you on a ride through the vivacity of the mexican cuisine. From taquitos and quesadillas to burritos and tamales, you will find yourself in one big conundrum with the urge to have a go at everything they have to offer. Our personal favourite from the place is the Spicy Chicken Enchiladas. The perfect mexican meal, the enchiladas are a mexican favourite and Rodeo does a really great job at presenting you the dish that will make you want to travel all the way to Mexico, just to have the dish everyday. Served in a pan that is scorching hot, the enchiladas are basically corn tortillas that are rolled around a filling, in this case chicken, and then covered with chilli cheese sauce and baked. The rodeo version also includes a good portion of rice to compliment the mains and fill you up to the brim.
Rodeo also boasts of a beautiful bar and a bar menu that will make you happy just by looking at it. Not to remiss you of the mexican experience here either, the menu includes some interesting signature cocktails that have mexican twists like the Bonita and Caipirinha, both based on legendary mexican drinks. Our mexican favourite from the menu our the Micheladas. A great drink for Beer lovers, a michelada is a Mexican cerveza preparada made with beer, lime juice, and assorted sauces, spices, and peppers, and is served in a chilled, salt-rimmed glass. From the a good variety of micheladas offered by the place, we love the Sunny Michelada the most with its perfect use of orange and tabasco sauce to give you the tangy and fiery taste of summer!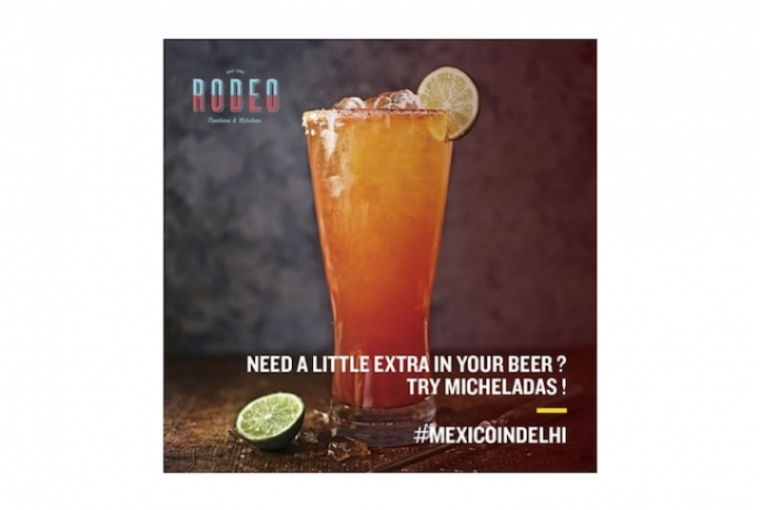 RODEO CANTINA AND KITCHEN

A-12, Inner Circle, Connaught Place, New Delhi

011 33107705

12:30PM to 1AM

TEXT Nidhi Verma