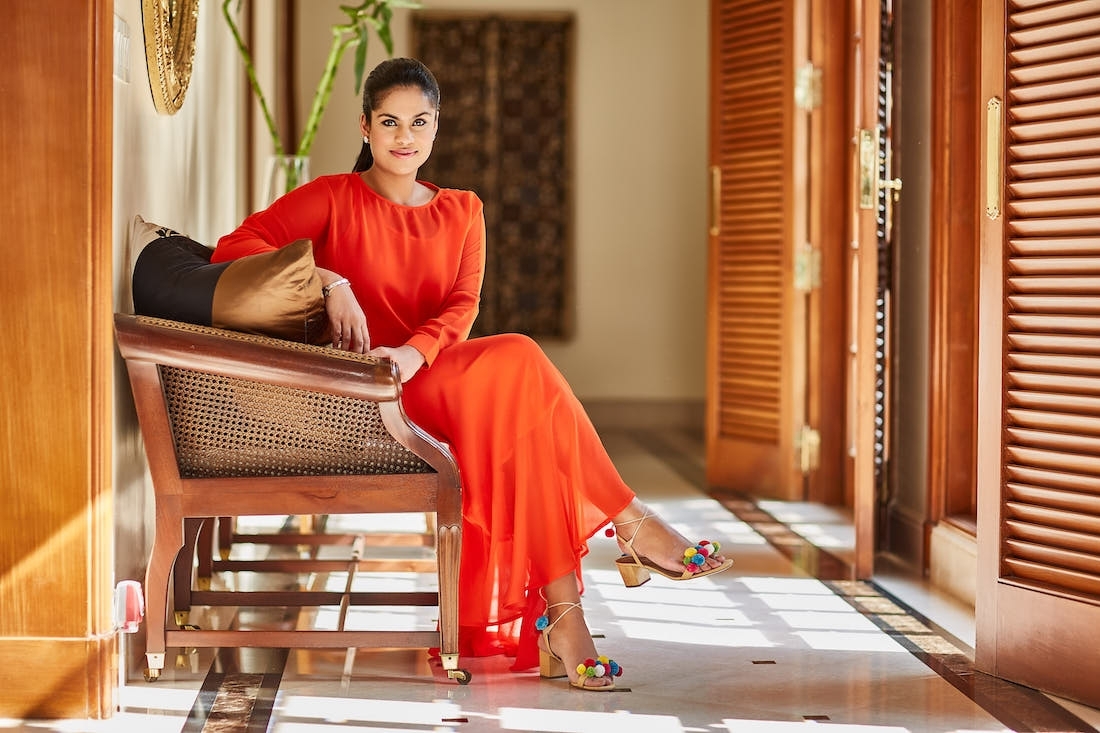 'My grandfather established The Leela Palaces Hotels & Resorts in India, so hospitality has always played an integral part in my life,' begins Samyukta, one of the founders of Bombay Bustle and Jamavar, the two very diverse Indian restaurants in London. Samyukta has always been intrinsically involved in the hospitality industry herself as she worked with the design, project development and operations of The Leela Palaces Hotels & Resorts. After amassing incredible experience in the hospitality industry, she made a foray in the London food scene with heading the opening of Jamavar and Bombay Bustle.
Since Samyukta grew up in London, the city is like home to her and made the perfect setting for her hospitality projects. 'My love for India and passion for its culture alongside my father's extensive knowledge of Indian cuisine enabled us to springboard into a larger arena with Jamavar and Bombay Bustle,' she tells me. Founded by Dinesh Nair as part of The Leela Palaces Hotels & Resorts, Jamavar was born from a love of the regional dishes of the Northern and Southern states, as well as recipes passed down from the matriarch of the Nair family and namesake of the hotel chain; Leela Nair. Bombay Bustle, on the other hand, captures the essence of Mumbai, the love of home comforts alongside the rapid pace of life, both existing side by side.
Both restaurants have their own unique character and a distinctive niche. 'Bombay Bustle focuses on a home-cooking style, recreating regional and classic family dishes as well as some of my favourites from the Bombay I grew up in. Conversely, Jamavar is a Michelin-starred fine dining experience with a holistic approach inspired by many of India's regions; our dishes take inspiration from both the royal kitchens of Northern India and coastal cuisine from the Southern states,' says Samyukta.
In an incredibly competitive field like the hospitality industry, Samyukta has managed to create her own unique space. 'Remembering that hospitality is all about people, and how you make them feel is incredibly important. Focusing on an elevated guest experience with a product and service focused approach, is what will continue to make people come back,' she says. While her hospitality ventures have been widely successful, her personal endeavour like the Jamavar Women's Club has also become popular.
The Jamavar Women's Club is inspired by her matriarchal lineage that ensured she grew up surrounded by powerful and talented women. 'I've always felt as if women don't celebrate themselves enough and essentially I wanted to create a space where women can do that. I felt that a Women's Club would be the perfect way for women to get together, share stories, ideas, and be inspired by each other. Mayfair is traditionally known for gentlemen's clubs, so it is a discreet antidote to that. The strongest women support other women,' she tells me.
This year, Jamavar Women's Club returned for its third year and was held in the exuberant subterranean bar tucked beneath the Mount Street restaurant on Monday evenings. This edition of the club saw the BAFTA Award-winning presenter of Newsnight, Kirsty Wark, Bollywood's award-winning actress, Sonam Kapoor, and three-time British World Champion and Paralympic swimmer, Liz Johnson, take the stage. 'Showcasing the lows as well as the highs, the failure as well as the success stories, is important to me when choosing speakers. Hearing from women across all walks of life with different careers and ambitions can inspire guests with their experiences,' says Samyukta who is now looking forward to curating the fourth edition of the Jamavar Women's Club this year.

Text Nidhi Verma