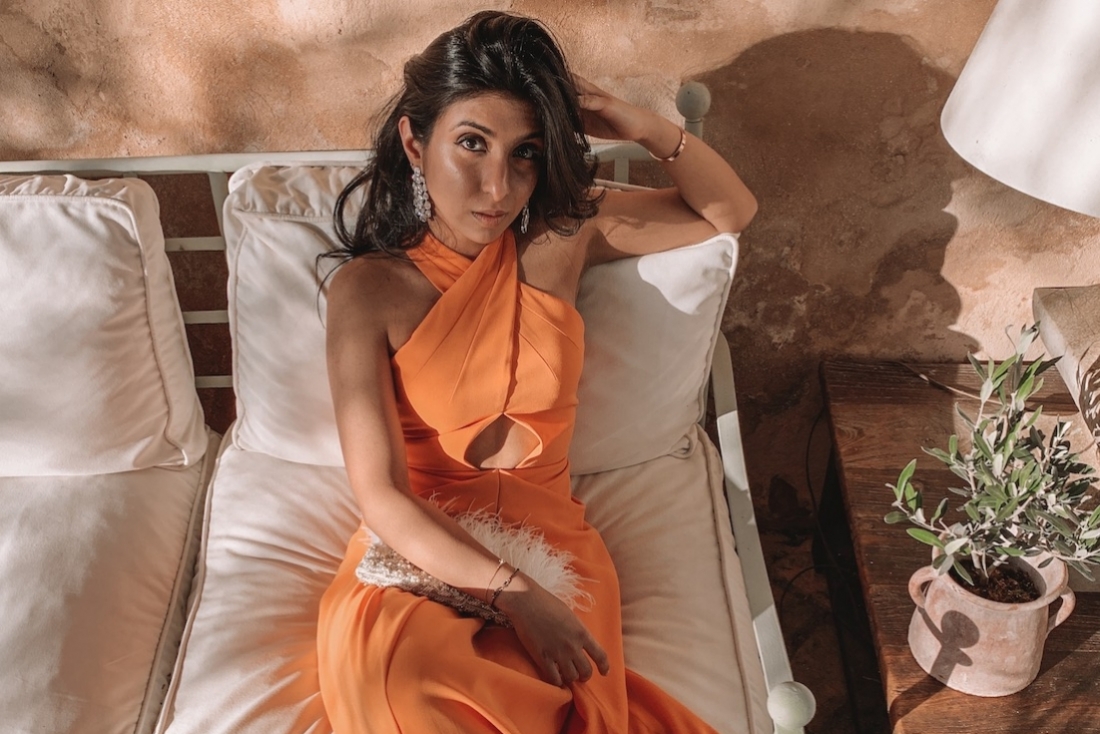 Shloka Narang
The Silk Sneaker
Blogging has become an intriguing profession. It's alot more than just taking pictures and posting. It engages at numerous degrees, on various platforms. It's become an industry that influences and inspires. To know more about how one stays authentic on the world wide web, we connected with Shloka Narang, the influencer behind The Silk Sneaker:

Let's start from the very beginning, when did your romance with fashion and travel begin?
Honestly, I can't pin point the exact moment I fell in love with fashion and travel. Growing up, we always travelled somewhere new and my mother would always encourage me to embrace the culture of a new place. I would say that she's largely responsible for my love of travel and fashion as well, but I really began finding my own path with both when I moved away from home and came to London to study. In the process of exploring new places on my own, I started to understand myself more and began expressing that more through my style; it became more than just clothes and bags, it was really an expression of myself.

What inspired The Silk Sneaker?
I've always been creatively inclined and initially my dream was to be a filmmaker. I ended up studying something totally different, business management and marketing! I found that everything I did was so analytical and I wanted to simply share something creative. It was my fiancé who gave me the idea to start a blog. It began with me just wanting to share all my latest discoveries and adventures with fashion and now I feel like it also shares the journey of me moving away from home and discovering who I was!

The content varies from travel, beauty, lifestyle and fashion amongst other topics – what is your curatorial process?
I feel that authenticity is so important, which means that my curatorial process is very instinctual. I think that all the content has to be a reflection of what I truly love and believe in, for me to share it with my followers. I hear the word 'aesthetic' a lot in the blogging community, so I think that I certainly have to have a consistent style that I share. I honestly just try to be myself as much as possible and put my own twist on things, so that my content actually speaks to my community.

What do you wish your followers to take away from your posts and experiences?
I want my followers to feel inspired by my style, take away fashion and beauty tips and lessons, and discover new and interesting things, but I also want them to take away a sense of confidence. I find that fashion can be so empowering and I want my audience to feel empowered to be themselves, to try new things and to see the beauty in the everyday.
What kind of brands would you support and would like to collaborate with?
I focus a lot on luxury and premium fashion. For me it's about a brand being more than just a label, it's about the story that they have to share with their audience. I also love to celebrate up and coming brands in this field -- I love looking for brands that are innovating and being creative! Things can get so repetitive, it's nice to see something fresh and new.

In the digital age there are a number of ways and means to reach out to the audience – so what do you essentially do to stay on top of your game and extremely relevant?
Social media actually makes it so easy to communicate with your audience, so there are many ways I stay on top of things. I try to stay active on my Instagram stories and share what I'm doing or thinking in real time, and to take my audience with me wherever I go. I also make it a point to communicate with my followers one on one either by asking them for feedback or just chatting with them and providing more personalised recommendations.

What do you do to be responsible to all the people that follow you?
Many of my friends for the longest time thought that all I had to do for my job was take a photo of myself smiling with a cup of coffee, post a cute caption and call it a day, but it is so much more than that. I think we have a responsibility to be honest and authentic with our community. You have to be yourself and set a good example as well. Take the current climate, I'm making sure to show my audience that I am staying home, following the guidelines and not spreading misinformation and encouraging them to do the same.

The Digital Industry keeps upping its game and innovating. What do you think is going to be the next wave that one experiences?
I think more immersive digital experiences are next. It could be anything from being able to try on that dress you're thinking of virtually or experiencing something that truly lets you enter the world of a brand you love, digitally.

Lastly, as we are all going through extremely challenging times – once we cross the hurdle – what do you think will be the new normal?
I've been thinking a lot about how the fashion industry might change. It might be an amazing opportunity for more brands to transition their cycles into greener and more sustainable models. The way brands communicate with their audiences will become more authentic and a lot of brands that are fighting the rise of digital will now see how being present and active on a social and digital space is so important for them to stay relevant and survive. I think that we will of course want to return to some sense of what we think is normal but we will be more mindful of our decisions. I think, or hope, that we will also be more grateful, and more present in the moment!

Text Shruti Kapur Malhotra