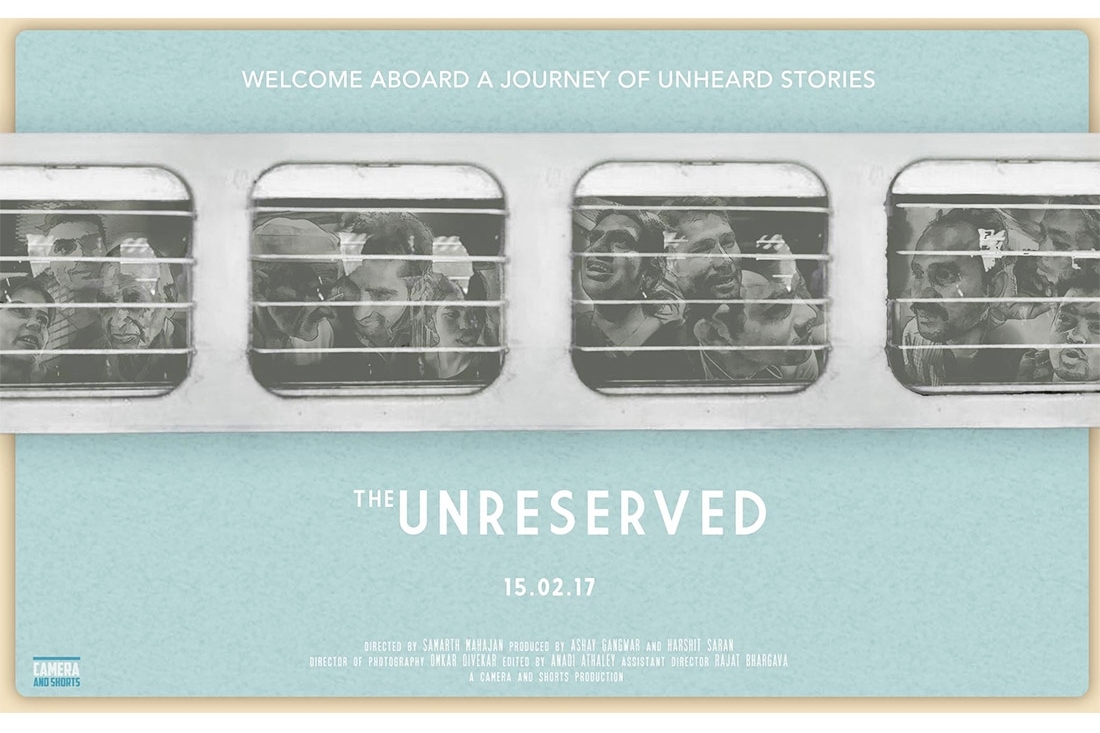 The Unreserved
by Samarth Mahajan

The Unreserved is Samarth Mahajan's first feature length documentary documenting the lives and stories of working class passengers travelling in the unreserved compartment of the Indian railways. It is a 17 day long train journey in 10 different compartments across India condensed into an hour long documentary portraying the aspirations, efforts and opinions of the passengers through conversations and personal stories. Samarth, a mechanical engineering graduate from IIT Kharagpur stumbled upon filmmaking while making one minute long ad films for an annual college competition. After working for a while in an operations management job, he discovered he had a strong urge to tell stories and be connected to people and society. This followed his move to Mumbai where he got into making short films and directed his first documentary Kazwa- A million lanterns, which was screened at multiple International film festivals. Soon after, followed The Unreserved.

The movie starts with an 81 year old man doing asanas beyond our scope of imagination and mimicking sounds of a dog's bark, the sound of a male and female goat, the cry of a child and that of a woman. A small audience gathered around him watches this rendition transfixed and further go on to hoot and cheer him. Leaving home by Indian Ocean plays in the background while the train passes diverse landscapes. The documentary soon moves into one on one conversations between the filmmaker and the passengers. Samarth adopts an informal tone while conversing with the passengers which instantly puts them at ease. He blends into the banter of the jovial atmosphere with street food vendors, dafli players and restless passengers teaming up and down the coach. Throughout these conversations, a plethora of experiences reveal the cultural and social climate of the country. The film adopts a lighthearted tone as serious issues such as dowry, domestic violence, poverty and inter caste marriages are masterfully intertwined with impromptu love stories, tales of brotherhood and friendship, cricket and the random feats of a self proclaimed impressionist. The film emanates a sense of rawness as there is not a single moment which seems inorganic or manufactured. The filmmaker takes us through the journey.

Why did you choose the Unreserved compartment of the train?
At Camera and Shorts, we had done projects around travelling on foot, travelling on sea, so naturally we got fixated on doing something around trains. A major inspiration behind the idea was my previous experience of Jagriti Yatra, an 8000 km journey in sleeper class across India to promote social entrepreneurship, which made me quite attached to trains. My own personal experience of travelling unreserved between Kharagpur and Calcutta made me inclined to focus on the unreserved compartment. When I tried to find internet accounts of travelling or conversing in unreserved compartments, I could only find foreigners vlogging from the sleeper class. So there was an intuition that the passengers will have stories to tell, as there was no one hearing them.

The intention behind the choice was to explore the class of Indian Railways which carries almost 95% of its passengers. It is a class where most do not travel out of choice. A sane person will mostly not opt to travel long distances unreserved unless presented with compulsions of economic nature or unplanned events. Everyone there has made a compromise sometime, either in the past or now, and we wanted to talk about those "sometimes". In the process, we wanted to build a new understanding of an invisible section of our fellow countrymen, leaving behind our prejudices.

The film has moments of light-heartedness masterfully intertwined with throwing light on some serious social issues. Did you intend the film to be this way?
My only intention was to hold conversations, instead of agenda driven interviews. There was no intention to make it a film about social issues. I ended up having 120 conversations, and had around 40 hours of rushes, which could have been cut to make any kind of film. When Anadi, who edited the film, and I sat through the rushes, the moments which touched us the most were the ones where people talked about their own condition in a humane way. These were personal stories, where they were not just criticising the society, and yet these stories mirrored the society. So it was a decision we took on the editing table. In some ways, the mood of the film is also reflective of what we experienced on the shoot. People shared heartfelt accounts, cried, laughed, agitated, and yet almost always bade goodbye with a smile. We wanted that smile to be reflected in the film.

How did you grow as a filmmaker while making The Unreserved?
Immensely! We were not following a conventional narrative structure with a fixed storyline, so it opened up my mind to exploratory themes which continues to reflect in my approach to filmmaking. It is my first feature length documentary, and I had to finish it in a certain deadline due to my academic commitments, so just the process taught me discipline and patience which are extremely important for a filmmaker. I started recognizing my voice as a storyteller, as someone who is interested in amplifying solitary voices and invisible narratives. The film has enabled so many conversations that it is difficult to summarize its impact on me, as a filmmaker or as a person.

Filmmaker, Samarth Mahajan
What hurdles did you encounter while filming the movie?
I had undertaken 2-3 hour long unreserved journeys before this project. But 17 days of travel in 10 different unreserved compartments, with some of these journeys being more than two days long, was quite a different experience. In a space meant for 90, there would be around 300 people on some routes. Sometimes we stood on one leg, or lied down on the luggage racks, or contemplated sitting in the toilets, and on very lucky days sat on a normal berth. So space was an issue throughout, which we progressively became used to. At the same time, the emotional involvement increased. Due to the strenuous nature of the journey, I became quite sick by day 12 and even blacked out twice while talking to a person. The amount of emotions I was absorbing were unparalleled to my previous experiences, and this led to a 10 day break post the journey where I was almost mute because my mind had become so saturated. Talking to women, specially in their 30's and 40's, was a task on some routes, as their husbands would start answering for them. While traveling through most of South India, language remained a problem. No wonder the only major story from South is the one where I am talking about Rajinikanth, as that was honestly the most comfortable topic for me.

What response did the numerous stories you heard on this 17 day train journey trigger within you?
I believe I became quite aware of my privileges after hearing the numerous stories. Class was an obvious marker before we even set out on the journey, and I knew gender inequality existed. But hearing first hand personal accounts from people, especially women who are in the film, made me aware of the small ways in which I have exercised power over my own mother and women friends. Just that one conversation in Kashmir made me aware that the act of rebellion can also be a product of discontentment against the Indian state for simple reasons like lack of employment and basic amenities. The journey made me understand how our media and daily discourses are mostly about a very minute percentage of our countrymen, people like me or the ones who are reading this. I was definitely astounded, surprised, and overwhelmed as I have described in the last answer. The journey increased my awareness about the problems, and more importantly made me aware that my awareness levels were so low, that I had to work on creating a worldview. This inspired me to undergo a liberal studies fellowship at Ashoka University.

Are you working on any new projects?
I am currently working on "Hum Le Ke Rahenge", a project on protests at Jantar Mantar Road, the 1 km long protest street in Delhi which was shut to protesters last year in October. The project emcompasses a series of short documentaries on singular protests, and a feature documentary on the street. The series aims to tap into the rich repository of collective action in India. It amplifies dissenting voices from all parts of the country, irrespective of any political inclination. The shorts are available on the Facebook and YouTube channel of Kahaani Wale. We were recently at Docedge Kolkata, a pitching forum for asian documentaries, where the work-in-progress film received recognitions.

Text Supriya Jain