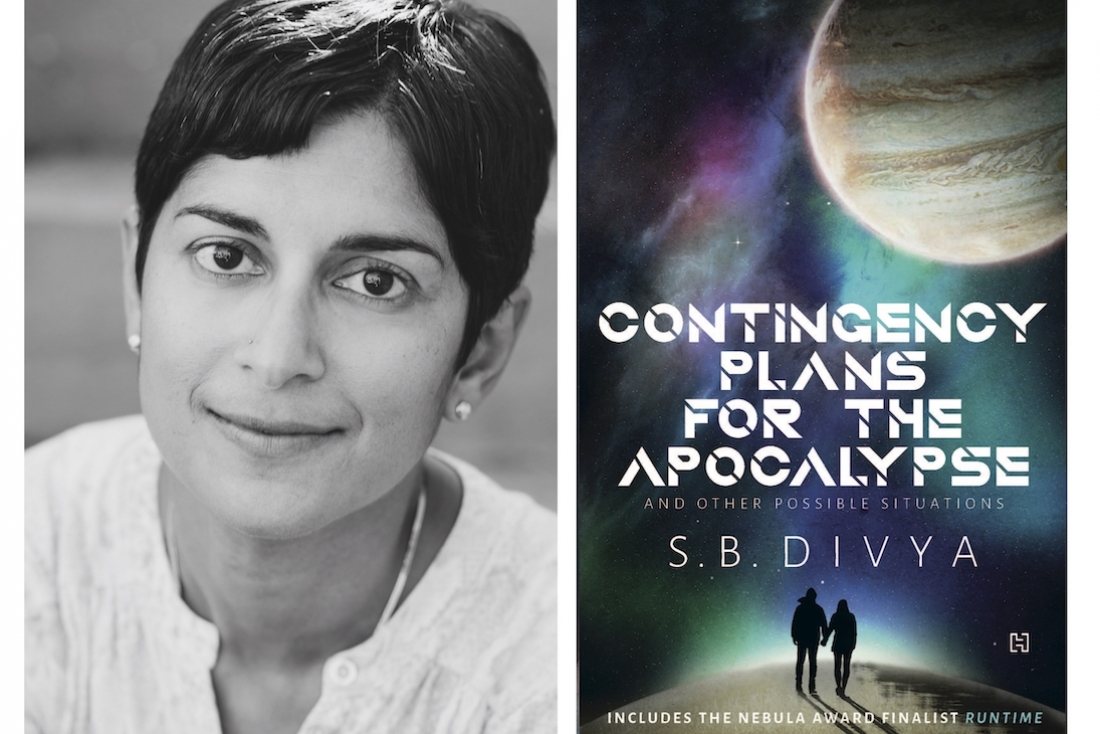 Contingency Plans For the Apocalypse
S.B. Divya
S.B. Divya's ventures into the genre of science fiction and fantasy have been critically praised worldwide. From her novella Runtime which was a finalist in 2016 for the prestigious Nebula Award, joining the league of celebrated authors like Neil Gaiman, Ursula K. Le Guin and Naomi Novik, to her science fiction podcast, Escape Pod, which was nominated for the Hugo Award in 2018, an award considered the highest honour in SFF literature, Divya is fast becoming one of the most prolific names in this genre. Naturally, her recently released book, Contingency Plans for the Apocalypse and Other Possible Situations, is also imbued with her mastery over the SFF genre. In this collection of 14 layered stories featuring dying cities, undying humans, amorphous bodies, cyborg racers and magic beetles, Divya treads the line between the present and the future, while exploring the eternal conundrums of identity and love in speculative worlds. We connected with the author to know more about her and the book. Excerpts follow:
What is your first memory of writing?
The most vivid early writing memories I have are of a nonfiction piece about the atom from when I was eleven, and my first science fiction when I was thirteen. I wrote the latter during my English class for an assignment, and my friend Manisha read it and inspired me to continue it outside of class. In fact, Contingency Plans for the Apocalypse and Other Possible Situations, is dedicated to that teacher.
What propelled you towards writing as a career and what were some of your early formative readings?
Since those teenage years, I've always dreamt of being a science fiction writer, but it didn't seem practical so I went for science and engineering as my first career choice. In 2012, after losing two friends to cancer in their thirties, I decided that waiting until retirement to write was a terrible idea. That combined with having a child and little time for myself led me to writing as a profession. I find fiction writing cathartic on multiple levels, and it gives me some much needed time to nurture my introverted nature.

My early formative readings included authors such as Pamela Sargent, Joan D. Vinge, Frank Herbert, and CJ Cherryh. Outside of science fiction, I enjoyed Sherlock Holmes and Nancy Drew mysteries and the Anne of Green Gables series. I also loved reading Amar Chitra Katha comics, especially mythology, and Chandamama Magazine (mostly in English, though I attempted it in Tamil as well).
What inspired you to compile your short stories through Contingency Plans For the Apocalypse?
I collected most of my short fiction in this book, from my very first publication, "Strange Attractors," to "Soft We Wake," my most recent. It also has "Dusty Old Things," which is an original and exclusive to this collection. In terms of how we arranged the stories, I attempted to order them with emotional and tension beats that follow the rhythms of a longer work. While any of these can be read on its own, I'm hoping that someone who reads the collection front-to-back will experience a unique journey.
The anthology also includes the Nebula Award finalist novella Runtime. Could you take us behind your creative writing process of this work?
The very first draft of Runtime was for a novella contest that I did with my online writers group, Codex Writers. We had one week to prepare/outline, and then five weeks to write the story. With such a short timeline, I stuck to settings and themes that were familiar to me: Los Angeles, the Sierra Nevada wilderness, cybernetic engineering, and coding. The story explores some of my immigrant experience. I moved around a lot as a child so I was often the "new kid" and being fairly shy, didn't always fit in. The main character, Marmeg, embodies some of that, though her family experience draws more from my extended family and friends. In the final stage of the contest, we read and judged each others' work, but there was no real prize other than having written a novella. I was thrilled when tor.com offered to buy it, and even more so when it was nominated for the Nebula Award.
What for you is the most challenging part of SFF as a genre?
My biggest struggle is balancing "cool ideas" with the emotional core that I believe is essential to a great story. I love exploring what-if scenarios and inventing new technologies and worlds, but I also think that fiction is ultimately about the human experience. It reflects our joys and sorrows and fears, and without that mirror of truth, I can't be satisfied with a story.
There is a new wave of SFF writers that are taking the world of literature by storm, and you are also one of them. What do you think is really the necessity of this genre which incorporates much socio-political commentary within its narrative and its implications on the way literature is moving forward in our times?
With the increasing pace of technological advancement, I think science fiction is uniquely positioned to highlight the impacts, both positive and negative, on society. Literature allows us to explore scenarios that gain us empathy and understanding, and I think science fiction can provide that in a forward-looking way, especially short fiction which is often more concerned with near-future scenarios. I feel that fantasy is more of a tool to explore our past, to highlight social injustice, and ensure that we don't repeat our mistakes. Alternatively, the SFF genre can entertain and provide an escape from our daily tribulations. Sometimes we need a mental break from the politics and struggles that we face today, and genre fiction can take us to worlds of pure imagination where we can exchange our cares for entirely different ones.
Lastly, what are you working on next?
I am nearing completion on a science fiction novel that explores the ethics of human interaction with artificial intelligence (AI). I studied AI in the 90s and have worked with various machine intelligence systems as an engineer, so I've spent a lot of time thinking about how AI can shape society. I've wrapped the story in a fun, thriller-esque plot, but I'm also trying to invert some common tropes and raise questions about how we view intelligence and sentience.
I'm in the early stages of planning another novel, this time set in the far-future. I'm hoping to take a break from near-future realism to write a space adventure that's loosely inspired by the story of Nala and Damayanti from the Mahabharata.