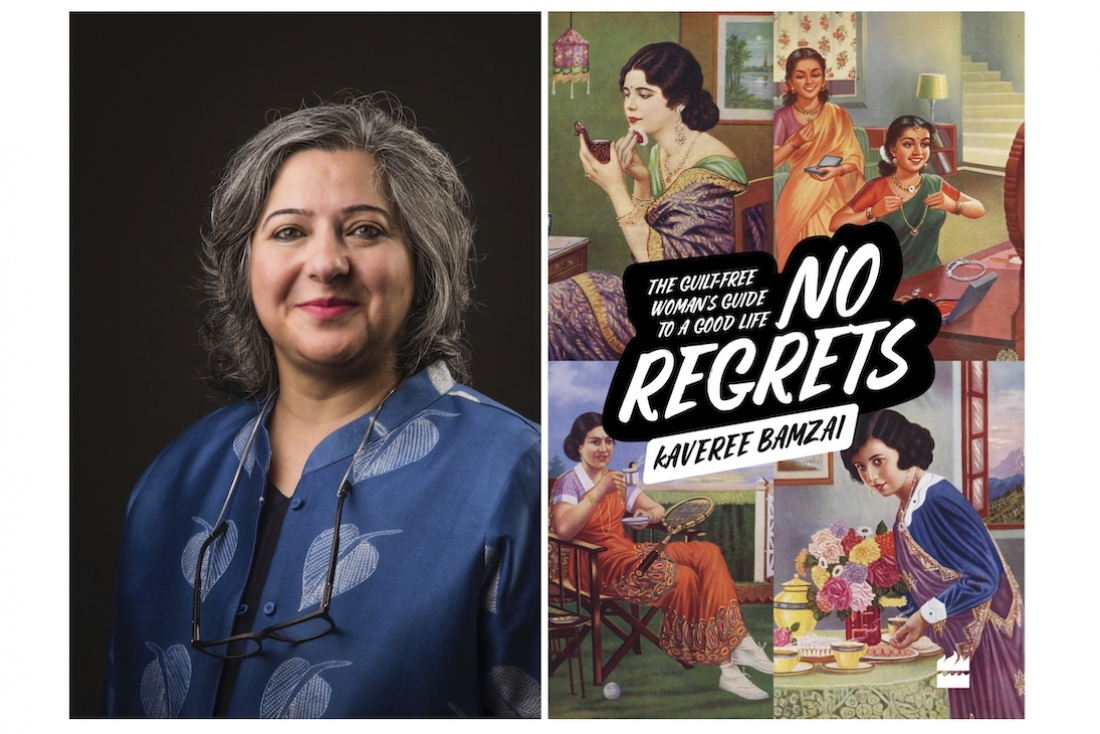 No Regrets: The Guilt-Free Woman's Guide to a Good Life is eminent journalist Kaveree Bamzai'sinspiring and entertaining feminist handbook for today's women, motivating them to look beyond conventional norms/expectations and break free of the culture of perfection. The book encourages women to live life to the full, with no regrets, and builds up on the dialogue around self-care for women who are multi-tasking all the time. Addressing a range of issues from real life, No Regrets relates to women of all ages and from all walks of life and is sure to become a liberating catchphrase. Not just a self-help book, the book's narrative is engaging and personal. It tells us what not to do, what to remember and what to forget, making it easier to be true to oneself. From being a mother to lessons learnt from our own mothers; managing money to managing marriage; coping with pain and anger to taking ownership of our health and growing old, Kaveree Bamzai, first woman editor of one of India's largest newsmagazines, a wife, and mother of two boys and two dogs, tells us how to live a guilt-free life, with a little help from a selection of highly accomplished women like Naina Lal Kidwai, Arianna Huffington, Sudha Murty, Smriti Irani, Twinkle Khanna, Farah Khan and Sania Mirza, among others.

We connected with the author to know more about the book and the shifting power dynamics of women in our current day society.
What led you towards journalism and writing?
My natural instinct for rebellion and independence. Journalism was not the corporatised world it has become now. Newspapers and magazines were still places where you could be irreverent while also speaking truth to power and trying to make a difference. My first journalism job was in 1987 (yes I am a lady dinosaur). We didn't have mobiles or computers. We typed our stories on clattering typewriters, corrected them in ink, and made pages on hot metal presses. We thought we were changing the world, one story, one review, one opinion piece at a time. I know it sounds romantic, but we were poor but happy.
Which books or authors are some of you early formative influences?
In no particular order or genre. Maureen Dowd for her scathing critiques. Amita Malik for her amazing ability to interview giants from Indira Gandhi to Satyajit Ray. Nora Ephron for her humour. Jane Austen for her timeless powers of observation. Joan Didion for her sensitivity. I could go on. I was enormously influenced by movies too, especially 1940s and 1950s Hollywood. When I grow up I want to be Katherine Hepburn--if I was a man I'd be Cary Grant.
How was your book No Regrets conceived?
As an act of therapy. It's the book I wish I had read when I was struggling with the idea of being a perfect wife/mother/daughter/sister/corporate slave. It's been a struggle and the two options I've always had are to laugh or to cry. With this book, I decided, laughter was much better.
Could you take us behind your writing process of the book?
I read, read, read, and then I write, write, write. I usually sleep on an idea. When I wake up, I am refreshed and ready to write. And by the way, when I say sleep it doesn't necessarily mean at night. I have the gift of falling off to sleep any time, anywhere. Sometimes I wake up with a start and realise that was me snoring!
In the Introduction of the book you talk about the representation of women in literature that has had the most influence upon our culture so far. Today, what according to you is the responsibility of the writer, or the collective purpose of writing vis-a-vis representing women figures.
Now especially when we know exactly how influential media can be and what algorithms can do to us, we need to be careful of how women are represented. Hence the debate over toxic masculinity in the movies. And misogynistic portrayals in books. We become what we read. what we watch, what we hear. So we have to be vigilant.
In your experience so far, how do you think the power dynamics of women in our present day society has changed and where do you think feminism as an ideology is headed?
Things are much better than before in many ways. Thanks to governance reforms such as Panchayati Raj and the ICDS (which created anganwadi centres), we have created a new generation on women leaders down the line. At the level of the Lok Sabha we may still be celebrating a measly 14 per cent representation -- the highest so far -- but from top down and bottom up we have more women in public places than ever before. We cannot be what we cannot see--and we are seeing many more women in positions of power, influence, even though the rising number of women dropping out of the workforce is disappointing. As an ideology and as practice, feminism is alive, well, and kicking and screaming. Every new campaign whether it is #JusticeforNirbhaya or #MeToo wiill renew it, refresh it, and throw up ever new leaders.
Lastly, what is next for you?
Well, right now a quick nap! No, seriously, I write two weekly columns, so those deadlines are looming. But there is also a book which I have to complete, a cultural history of the last 30 years of Mumbai cinema.

Text Nidhi Verma