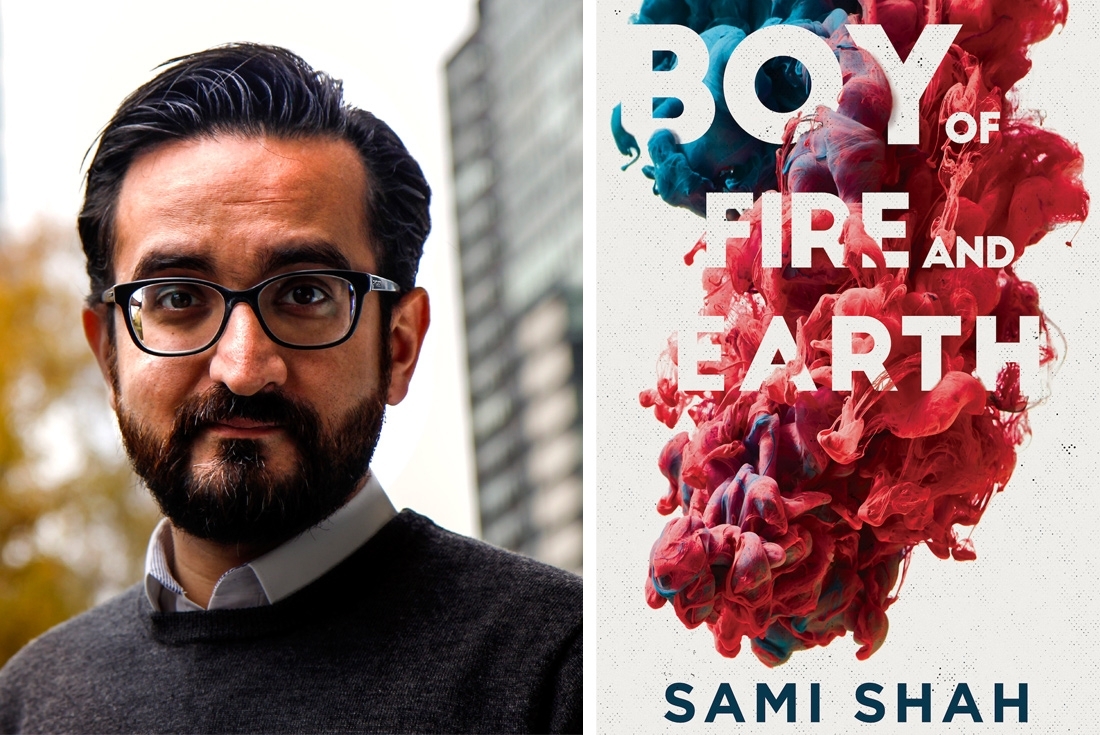 Photography by Jeremy Story Carter
Sami Shah
Boy of Fire and Earth
THE JOURNEY
I've always wanted to be a writer. As far back as I can remember, reading was never about just the joys of discovering a new story, but also about dissecting the story to see how storytelling works. I wrote terrible short stories in journals as a child, an entire novel in university that has thankfully been lost, essays, articles, columns, reviews, more short stories, an autobiography, and most recently this novel. Some of the things I wrote got published, many of them I wrote for myself.

THE DEBUT
I wanted to tell a horror story set in our part of the world, with our monsters. I was always frustrated with the way djinns are depicted in popular fiction. They're basically seen only as giant Arab caricatures with a scimitar and twirling moustache, appearing out of lanterns to grant three wishes. Those weren't the djinns I grew up with. The one my family used to scare me with tales of, and my friends and I would swear we'd seen. Our djinns were frightening creatures that possessed the unwitting and killed the disrespectful. A boy discovers he's half-djinn, and that it's up to him to stave off the end of the world. To do so he must travel from a Karachi filled with crime and corruption, to another realm altogether, accompanied by the devil himself.

This book is set in the Karachi I grew up in, the lives of the characters very much my own life, except for all the scary bits. Every character has bits of me in it, and every scene has colour from my life in it. That said, it's also entirely different, because otherwise it'd be so much less fun.

"This book is set in the Karachi I grew up in, the lives of the characters very much my own life, except for all the scary bits. Every character has bits of me in it, and every scene has colour from my life in it. That said, it's also entirely different, because otherwise it'd be so much less fun."
THE PROCESS
This is the creative process: Have an idea, jot it down. Have 10 more, jot them down too. Then choose the first one and begin writing it out, one word at a time. Keep going until it's finished, and find all the other ideas made their way in as well. Then, once the first draft is finished after a month of 2000-word days, begin editing. Discover it's a mess, but discover it's also quite fun and readable. Spend the next two years fixing it, finally leaving it as close to satisfactory as humanly possible.

THE FAVOURITES
Stephen King, Neil Gaiman, Alan Moore, Warren Ellis, Neal Stephenson, William Gibson, Michael Chabon, Stephen R. Donaldson, Monica Byrne, so many others whose names are now escaping me. Anyone who can write a story filled with imagination, create whole worlds, and then put me in the middle of them.

THE FUTURE
A crime noir story set in Karachi, featuring the search for Bin Laden's porn collection. I'm mid-way through the next edit, and hope to have it done by the end of this year. Meanwhile there's a non-fiction book for Australian publishers, a BBC radio documentary, and standup comedy. Plus the odd short story or essay, if anyone pays me to do it. Mostly, always, more writing.


Text Soumya Mukerji