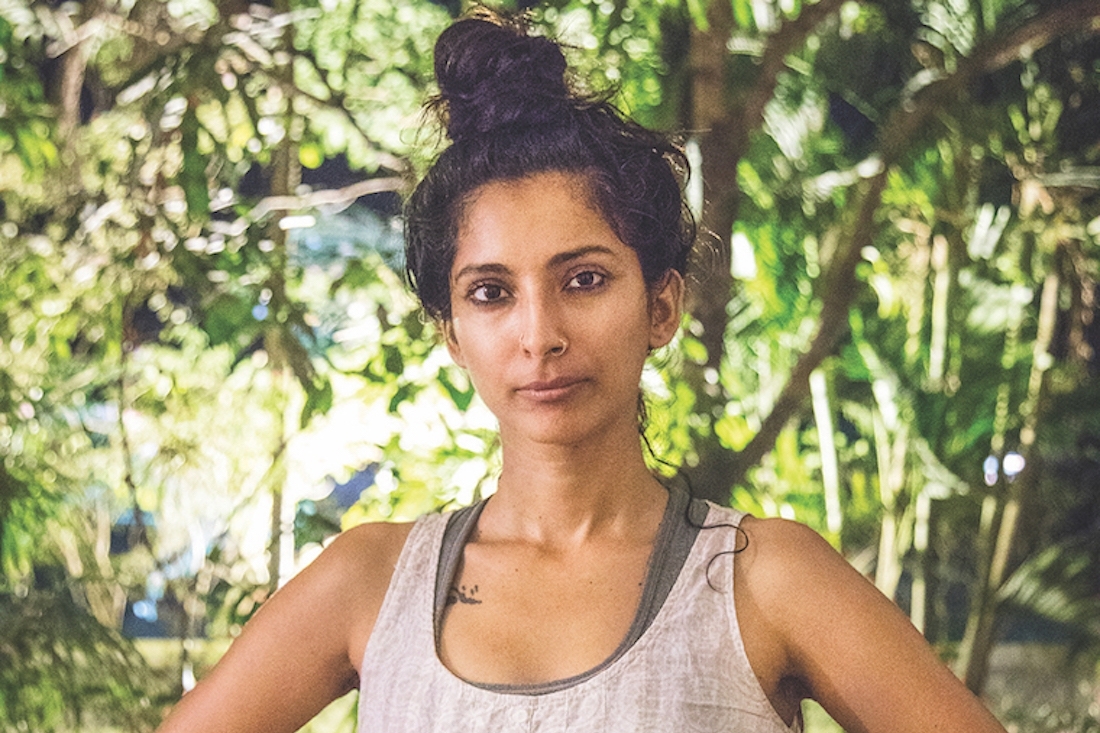 The Girl From Everywhere and Nowhere
Pragya Bhagat
An award winning essayist, author and spoken word artist, Pragya Bhagat's identity is multifaceted. Naturally it also seeps into her work, as she explores the intersections between body image, belonging, relationships, and mental health. Her performances are filled with bravura and ingenuity and her words delve deep into issues that incite intrigue and conversation regarding who we truly are. We spoke to Pragya to know more about her poetic journey and artistry.
When did your romance with words begin?
I went to elementary school in California and one of my strongest memories is my teacher reading aloud from picture books everyday. Through this teacher I realised the power of the spoken word. I was also a shy child, so I read at recess, after school, before dinner, after dinner. I remember I'd still be finishing up a book at night, and my mother would come in and tell me it was time for bed, so I'd turn off the lights, but under the covers I'd still be reading with a flashlight in hand. The stories I read fuelled my imagination. I became Lucy from The Lion, The Witch and the Wardrobe, became Meg from A Wrinkle in Time, became Nancy Drew and so many characters from books like Encyclopedia Brown, Amelia Bedelia and the Cat in the Hat. Books allowed me to be a freer, more pliable version of myself.
In the second grade, a poem I wrote on Halloween got selected for a school-wide anthology. Even before that, I had notebooks in which I'd number and illustrate each poem. By the time I was ten years old, I had nearly a hundred poems. Poetry became a way to express my difficult emotions. Not just feelings like anger at the injustice of poverty, but also love. So I'd write a poem for my mother, outline it with glitter glue, and frame it. That would be my birthday present to her. If you check her cabinets, she still has dozens of these poems.
I have my parents to thank for pushing me to write. Everyday, my father made me go through the dictionary, find five words I didn't know, and write a story using those words, or he'd tell me about an essay competition and help me with multiple drafts before I submitted it. If I hadn't been an introvert, if I hadn't had access to excellent libraries as a child, if I didn't have parents who pushed me to write, I don't know if I'd love words as much as I do now.
You say you are from 'nowhere and everywhere', why is that?
By the age of fifteen I'd lived in Beirut, Sofia, San Francisco, Minsk, and Delhi. Then we immigrated to Texas. I went to a science academy for high school. I studied Biology and Education in college. I was going to go to medical school, become a doctor, live the American Dream. Yet, despite my global upbringing, the idea of being Indian had always anchored me. So, in 2010 I left my family, moved to India, and found that I still felt like an outsider. In America I was too Indian and in India I was too American. This is the frustration of an immigrant, of striving for home and never finding it, of wanting to settle only to be uprooted. 'Where are you from' became a conversation starter. It's a question that helped me navigate my narrative of self, and in this narrative, I've come to embrace that I'm from nowhere, and I'm from everywhere.
How does being a poet, spoken word artist and writer shape your identity and outlook?
After first few seconds after we wake up, we begin our performance. We look in the mirror. We smoke our cigarette or drink our coffee or listen to our music or go through our phones. Our communities, both the familiar and the unknown, both the virtual and the physical, become our audience.
I observe people and how we perform our ideas of self. There are things we are comfortable speaking about: the weather, politics, our latest Netflix binge, and there are parts of ourselves we're uncomfortable sharing: our mental health struggles, our sexuality, our insecurities. This latter category of discomfort is often not part of our performance, and yet it allows for connections and conversations to be deeper, more meaningful. Through my writing I want to trigger reflection and incite conversations about our truest selves. My writing doesn't shape my identity — I'd say it's the reverse. I wear my politics on my sleeve, so it's only natural that feminism seeps into my work.
Photography: Valluva Akash
What feeds your soul?
Good books. Writing and performing. Dancing in my room. Meditation. I've been practicing yoga for three years now and can vouch for its ability to catalyse my day.
As an artist what do you hope for the viewers to take away from your poetry and words?
I hope they create more, whatever that means for them. I hope they find the courage to tell their own stories, and in that telling I hope they grow to accept and love who they are.
Is Pragya the person different from Pragya the spoken word artist? Do you find differences within you, when you are under a spotlight?
As a spoken word artist I have terrible stage fright. Every time I perform, I buzz with this nervous energy, yet I love performing because it allows me to demonstrate how powerful words can be. Around halfway through a performance I usually settle into an ease, which many interpret as calm, but it's relief from finding meaningful connection with the audience. This is something I struggle with off the stage, which is why most people think I am calm, but really, it's just me being quiet and having things to say, and feeling like I can't say them. When I communicate offstage like I do onstage, I laugh loudly, cry often, and get angry easily.
Lastly we are all going through extremely challenging and concerning times – once we cross this hurdle - what do you think will be the new normal?
I lived in a village in Uttarakhand for three years, where I didn't have a smart phone or Internet or a cultural community. In many ways, this lockdown lifestyle is similar to living in a space as remote as the hills. You spend a lot of time alone. It's harder to take people for granted now. We're calling our parents. We're raising funds for migrant workers. We are working out more. Yet the thing is, humans are fickle creatures. We are good at moving on. We'll go back to our parties. We'll forget what silence used to sound like. This empathy we've cultivated, it will dissipate once the distractions multiply. A part of me hopes that's not true. I hope we find ways to sustain resurfaced connections. I hope we continue to strive for health. I hope we find peace in being with ourselves.
Text Shruti Kapur Malhotra