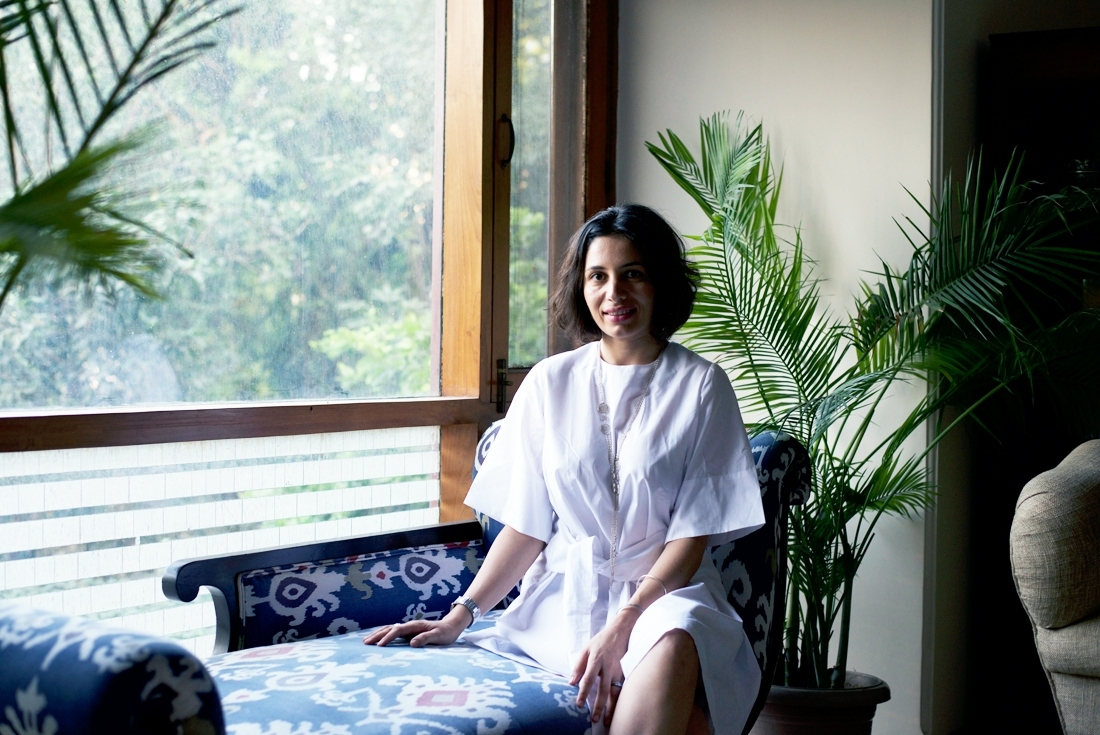 PROFILE OF THE WEEK
Photography by Sharad Shrivastav
On a nippy winter evening on a beach in Goa with a book held inches from her face, Aliya Rashid came up with an idea that would go on to change her life. The Night Circus by Erin Morgenstern gave birth to a flurry of ideas, which came to her almost as an epiphany. As far as she can remember, Aliya's life has always been enveloped by music. The idea of creating her very own music festival had always felt like the ultimate dream. So on that fated evening, she conceived the idea of Wonderflip – a performing arts and music festival that would blur the lines between the spectator and the performer, bringing an undeniably fresh perspective to the already teeming landscape of music festivals in India. Inspired by the great Indian circus of the yesteryears, Wonderflip keeps the nostalgia of the yore close to heart and flavours the idea of the circus with a contemporary twist. 'The concept aims to bring alive fantasy and magic, and re-kindle a sense of wonder. I feel with in this digital world of graphics and special effects, we are so jaded – I want to take things off the screen and onto the ground: an organic interaction catalyzed by music, dance, art and installations, all set against the background of a circus. In essence, Wonderflip is a celebration of creativity. We want to build a space of non-judgement, where people from all over the world come together as themselves or as their alter-egos and are free to share, laugh, dance, push boundaries and engage with the world around them.'

Set in the sleepy village of Khempur – a 45 minute drive away from Udaipur – Aliya picked a rustic haveli called Ravla Khempur to set up shop, which has also played muse to The Best Exotic Marigold Hotel. The rolling acres of land around it gave her the perfect location to weave an indelible experience. 'While it makes for a tougher production set-up, I was keen on an open ground for a venue. One that has a vibe like a little temporary 'village' that has sprung up near a city—the way an old school circus would appear suddenly one morning on the edge of town. It makes for an idyllic setting for creating an atmosphere of old world romance and the magical sunsets add to the allure.' Over four days, from the 9th to the 12th of November, Aliya's team will turn the village into a live, thriving, fantastical world that will suck you in and keep you there.

It is Wonderflip's approach to the line-up and commitment to create an absolutely immersive experience that sets it apart from its contemporaries. Instead of artists taking the stage for an hour, Aliya wants them to play sets that will bleed into two hours or more, weaving a story for the audience, inviting them in for a true taste of their sound. The two small riser stages will be home to the artists and performers, but will also be open to the attendees to challenge themselves, shed their inhibitions and let the inner rockstar shine a little. The team has designed a space which allows the performers to be within, above and around the audience all at one time. The dance-floor becomes part of the spectacle as aerialists soar over them and performers appear on riser-stages within the audience. 'Wonderflip will focus on going from engaging live performances in the day to powerful DJ sets at night. The line-up has been curated by two very close friends who have amazing agencies, AFE [DJs] and Ra Music [live bands] based in Mumbai. We have chosen to stick with a sensibility that is high energy, progressive, melodic, with a touch of romance, covering a mix of live bands and DJs.' Headliners include Dutch favourites and founders of Deep House Amsterdam, Aeden and Kimou, German-duo Frankey & Sandrino, internationally acclaimed DJ Patrice Baumel and UK-based artist Vaal. The Indian line-up features Calm Chor, The Fanculous, Clown with a Frown, GRAIN by Gaurav Raina and Komorebi, the solo project of singer-songwriter Tarana Marwah. But the music is only a way to pave a path to the real experience. Think fire-breathers, stilt-walkers, illusionists, a mirror maze and a Maut Ka Kua with revving motorcycles that are sure to make your heart skip a beat. With themes like Vintage Circus, Salvador Dali and Fairyland, the experience of each day is built around a story, making every day unlike the one before.
Photography by Sharad Shrivastav
As November creeps closer and the nerves kick in, Aliya falls back on her relationship with music and the incredible group of friends she's gained along the way. 'During my time in Mumbai I was one of those people who would go to a gig alone, pick any day of the week without even looking at the artist playing, and go listen to them. This is where I forged most of my current friendships and connections – I am blessed to have most of these people as my core team today. With some of them I worked at Universal Religion Nepal, the most amazing festival that taught me that the most important thing about a festival is the community it gives birth to.'

In the editions to come, Aliya plans to create artist camps on the venue, where creatives from across the world can conjure up installations, fueling a spirit of collaboration. By evolving the concept thematically every year, Wonderflip warps into a new identity, never the same as the year before. 'One year we could be under the sea, or in outer space – who can ever tell?' she wonders. But this November it comes with a promise of stepping into a magic land, swaying to hypnotic music under a sky drunk on stars, amidst a rustic haveli in Rajasthan. We close our eyes, and we're almost there.

You can book your tickets for Wonderflip on their website.


Text Ritupriya Basu