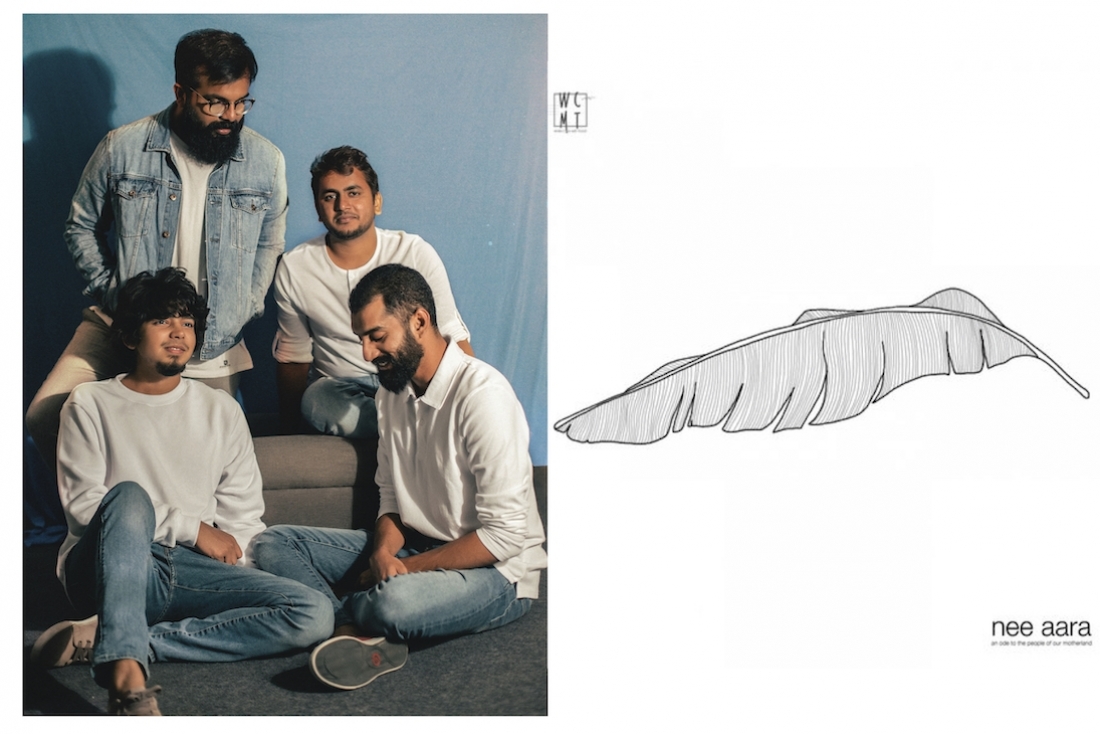 Nee Aara
When Chai Met Toast
The young Kochi band, When Chai Met Toast, recently released its first Malayalam single, Nee Aara, that in many ways celebrates and pays tribute to their homeland. The Kerala floods, that had rocked not just the state but the entire nation, is the fuel that propelled the band to make this single that speaks about self-introspection and new beginnings. We connected with them to know more about the single and story behind it. Excerpts follow:
Tell us a little about your first brush with music?
It's a different story for each of us. Ashwin started with learning Carnatic classical music in his school days, Palee with playing music in the church, Achyuth with western classical guitar from a young age, and Sailesh with conga drums in school. We all love the old Malayalam tunes we grew up listening to as much as the more modern music we listen to now. Our first brush with music came from our roots, which later branched out into various individual interests as we grew musically.
How have you evolved over your musical journey so far?
Sonically, we feel the sound of the band has evolved considerably from our first EP 'Joy of Little Things' to 'Believe' to 'Nee Aara', while retaining some of the core WCMT elements. Lyrically, the newer songs have dealt with themes of positivity, hope and belief – themes that all four of us relate to closely.
As compared to three years ago, we are fortunate to now have a listening base now where audiences sing back our songs to us – even in cities where we've never previously performed at before. Other than all this, we're the same old people.
Walk us through the making of Nee Aara. (ideation, music, story)
Nee Aara talks about self-introspection and new beginnings. The ideation started with Palee coming up with a tune for the song. Writing lyrics in Malayalam never came naturally to any of us. So, we approached lyricist Engandiyoor Chandrasekharan, whom we admired from his previous works with the band Avial, with the theme we had in mind. The lyrics he penned talk about finding inner strength, sustaining through difficulties and finding a new beginning at the end of it. We thought it was a perfect representation of what happened in our homeland during the floods, when people came together for a bigger cause of helping others. The song is in some ways a tribute to our motherland, and the never-say-never attitude of the people of Kerala.
The LED screen in the music video has different metaphorical representations of what happened, what we went through and how we saw that slim beam of light during our darker times to find that new us.
This is your first Malayalam single, was it challenging to make this language transition? If so then how?
Challenging for sure, but we started writing this language and heard the songs from our mother tongue first. So, it never was a massive transition, but definitely challenging to find the link between the music we play and the language.
Lastly what's next?
DEBUT ALBUM! We are insanely stoked to be coming up with our debut album and the videos for it, ideas for which have been lingering around for 4 years now. It's a nerve racking as well as the most rewarding process, and we can't wait to get into the studio soon and put these ideas into a full length record.

Text Nidhi Verma