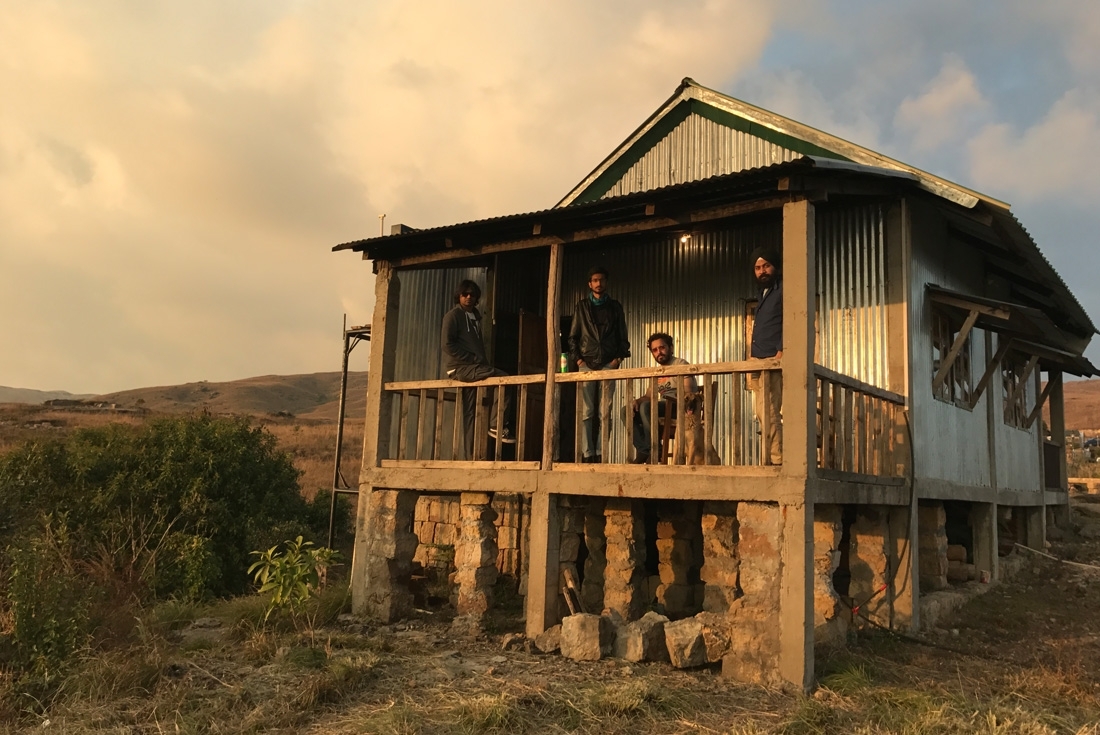 What is Delhi but a delicious melee; a spectacle of sights and sounds and smoke and scatterama? It is this extreme and endearing city that comes alive in all its dirt and darkness in menwhopause's new piece of work—an ode to our times. A tribute to the Capital of chaos. And they have more poetry up their sleeve. Over to the boys.

[AK: Anup Kutty | SUSB: Sahaj Umang Singh Bhatia |SA: Shiv Ahuja]

Why the Delhi homecoming after all these years?
AK: Most of us come from a generation of Delhiites that's old enough to remember the 84 riots and young enough to be clued into the latest street drugs. I think we can safely call ourselves a Delhi band. It's a muse of sorts.

Give me a blurb on Neon Delhi and its soundscape.
AK: Neon Delhi is a set of musical vignettes set in a Delhi from the immediate future or maybe the distant past. It's about changes. It's about a world we are being pushed into, whether we like it or not. It's about nostalgia for the future.

The sounds seem an interesting mix of daily Delhi announcements and the chaos about the city. What struck a chord? Does the tribute tell the stories behind the neon and the noir?
AK: Sounds shape our moods and our thoughts. Delhi's soundscape is constantly changing, reflecting its own inner changes. The blaring announcements, the construction work, the traffic, and the temple bells…this is the sonic world we are living in and we don't have a choice.

Take me into a quick studio flashback of the creative process behind it.
AK: The album was recorded in parts apart from the stuff we recorded out on the streets. Some songs like Back Home were recorded live in a single take and you can feed off that vibe. On a Boat took longer even though it was recorded live, because we felt something was missing which was eventually filled in by FAADU Rapper. Piper Khan features this incredible alkoja player called Sumer Khan who has a day job of guarding a ghost town in the middle of a desert. We approached the album more as composers and producers that helped us involve and collaborate with so many diverse musicians. As a musician, one of the thumb rules is to make sure there's a better musician than you in the room.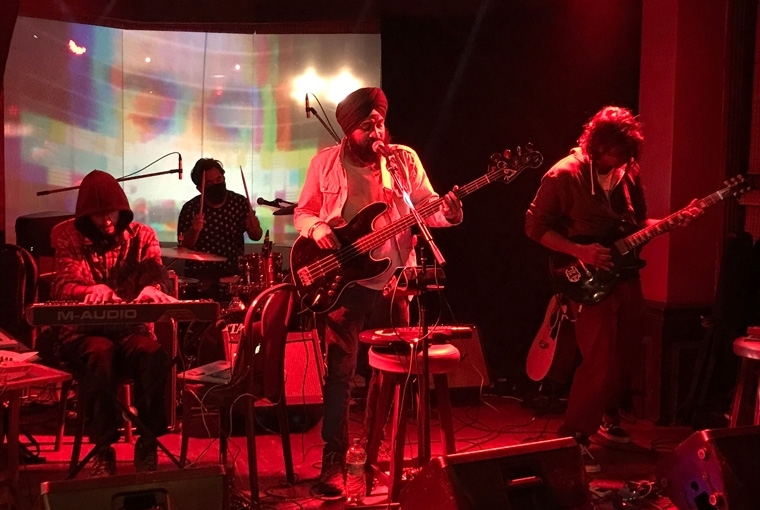 Looking back at all these decades in alternative music, who are menwhopause today? Can you look back at your journey, evolution and unlearnings? Has your team grown and embraced more young talent?
AK: menwhopause is a more of a collective of artists. The band is a front. The people in it are just the message bearers.

SUSB: menwhopause is continuously growing, and this new album is full of young talent. Apart from members from the regular line-up and old friends like our previous drummer Paul Schneiter [who recorded the album, and played drums], there's a bunch of collaborators and a lot of them are young and talented musicians. What Anup said about approaching the album as producers, gave them the freedom, I think, to do a lot more. We have 3 drummers in the album: Paul, Sahil Mendiratta [of Indigo Children and IJA] and Bhanu Thakur, who's 25 and has been playing live with us for 3 years. We had Grant Richards, an American pianist play for 'Unsure', and our Mixing Engineer for the album, Akshat Taneja, is only 21 right now. He's been playing the keyboards since he was 12 years old, with bands such as Faridkot and Guillotine, and from being the best keyboardist in the country he has morphed into the most sought after FOH engineers in India. Neon Delhi is the first album he has worked as a mixing engineer and he shares the credit alongside an industry veteran like Victor Van Vugt, who's worked with Nick Cave and the Bad Seeds and Beth Orton. Akshat's almost half the age of our eldest member!

Further, with IP's exit last year, just after we had finished recording, we were in a fix. We played with different acoustic guitarists; all young and really talented individuals but no one could replicate his ingenuity. In the end we didn't want to replace him with another guitarist, and had Shiv Ahuja [keys, synths] come in and blow our minds within one rehearsal. The band's known him for years, although as a photographer; but playing with him we immediately vibed and Neon Delhi Live took a new direction. The Live act is even loopier than the soundtrack and it's constantly evolving, like New Delhi morphing into Neon Delhi.

We just released out second music video from Neon Delhi, Still Dirty Streets, and its shot by Haider Hussein, who's an upcoming filmmaker living in Netherlands. On a Boat was also shot and edited by him, and all the young talent is only accelerating the creative process of Neon Delhi as a bigger vision.

All these people, including me, are 25 or under and it's a testament of these guys' confidence in young people. I do a bunch of things with the band, and this wasn't even my day-job in the first place! I mean I used to see them live as a kid in school, and here I am working with them, so it feels overwhelming sometimes.

SA: I've known Randeep and Anup for years. In fact, in 2007, when I still in my first year at college they saw me doing pictures at a gig and asked me if I'd like to do the same for their concert. For someone who thought he was going to be unable to be productive in the field that he was being educated for, they were a huge sense of support. This rock n' roll thing is doable. They were doing it.
I continued to work with them on and off, including Ziro Festival etc. When they asked me to play, I just knew the sound I wanted to go for. I grew up on their music. Listening to Neon Delhi and interpreting it live has been incredible. Thinking about Delhi, and trying to see how sound can relate to its various moods. Right now my sound is angry and distorted, just like Neon Delhi.
"Delhi's soundscape is constantly changing, reflecting its own inner changes. The blaring announcements, the construction work, the traffic, and the temple bells…this is the sonic world we are living in and we don't have a choice."
Your thoughts on young rock and alternative music in India today?
AK: It's mind blowing, the kind of stuff that's coming out. There's suddenly room for irreverence and experimental stuff. There are guys who are putting stuff out there without an agenda.

SUSB: During our recent North-East Tour with Neon Delhi, we spent 30 days on the road playing in about 7 festivals and some pubs and popular venues. If there is a place live music is alive and kicking, it's the northeast. Not only does every city have bands playing everywhere but also there's a massive listening culture in every town and village. We had crowds in hundreds in Monsam Music Festival in the small town of Diphu stay out dancing till 3am, which is when we took to stage. It's hard to get even a hundred people for a free gig in New Delhi or Mumbai nowadays, and in the northeast we saw people throng venues, patiently listening and paying for their music. In places like Gangtok and Aizawl, everyone has a band, and everyone plays so tight.

We see bands in metro cities crib about venues not having good sound, complain about the availability of backline and what not. On the NE tour, we played on Stranger Amps, had the keys and bass go through the same shitty amp, had shaky stages, amps blow out just before the show, and there was even a venue which had no amps. Bands in the northeast regularly play like that and they kill it. We played a festival with Boomarang in Aizawl, where they hardly even had a line-check but they were awesome.

The other perspective I think we can give is from SXSW. It's a massive equaliser, and it's like an eye-opener for bands. SXSW's system hasn't changed since menwhopause first played there in 2007: bands are responsible for their own backline, there's no 2-hour or 1-hour long sound check. Heck there isn't even one at all! You just plug, line check and play. And this is for every band, no matter who you are from Eryka Baydu to Avi Buffalo to Thievery Corporation to Wu Tang Clan. We played 2 shows within the span of 5 hours, in different parts of the city, and we just had 15-minute changeovers for both.
Your mics, your amps, don't matter at all. It's only your music and your performance no matter what.

"As a musician, one of the thumb rules is to make sure there's a better musician than you in the room."
Neon Delhi comes to Delhi last of all! Why? What's in store at the concert and how will it more neon than the others?
AK: On a serious note, we are looking for venues that can actually afford us.

What's next? It's been a long break.
AK: Next up is a short album featuring songs by Indian poets. It will be straight up rock-n-roll; sometimes that's all you need!

Tune into Neon Delhi here.


Text Soumya Mukerji