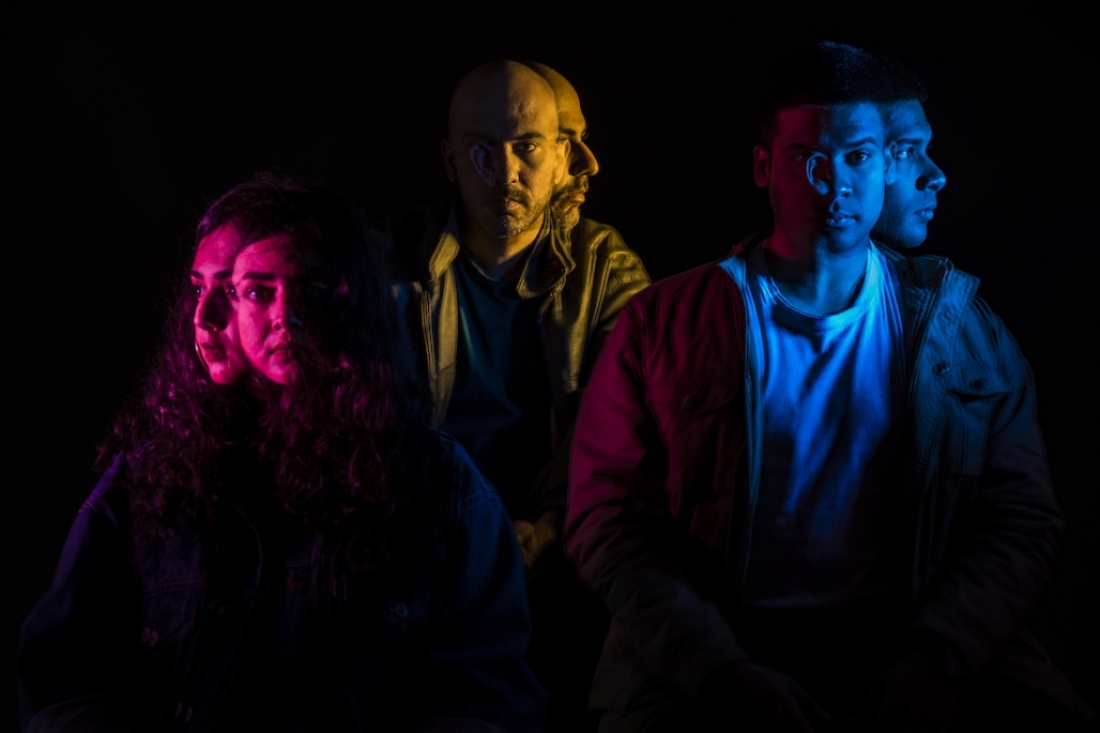 No Honey
Abhilasha, Keshav & Suyash
As a band, the members of No Honey are extremely goofy, and have a 'very strange sense of humour, collectively,' they tell me. 'We get along really well, both personally and musi- cally.' This is even when Abhilasha Sinha [Of the band RIVER], Keshav Dhar [The celebrated metal head of the country and founder of Skyharbor] and Suyash are scattered across different cities/countries.
No Honey is a coming together of very different styles. Styles that are different from what the band members were initially known for—they all found common ground not just in progressive house and R&B, but inspiration in artists like The Internet, Massive Attack, Thrice, The Dø, Mac Miller, Tycho, Sylvan Esso, Kiasmos, and Karnivool. Musically, the band influ- ences range from hip-hop beats to ambient, guitar riffs, dance grooves and dreamy pop hooks, all tempered with Keshav's foray into electronic production. Their new EP called Future Like has an electronic sound and is very synth heavy. 'We're currently a three-piece live act, but who knows? If a string section and a choir are down to play with us, it'd be amazing,' says Abhilasha. Connecting dots from different parts of the world, A, K & S tell me their story.
Tell me where you guys come from, and how did music make its way into your lives?
Abhilasha: I studied at LSR in Delhi, and majored in Economics. After that, I did the Young India Fellowship at Ashoka University. Music has always been a part of my life growing up, and it was in LSR, as part of the esteemed music society, that I began considering it professionally. My first band was called L for Vendetta, where I performed with my friends and then-bandmates, Moses Koul and Rudraksh Banerjie [other transitioning members were Gavin George, Suyash Gabriel, Adityan Nair, Sherry Mathews, Param Adiseshiah, Leonne Castellas]. When RIVER was set up [with Kamakshi Khanna, Tarana Marwah, Utkarsh Varma and me], that's when I really began to get serious about music. We were getting a lot of attention, and we made some beautiful music—and that was something I wanted to do for a long time.
Keshav: I grew up in Delhi studying at SPV, and went to college in Manipal which is where I started writing and producing music for the first time. I was more or less arm twisted into learning music as a young child, and even though it was just another extracurricular activity for years, when I really started getting into it as a teenager I remember thinking how grateful I was for my time having learned it as a kid, as it made me grasp things very quickly.
Suyash: My parents loved music and used to listen to a lot of it at home. Through them, I grew up listening to many different kinds of music from all over the world. My father, who passed away in 2002, was one of the major reasons why I'm as passionate about music as I am. Through him, I fell in love with Afro-cuban music, Latin music and Reggae. My mother gave me an ear for Classical Music and Pop, and my stepfather introduced me to the world of Classic Rock. I'm so thankful for all their support and love. It's because of them that I do what I do, but it's also because of them that I enjoy playing and learning as many different styles of music as possible.
I was absolutely obsessed with the instrument through school. I joined my first bands, The Doppler Effect and Cobbled Street in College. I graduated from St. Stephen's college, and then began playing many more shows with many more acts. I then finished my post-graduation with a diploma in Media Studies, and worked as a journalist for a brief period while bal- ancing my career in music. I decided to quit my job a year into it and dive into the world of professional music at the age of 21.
How did you get together? What's the story?
A: I'd been performing with Suyash for a while with a variety of acts—L for Vendetta, as a solo artist, and with Komorebi. I met and fan-girled over Keshav Dhar first at Coalition 2016, and we've known of each other for a while now. Keshav has been synonymous with the progressive rock/metal scene, while I gravitate towards R&B, soul, folk and electronica. Both of us were looking to create something different from the spaces we were known for. We asked Suyash Gabriel if he was down, and he was very down! He's played on all the tracks and that has definitely elevated the music.

You call yourselves No Honey but there is certainly a lot of warmth and depth to your music. Why that name?
A: You're gonna have to ask Keshav.
K: What can I say? I'm a fan of contradictions.
S: We all are. Pineapple on Pizza is amazing.
Who brings what to the table when it comes to creating music amongst the three of you? Tell me a little about the creative process.
A: I think as a singer who is into pop music, I bring lots of hooks, layers and harmonies. I can visualise verses and choruses. The other two pretty much build the melodies, groove... the beat—everything that makes it pop.
K: Same, except I think from the instrumental point of view. I like to write 'for' the voice, not just create big instrumental epics with the idea of shoehorning the vocals into them.
S: I love to write grooves and compose parts that glue the melody, vocals and layers together and allow a specific hook to really shine through. I also focus on making the rhythmic aspect of the sound as interesting and catchy as possible and I try and ensure that the song flows. I'm a sucker for subtlety as far as songwriting goes and I usually try to keep a relatively nonconformist attitude while composing.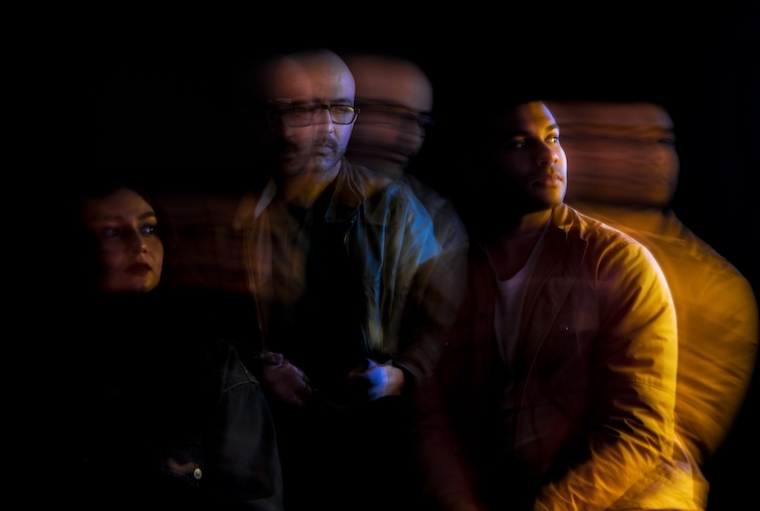 I read that Abhilasha does all the artwork for the band. Have you studied design? What was the inspiration behind the cover of your debut EP?
I haven't studied design. The cover art was a doodle that I did on a whiteboard desk with two whiteboard markers during a class at NYU. It grew from a doodle to a woman with her huge, beating heart floating outside her body. That's what the music was about—big, complex emotions you couldn't possibly hold inside your body.
Talking about the debut EP, could you tell me a little about the inspiration and where did it actually stem from?
K: I had these ideas for songs that I wanted to develop, but not in a rock direction like Skyharbor or orchestral direction like White Moth. I wanted to explore a more electronic, synth heavy sound, and I like to think of the debut EP as being my first real foray into that direction [even though the music isn't really very electronic at all].
S: Keshav and Abhilasha had played some early scratches for me quite a while ago and I instantly loved the direction it was moving in. It was the kind of music that I'd been itching to make for a while. The EP allowed me to really explore every angle of my compositional arsenal because each song required a different approach and a different dynamic. It's got elements of everything.
It's called Future Like____do the tracks resonate the same?
We wanted people to be able to have their own interpreta- tions for what the future is going to be, as we did with our tracks. No Honey is possibly the only sweet love song on there [I see you walking by and I wish I was running/you're looking at my face and I see your eyes burning/we don't touch but in my mind, I can feel your hands on me/it works cause you're so sweet and you know I'm no honey]. Sit Back is about insidious, toxic, parasitic relationships—whether it's with a person, or with your phone [take me now beside you, now little bird, I'll hide you, and I'll make you feel alive soon...]. Courage is about being torn and separated from the ones you love, a kind of bleak commentary on the political situations in both India and the US [take all the paper planes that you have and, fly them far away to a land that you've never seen before in your dreams/take all the love that you have imagined, make the separation less tragic/I know you'll break out of your cage and you won't bow down]. Lastly, Alone Tonight is a lament on the age of "fast" love—where you're not sure if you're going to see them after one night, and not being able to truly express how you feel, lest you're considered "too emotional" or god forbid, you're not a "cool girl" [take you down, take you all around/ take you out to town to drown alone tonight/won't make you mine, but I'll cross the lines/blur the distant cries to drown alone tonight].
What does 2019 hold for you?
Single after single.


Text Hansika Lohani Mehtani