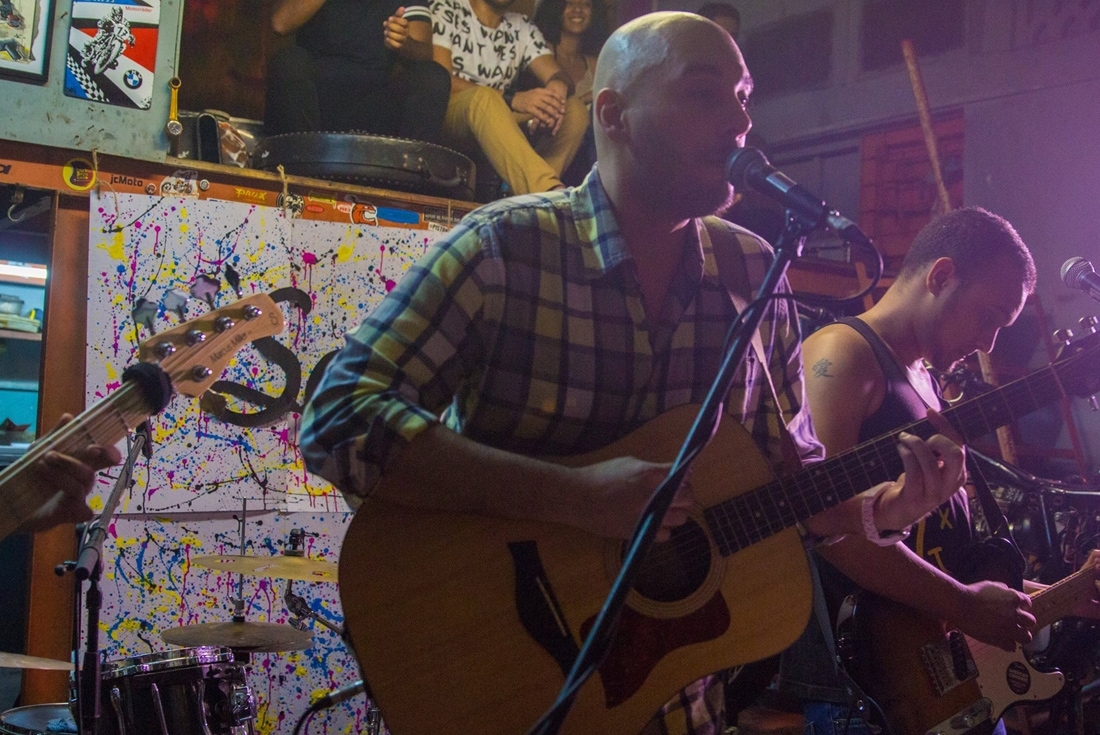 The Koniac Net at Sofar, Bombay
Photo Courtesy: Sofar, Bombay
There's a lot that goes on at Bandra's Garage 52. A self-proclaimed 'bunch of nutters with a few loose screws, crazy about motorcycles' began this as a passion project in an out-of-the-way lane at the city's suburb hub. While it may have begun as the ultimate motorcyclists' haven, Garage 52 has evolved into a space for events, social gatherings and gigs while keeping its industrial, rustic charm alive through every single one of them, making it the perfect venue for Sofar Sounds' secret gig. And it was, on the 27th of August where three groups of indie musicians performed a 'stripped back' collection of their songs while an unsuspecting audience sat on the floor with beverages they'd carried along.

BYOB is just one of the philosophies of Sofar Sounds' intimate gigs all around the world. To understand what all of this means, one would have to trace the philosophy of Sofar Sounds back to 2009 - the year Rafe Offer and Rocky Start decided to turn their hobby into a movement that revolutionised the concept of live music performances. A little above the underground music scene and little under the mainstream network of live performances, it was born out of the founders' total disdain for the sheer lack of awareness and involvement in music concerts which was slowly turning into a playground for a smart-phone dominated group of chatty people completely disconnected from the stage.

Like every single Sofar show, the one scheduled in a room surrounded by motorcycles and machine parts involved no opening or closing acts, but a carefully curated list of three artists, one of them being five-member indie group, The Koniac Net that performed their first ever set for Sofar that Sunday. David Abraham, founder and front man of the band, discusses the debut. 'It was fantastic. I loved the fact that it was set at Garage 52. We've been wanting to do a 90's grunge-like live set at a house, garage, or small intimate venue for years. This was pretty close.'
The Koniac Net
Photo Courtesy: Sofar, Bombay
The Koniac Net have been around. Fiddling with a wide scope of genres and sub-genres for the last six years, has gotten them noticed all over the world for their harmonizing tunes and rhythms of rock. Which in their own words 'is pure indie, alternative, and hard rock. However, we've all been influenced by other sub-genres like shoe gaze, punk, heavy metal, psychedelic, and even new funk/electro, and hip hop.' They also just finished composing their third effort, following their 2014 EP success, Abiogenesis. 'It took a while as this was supposed to be a 4-song EP. However, I kept introducing new compositions to the guys, they loved it, and we ended up working on the additional new songs, resulting in a final 11-song album. Hopefully, we will begin recording it next month,' adds the band's front man.

Considering these influence that The Koniac Net borrows from and contributes to, one would assume that the band must have tailored their hard rock sensibilities to better resonate with the intimate and mellow vibe that Sofar intends. Turns out, that wasn't really the case - 'It was definitely a first for us, since most of the songs we played were brand new. But it worked out well. The songs we performed were more on the indie side, rather than hard rock. We had to change a couple of things in the songs, but they still sounded good, and whoever was at the show got to hear our very rare acoustic set and acoustic versions of our new songs.'

Whether this acoustic reverie developed to match the ambience they played in, inspired them to similarly experiment with other genres - 'For Sofar, yes. We changed our songs slightly to fit the acoustic vibe. But our songs on the new album [and when we play full sets in the future] will be similar to our older releases: indie, alternative, hard rock. We are influenced randomly, by the genres mentioned above. There is no set of rules that we follow. Our main concern is melody, and if we achieve that, that's what matters the most.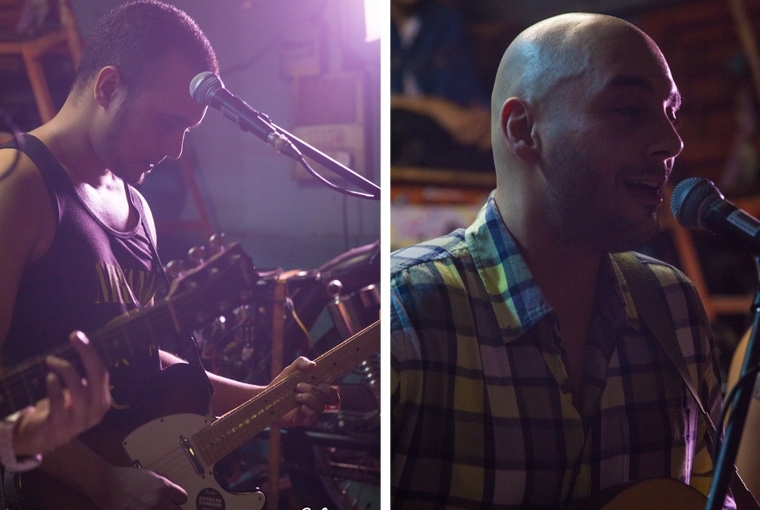 The Koniac Net
Photo Courtesy: Sofar, Bombay
Over the course of seven years, Sofar's deck includes set-ups in over 375 cities around the world with performances by over a thousand artists, the likes of Bastille, Hozier, George Ezra and The Walters. It also includes secret venues that could be someone's living room or balcony, revealed only a day before the show to an audience that gets invited post their applications to experience a line-up of undisclosed performers, in keeping with the company's motto of 'secret gigs in intimate spaces.' All to maintain a respectable listener-performer dynamic in a low-key setting. Talking to the band about their thoughts on the increasing relevance of such alternate movements in the time of new media and digital age, they believe that the charm of old-school music performances isn't all lost in a country just starting to embrace indie music. 'It's slightly different here in India, considering the indie scene only picked up around 2008- 2009. Our country is still new to this, even though there are so many music festivals. And I have met so many fans who are doing their own music, in their own styles, it's promising to know that the independent scene exists here. I hope that this love for music continues in our country, as it will fuel the independent industry, thereby spawning more venues that cater to independent live acts. Small venues like these [Sofar] work too, as fans feel closer to the band. That kind of intimacy is pretty amazing...for musicians, and music lovers.'

Their experience was also remarkable enough to make them want to revisit it, if given a chance. 'The Sofar personnel were really amazing: helped us with everything we needed, and were exceptionally polite & optimistic. That always helps the band get into a good state of mind. Not to forget the audience, who were there, in the thick of rain & heat, to listen to 3 bands. We definitely hope to do more shows with Sofar.' Speaking of experimenting with the standing formula for live shows, David has a few twists of his own to bring to the table. 'Personally, I would love to do a non-acoustic set with Sofar, in another small venue like Garage 52, or someone's home, where we can play a 60 minute show for music lovers, but non-acoustically. I can already imagine the energy between the band & audience if something like this was possible with Sofar. A pure grunge-orientated show for our fans! Another idea I had was to do a 2-part set. On one day we do an acoustic set of our songs, while on another, we do a full set for the same audience, if that works out.'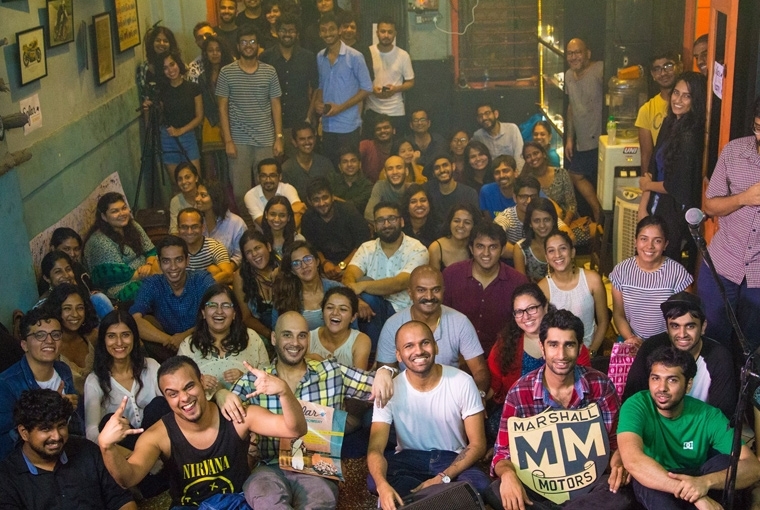 Sofar Bombay at Garage 52
Image Courtesy: Sofar, Bombay
The band is already a massive success in all possible terms, from fans to critics to accolades. They talk about what they'll be working on, in the days to come. 'Currently, we want to focus on playing all over India, and showcasing our entire new album before we release. A sort of special hearing for fans across our country. We are also very adamant about doing a standalone North East tour. We hope to accomplish this in the coming months.'

The Koniac Net is now a member of a global community. One that thrives on a network of hosts, guests and artists, all dedicated to bringing the magic back to live music and tasked with upholding the integrity of the same. Even in India, Sofar is slowly making its way to new cities with new bands and absolutely no backstage, fancy venues or flashy phones. Being the niche that it is, raw and cozy music meant for an invite-only audience that's in attendance to just listen, it's tasked with the responsibility of reconnecting a crowd plugged-in to a kind of music charisma otherwise forgotten.


Text Shristi Singh