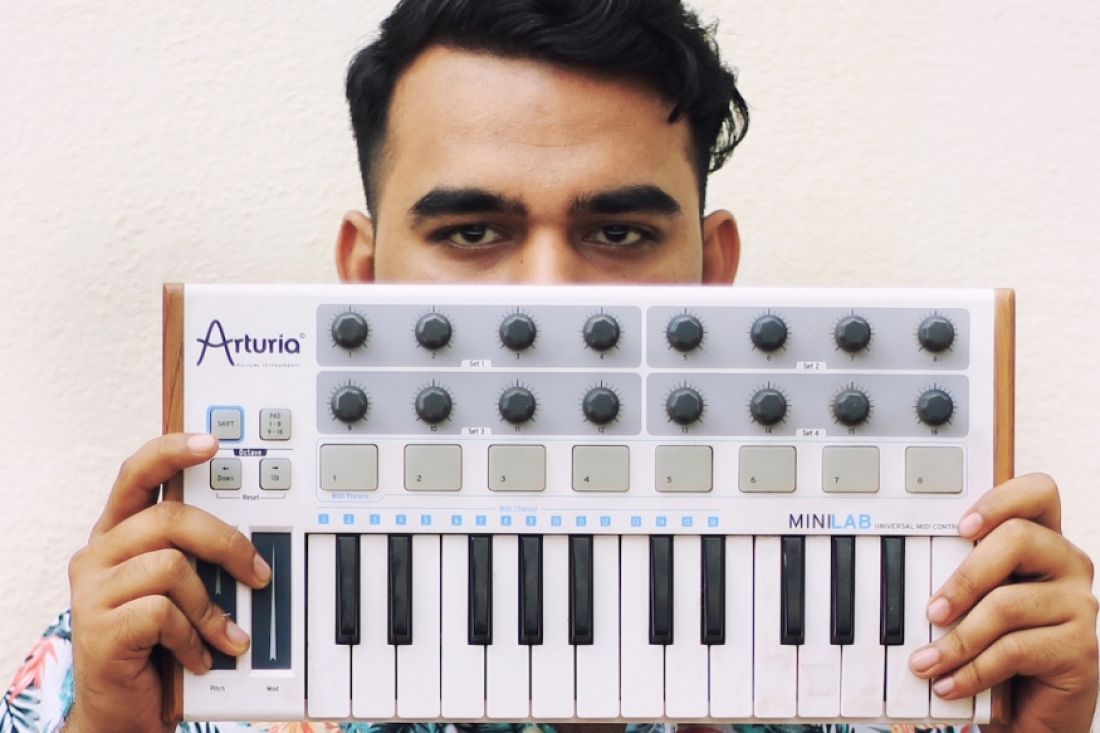 Your last release on one of India's finest labels, Wind Horse Records, received encouraging feedback from Richie Hawtin (Minus), Miss Nine (Armada), David Marston (Wolf Lamp) and many more. You've also opened for diverse acts as Bill Brewster, Thee J Johanz, El_Texf_A, Sebastian Brandt, Dub Fx, Alexey Sonar among others. What pushed you to jump from a DJ to a producer?
Its funny, I never wanted to be a DJ. After I started as a podcaster I always wanted to be a music producer even though I didn't have any sort of music training. One fine day, one of my mentors invited me to play for one of his gigs and I instantly fell in love with DJing. After that I realised that DJing was my way to understand how dance music works and when I started producing music it helped me a lot...it helped me satisfy my creative side.
You've been regularly making podcasts and releasing music for a number of years, always one-step ahead of the curve. But last year was when your place was truly cemented in the electronic music space. How would you summarize your journey so far?
My journey has been amazing. Started in Cochin Kerala in 2011, where there were only two clubs in the entire state. I was lucky enough that I had good friends who supported me morally and financially during tough days in my entire career. And when I realised that I can turn my luck with hard work, I started working more. Started creating content aggressively. When things went wrong in Cochin, I moved to Bangalore in 2015. I released my first track in the same year and also started playing in clubs in Bangalore. In 2016 I met Shantanu Ghosh who invited me to join his artist agency Bside. I was the first artist to get signed to the agency. They got me a lot of gigs in South India and helped me establish as an artist. Last year I started my residency at Boxout.fm with my show Dynamite Disco Club which exposed me to the entire country and last December I played in one of the best music festival in Asia for 2500 plus people. Now it is all about exploring the music producer side of me.
Music is far deeper than just entertainment—what emotion does it evoke in you?
Music is not just about entertainment or emotion for me. It has a great cultural importance as well. Music has always helped in bringing people together in the history and even has great importance in evolution of the human brain. So, for me music evokes all kind of emotions and feelings depending on what I am listening to, whom I am listening with and where I am listening to it.
How have you evolved as a musician over the years?
I stared with playing trance music as most of the DJs in India. But now I am playing disco and house music. My evolution as musician was slow and when I started making music I started understanding music more. When I start to put more time into it, it started to get more interesting and challenging for me. I think I am evolving everyday as a musician and it will continue till I die.
In a largely Bollywood soaked soundscape, what does it take, to take the reins of dance music community and completely revolutionise the experience of it?
Competition will be always there. If you want to revolutionise something all you need is an original idea, research, little bit of courage and patience to execute it and then you have to believe in the idea 100 percent.
In your opinion, what are some of the biggest strengths and weaknesses in the context of EDM festivals and gig in India?
Youth in India is massive as compared to other countries. So, demographic is the strength. But the weaknesses are more from programming, government policies, to executing the event. There are just so many! But I think we are still experimenting with lot of things and are learning from our mistakes.
Where do you go from here? Are there goals yet to be met?
I have lots of goals to achieve. Even though I have been making music for seven years I still think I am new to the industry and to the music. But this year I am trying to release couple of good Eps on some international labels and I will also be launching Dynamite Disco Club parties soon. So all the work goes there these days. Hope I can achieve it.
TEXT Hansika Lohani Mehtani