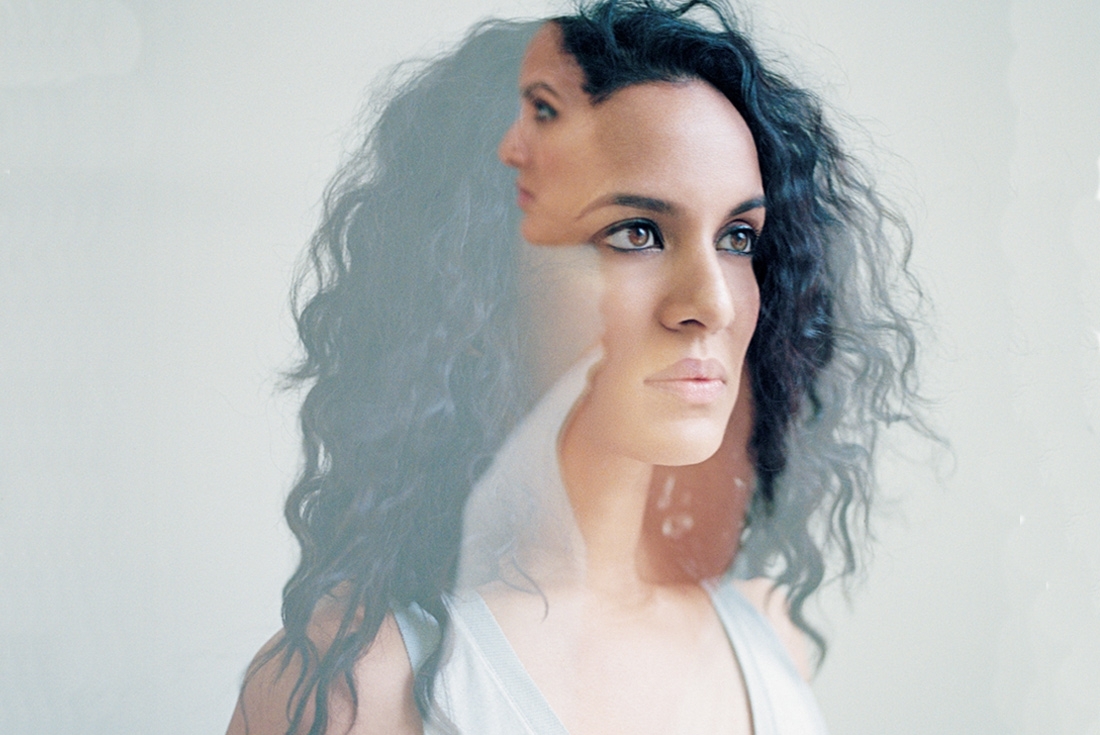 Photography by Jamie-James Medina/DG
#ThrowbackThursday: Anoushka Shankar
Like many writers before me, I've made a mistake this morning—I've consumed a sizable cup of coffee without any food to seemingly slow the assault on my nervous system. Sitting at a booth waiting for five-time Grammy nominee, Anoushka Shankar, at Ozone Coffee Roasters in East London's trendy Shoreditch neighbourhood, my hands are shaking. The appearance of my jittering hands is only made worse by the wobbly, shabby chic table on which I've poured us each a glass of water. I've arrived early, and in the time I wait, I, in fact, pour myself three glasses of water, hoping to somehow dilute the effects of the caffeine.
The entrance is within view of this elevated booth and I periodically look towards the brick and glass facade that comprises the front of the restaurant. The British sun has re-emerged for spring, and light streams into the building, catching and illuminating strands of espresso steam, and then, much like the way sunlight and shadow can bait and switch, Anoushka Shankar appears from the veil of light. I quickly pull myself from the table and kiss her on each cheek. I thank her profusely for giving me her time. She is gracious, but also straight to business: 'Are you going to eat? I'm going to eat,' she says as she sits down.

The waiter appears, and with a bright smile and a distinguishable transatlantic accent, Shankar asks him for a cappuccino. He asks me if I would also like one—I smile politely; I'll stick with the water. When the waiter leaves, I confess to Shankar about the morning's coffee. She suggests with both sincerity and a hint of wit that I should order some bread and I like her already.
Beyond liking her, like her, I am also straight to business given that I have just one hour in which I have to interview a woman whose life is shaped not only by the demands of a prestigious music career, but also by the demands of motherhood and "wife-ing" as she wonderfully puts it. Released in April, her most recent album [her ninth full studio album], Land of Gold, is perhaps her most bold and inspiring to date. The album not only fuses varying instruments like classical sitar with newer instruments like the hang, a steel-based percussive idiophone created in Switzerland in the '90s, but it also blends instrumental tracks with poetic voiceovers and even creates an imaginative stripped-down sitar twang to coincide with hip-hop dis¬course performed by rapper and activist, M.I.A.
While Shankar isn't unfamiliar with pushing the boundaries of genre [her sixth studio album, Traveller, combined Spanish flamenco and Indian raga], what Land of Gold does, beyond proffering the listener an intriguing and satisfying album, is tell a story—and that is the story of the current refugee crisis plaguing both European politicians and consciences.
Photography by Jamie-James Medina/DG
Knowing that the album is rooted in the refugee's journey, my first question asks how creating this album, conceptualising it and responding musically to such a dark situation affected her on a personal level. She tells me that she cannot shut the world out and that seeing news footage day in and day out of the current crisis profoundly affected her, particularly, she feels, because of motherhood. She admits that she has become more vulnerable since having her children, and while in many ways this is a good thing in that it allows her greater empathy and an even richer connection to her music and creative intuition, it is equally heartbreaking. She notes that as an artist, 'If something resonates strongly, then you have to [acknowledge it]. If it's your truth, you have to speak it'. She continues by saying, 'If I was feeling overwhelmed last summer, and heartbroken by this news, and if I had pushed that to the side to make another kind of an album that wasn't coming from the core of me, then it wouldn't resonate with people, because that core would be missing. Music brings people back to their hearts and that raises the consciousness.' Shutting the world out and shutting down the paths of the heart are simply not options for Anoushka—neither her musical nor her spiritual sensibilities would allow for it.
"If something resonates strongly, then you have to acknowledge it. If it's your truth, you have to speak it."
Indeed, the world seems to be wholly invited to participate in the album, as nature plays a vital, albeit subtle role in Land of Gold. Many of the album's tracks were laid down in a barn in Tuscany and the surrounding nature became part of the music. Cicada song and rainstorm can be found woven seamlessly into the rich backdrop of the album, and it feels hauntingly apt, as nature presumably plays both the parts of tormentor and comforter in the life of a refugee.
The album ends on a heartbreakingly hopeful song entitled Reunion, in which the listener can only imagine what the musicians envisioned as they created the piece. With thousands of unaccompanied minors currently entering Europe, there are elusive cultural memories of separated families during World War II and an ephemeral sense of those never reunited after the war. Reunion asks the listener to bravely, and maybe even brashly, have hope—and as Shankar herself says, she has to have hope. She has to have hope as a mother in a world with increasing instability, whether from global warming or from dealings on the political landscape. She has to have hope for her children.

With regards to her children, I ask Anoushka if, as a self-professed and proud feminist, she has views on how to raise two sons in an often misogynistic world. She does; 'I want to raise conscious men', and she begins to tell me a wonderful story about discussing feminism and eating blueberries at 6am with her oldest son, Zubin, now five years old. For some reason, I imagine them sitting on top of the kitchen table, rather than at it, as Shankar possesses such a well of love for life that I have no doubt she has little patience for life's benign rules. I smile to myself as the image forms and I continue to smile as Shankar relays the contents of a discussion surrounding Zubin's star chart [an often used reward system for young children]. Shankar asks Zubin to imagine that he and another girl perform all the same chores, but for every two stars Zubin receives, the girl only receives one. Zubin exclaims to his mother, 'But that's not fair!' Her reply; 'Exactly. That's what's going on right now. Women do the same work as men and they don't get paid the same.' Zubin is firm, 'That's not right!' So, blue¬berries and feminism at 6am lay a pro-found foundation when it comes to helping a child navigate this world.
Photography by Jamie-James Medina/DG
While Anoushka certainly comes from what could easily be considered music royalty, her career wasn't a birth­right. The sitar, an incredibly emotive instrument that her father before her mastered, is also an extraordinarily com­plex instrument and one, really, that she is also likely to spend her lifetime explor­ing. [Anoushka divulges that she often listens to her father's old recordings, of which she has decades' worth to enjoy.]
It is hard to imagine Shankar living life at anything less than full. It seems that in every aspect of her life, she strives for betterment, not for the sake of ego, but for the sake of living this life well. Her practice on the sitar, begin­ning when she was just seven years old, taught her something about spiritual practice as well. Music practice was a spiritual practice for her father, she says, and this instilled in her both a sense of discipline and a sense of connecting to the divine. 'There is a spiritual root at the heart of everything, in every aspect of my life,' she says. Anoushka under­stands living life as an act of service and says that 'Being an artist isn't separate from being a human being; it's just that [music] is what I do with my time. As a human being I feel responsible. We all make an impact on the world just by virtue of walking—your footprints make an impact on the world… breath­ing does. You exist, therefore you make an impact. So with that whole amount of time, the question is how positive do I want my impact to be?' I feel the sincerity as she speaks; she consistent­ly emanates joy, whether when talking about music, her children, her husband or even when I asked about her father's dog, a fluffy Maltese cross, who used to sit in the front row of his concerts and run onto stage at the end for cuddles and applause.
At the conclusion of the interview, when she leaves me at the table, I some­how feel lighter [despite the bread]. In every way, Anoushka lives her words and her intention—to leave a positive imprint on this world, to be a compas­sionate being that creates cracks to let the light come flooding in.

Our conversation with Anoushka Shankar was first published in our Music Issue of 2016. This article is a part of Throwback Thursday series where we take you back in time with our substantial article archive.


Text Julie Bolitho