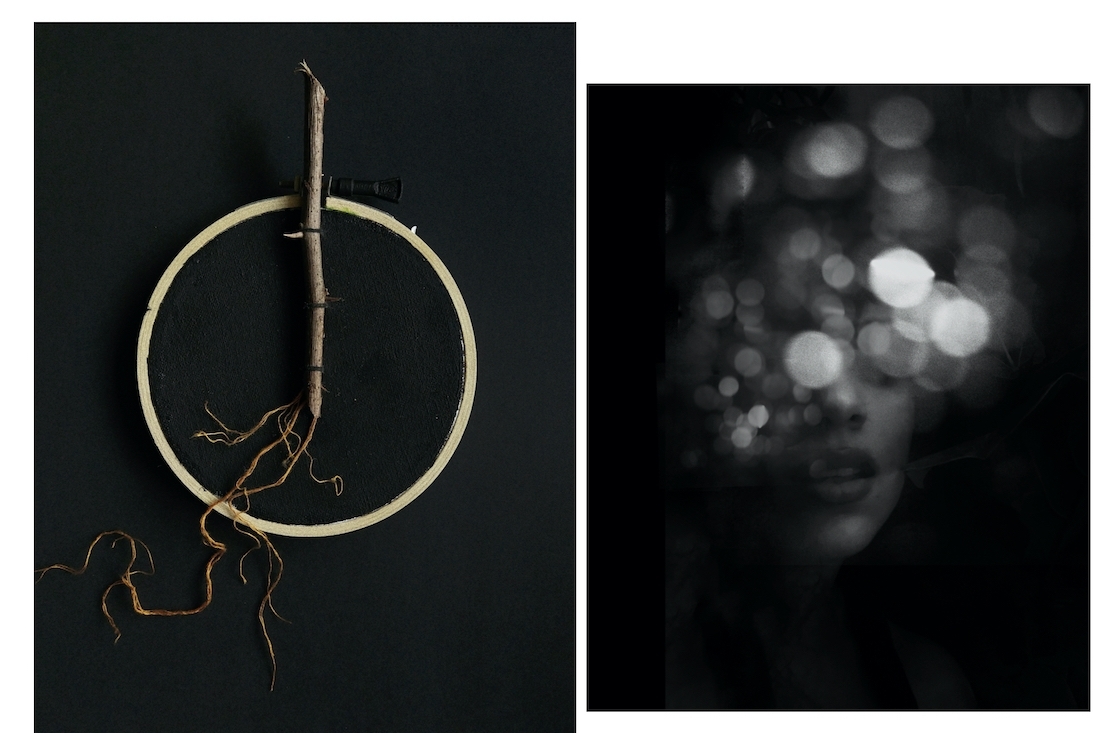 L: As above, so below ; R: Meteor Shower
A mixed-media artist hailing from Chandigarh, Harnoor Suri's work has taken significant shape over the past two years, as she turns to her instincts to create abstract art from materials ranging from paints, threads, the light that filters through the camera, and the ineluctable digital space. Having retained her childlike curiosity through the years, flitting between such mediums is what keeps art-making exciting for her. She attempts to reinterpret her conscious and subconscious mind in a tangible form through her art, and to create socially relevant work as well. Below, she delves into what inspires her and how the pandemic has humbled her.
The Artist
I belong to Chandigarh and have studied B.A. Economics Honours and Law from Panjab University. I love listening to music and watching videos of home tours, studio visits, 'how so and so models gets runway ready,' videos of animals in the wild, VICE content and so on. I enjoy learning foreign languages, I've attempted to learn Spanish and am currently dabbling with French. I have taught General Knowledge to school kids and I like hanging out with them, listening to their fun talk and playing games with them. Time to time I occupy myself with gardening and being a plant-parent, my favourites are Monstera Adansonii and Fittonia Albivenis. But most of all, I love spending time with dogs.
L: Self among plants ; R: Sunset across river Ravi, 1977
The Journey
I had always liked to draw and paint since I was a child. Like most other kids at the time, I drew countless renditions of the typical scenery we are all taught in school — the red-roofed house with zig-zag mountains at the back, and the sun, sometimes graced with facial features, like a watermelon wedge, peeping out from among them. It wasn't anything prodigal but I painted a lot, sometimes even on walls much to the horror of my parents. It was only in 2019 that I decided to take up art-making with discipline and some purpose.
I would make it a point to paint almost every single day after returning from work. I knew I wanted to discover new ways of making art. My work slowly turned towards abstraction and hence I could let my instincts take over. The results were always a surprise and a source of intrigue to me. I never knew I could create art in such a way, without having absolute control over it. A leftover thread from one piece would lead me into the next. So, I created a decently large body of work over a period of five to six months, which was nowhere close to being great or amazing. It was mostly just scraps of paper, but it was all new to me and it created a base for the future. It helped me find out what works for me and what does not. As Kanye said, 'look you need to crawl before you ball.'
Mixed-Media
My work rests largely on two purposes — expression and experimentation. Switching between mediums is what keeps art-making exciting for me. I get bored quickly and do not really like to create the same combination of things repeatedly. Whenever I'm in a slump, I try to switch mediums or take up something new, which creates a child-like curiosity in me. So far I have worked with watercolours, acrylics, animations, embroidery, video making and photography. I love making mixed-media work and hope to experiment with even more mediums in the future.
L: Femme ; R: Fluid Emotion
Inspiration
I draw inspiration from a wide range of sources — science, fashion, music, nature, womanhood, other artists' work, mythology, world events, surrealism; the list is endless. If I had to name a few people who inspire me, it would be Ai Weiwei, Robert Rauschenberg, Banksy, Iris Van Herpen, Kanye, Lady Gaga — people who have vision and a strong sense of what they represent, inspire me. There are so many talented young Indian artists, my contemporaries, whose work I can interact with on a daily basis thanks to Instagram. Just being exposed to a vast variety of artworks inspires me to create more and to challenge myself to do the things I haven't done before. Often, I also find that one piece births the next. In that sense, most of our work, if not all, are linked to one another.
The Creative Process
This is the part which I feel, has a divine or maybe a subconscious element to it. As per me, my job is to expose my mind to the right kind of information. To stay aware of the happenings of the world, the realities of life, to experience different kinds of art and culture, even if it is vicariously through a smartphone screen, and also to be self-aware. It's like putting the coloured little bits into a kaleidoscope. When the kaleidoscope turns, the patterns formed are outside of our conscious control. This does not mean one cannot actively visualise a piece, but this is how I personally prefer to work. I feel my work is to cultivate a way of thinking and the skills necessary to be able to execute a thought when the time comes.
L: Creeper ; R: Harnoor Suri
The Pandemic and Beyond
The lockdown has brought me closer to myself. Having to spend so much time with yourself does help you get to know yourself better. At the same time, having made it so far in this overwhelming series of events is bringing out aspects of resilience and adaptiveness in all of us. We are being reintroduced to ourselves, and at the same time, we are sprouting new feathers in our wings. A stronger sense of identity definitely helps an artist. During this time I was also able to get acquainted with some very talented artists from various parts of India, which was a blessing.
Apart from that, I was able to spend more time creating art and I got to incorporate some new mediums into my work, like embroidery and photography. I also made my first video-format artwork in lockdown. Making self-portraits is another thing I have begun. We earlier recognised the self, based on its distinctness from other beings, but in lockdown, since we are interacting much lesser with the 'other', self-portraiture to me has become a means of looking at myself from a distance and recognising my being.
The new normal post the pandemic, hopefully, would be valuing human relationships and realising how small and unimportant we humans are as compared to the larger scheme of things in the universe. We assume too much importance upon ourselves and pretend to be the masters and saviours of the planet, but this pandemic has been a humbling experience.
Text
Janani Venkateswaran